About 10 Percent of Ukraine's Pre-War Population Has Fled the Country
Four million refugees have fled Ukraine as of Wednesday, as Russia's invasion of the country enters its 35th day in one of the largest humanitarian crises in decades.
The number of refugees represents almost 10 percent of the Ukrainian population pre-war, according to data from the United Nations High Commissioner for Refugees (UNHCR). In only a month, just over 4 million of Ukraine's 41.4 million total population were forced to leave the country to escape the conflict. In comparison, it took over two-and-a-half years for 4 million Syrian refugees to leave their country during a conflict that began in 2011.
The U.N. Refugee Agency reported that over 2.3 million Ukrainian refugees have crossed the border into Poland, followed by Romania, Moldova and Hungary. Many more have found refuge in other European countries, including Belarus and Slovakia.
"Four million refugees marks a tragic milestone for the crisis in Ukraine. This war is tearing families apart. Ninety percent of those seeking refuge in neighboring countries are women and children. Millions more have been forced to flee but still remain inside Ukraine. These families face a critical and maybe fatal shortage of basics like food, water and medicine," Anne-Marie Grey, CEO and executive director of USA for UNHCR, the U.N. Refugee Agency, told Newsweek.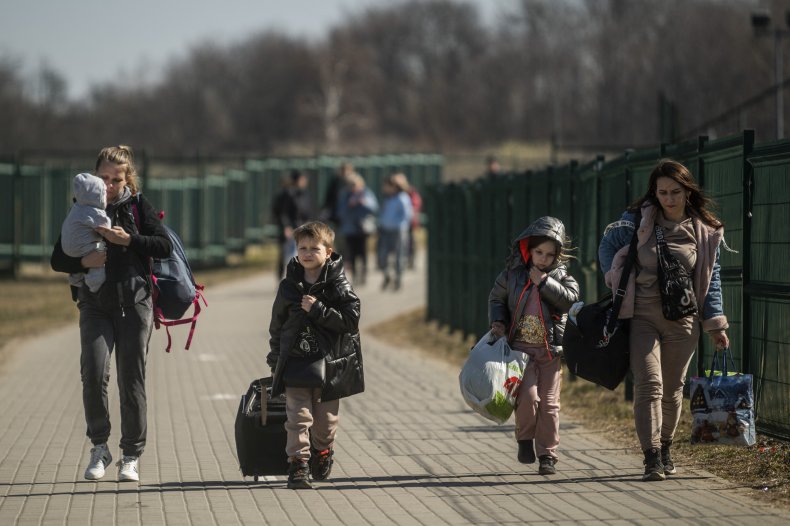 Grey added: "Against the backdrop of horrific suffering, a compassionate global community has stepped forward to show to the people fleeing Ukraine that they are not alone. Solidarity with those fleeing is a glimmer of hope that we must hold on to in the face of such senseless violence."
Filippo Grandi, the U.N. High Commissioner for Refugees, tweeted on Sunday that 10 million Ukrainians have fled the country.
"Among the responsibilities of those who wage war, everywhere in the world, is the suffering inflicted on civilians who are forced to flee their homes," Grandi wrote.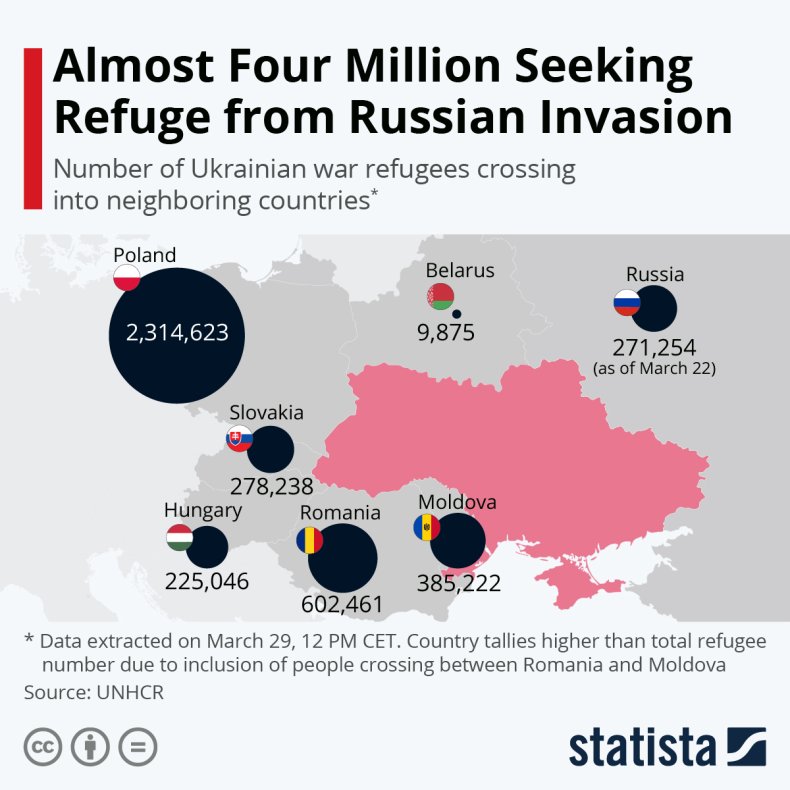 And per the UNHCR website: "Many people remain trapped or stranded in areas of escalating conflict and are unable to meet their basic needs as the war has severely damaged civilian infrastructure and housing and disrupted essential public services to water, electricity, transportation, healthcare, emergency services and more."
The organization also said women and children account for 90 percent of Ukrainian refugees.
Volunteer-led operations have worked hard to aid refugees and displaced Ukrainian citizens find shelter, supplies and safety. Ukraine's chief Rabbi, Russian-born Moshe Azman, had told Newsweek that he has been running a network along with other volunteers to help people get to the border, driving a bus, and providing food and medicine.
"Yesterday, we took 150 people from more dangerous places, tonight we'll take 200 people," Azman said at the time. "We brought the food and medicine to hospitals and to those people that lay in homes."
The United States announced on Thursday that it was prepared to take in up to 100,000 Ukrainian refugees. The U.S. is considering accepting Ukrainian refugees through its refugee admissions program or by offering humanitarian parole or visas that would allow them to enter the country, a senior Biden administration official said.
Newsweek has reached out to the UNHCR for additional comment.
For live updates of the Russia-Ukraine war, click here.