Heartbreaking Photo Shows 'Hand' COVID Nurse Created for Lonely Patients
As many COVID-19 hospital patients are forced into isolation, one nurse has been praised for her ingenious plan to simulate the feeling of human contact for those separated from their families and friends.
Brazilian nurse technician Semei Araújo Cunha posted her glove contraption to her social media accounts on March 20, according to a report from G1 São Carlos and Araraquara. Using the "little glove" technique created by Lidiane Melo, Cunha filled two latex gloves with warm water, tied the tips of the fingers together and slid a patient's hand through.
"We decided to do it as a form of affection, cuddling, humanization, as if someone was taking her hand, and also to soften the extremities that were very cold," Cunha told G1. The project is twofold, as it both quickly warms the extremities of intubated patients as well grants comfort in what feels like another human holding their hand.
The photo was subsequently posted to Twitter by the user @nmannathukkaren, who was struck at the compassionate act. Referring to it as "the hand of God," he praised the innovative thinking of Cunha and the staff at the Vila Prado Emergency Care Unit in São Carlos, Brazil.
"Two disposable gloves tied, full of hot water, simulating impossible human contact," he wrote. "Salute to the front liners and a stark reminder of the grim situation our world is in!"
Twitter users were touched by the moving image. "Only a nurse would think of this. Heartbreaking and beautiful at the same time," one commented. "This photograph needs to be memorialized in records of this pandemic," another chimed in. "So heartbreaking but so beautiful that these nurses did this to provide their patients comfort. Bless them."
Others weighed in with their own devastating COVID-19 stories. "My biggest trauma from this whole pandemic is one of my dying patients only feeling my gloved hand holding theirs as they passed. It wrecked me for months," one nurse shared.
"I was really worried this would have been my father. Alone in a hospital while no one else could come to his side," another wrote. "Thankfully he was in hospice before he passed and my mother was with him at the end."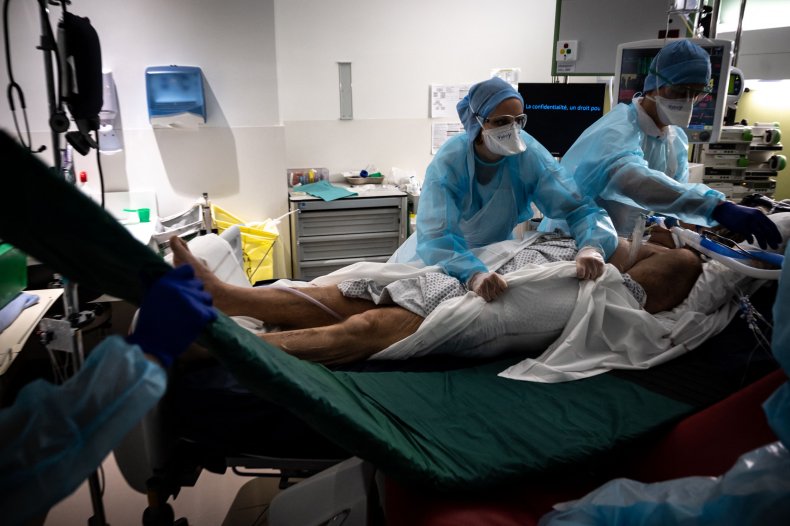 "It is very sad and heartbreaking for everyone. Inpatients, intubated, without contact with family, without contact with anyone," Cunha told G1. "Whoever talks, it's just by cell phone and video call, they don't have that cuddle anymore, they don't have affection. They don't they can receive visits, the patient becomes vulnerable."
Brazil has recently been struggling with a rise in COVID cases, hitting a record high 90k cases in March. On Wednesday, a man in Germany even dressed as "the Grim Reaper" to protest Brazil's response to the virus.