Brazil Breaks COVID Record With Over 90k New Cases as Bolsonaro's Approval Ratings Sink
As Brazil hit a record high number of new COVID-19 cases, Brazilian President Jair Bolsonaro hit a record low public approval rating over his handling of the pandemic.
Brazil recorded a single-day record of more than 90,000 new COVID-19 cases on Wednesday. An opinion poll published by Brazilian newspaper Folha de S.Paulo on the night before found that 54 percent of respondents believed that the president's management of the public health crisis was bad or awful, according to Reuters. Support for a potential impeachment of Bolsonaro was also 4 percent higher than a poll taken in January, rising to 46 percent, although 50 percent of respondents still opposed impeachment.
Bolsonaro, who has repeatedly sought to minimize the pandemic and once referred to the virus as "a little flu," has been under mounting pressure as the country's health care system nears its breaking point due to the surge in cases. Hospitals are at or near capacity in more than half of Brazilian states due to the surge, according to The Washington Post. Bolsonaro appointed a new national health minister this week, the fourth the country has had since the pandemic began.
The COVID-19 situation in Brazil has been exacerbated by both a slow rollout of vaccines in the country and the emergence of a virus variant that spreads faster than earlier strains and has shown some resistance to existing vaccines. In addition, a worryingly small number of Brazilians have received what vaccines are available, with only around 1.4 percent of the population being fully vaccinated as of Wednesday, according to Johns Hopkins University.
"Since the beginning of the pandemic, the government of President Jair Bolsonaro has been addressing the dual challenge of saving lives and protecting jobs," a spokesman for the Embassy of Brazil in Washington, D.C. said in a statement to Newsweek. "Up to now, 20 million doses of the vaccine have been distributed to states, and with 12 million inoculations Brazil ranks fifth in the world for total doses administered."
"The federal government has also put in place, in record time, the largest assistance program in the southern hemisphere, transferring US$43 billion to 67 million Brazilians. In total, over 8% of Brazil's GDP was allocated to counter the pandemic," the statement continued. "The Brazilian government will continue to spare no effort to overcome this global crisis."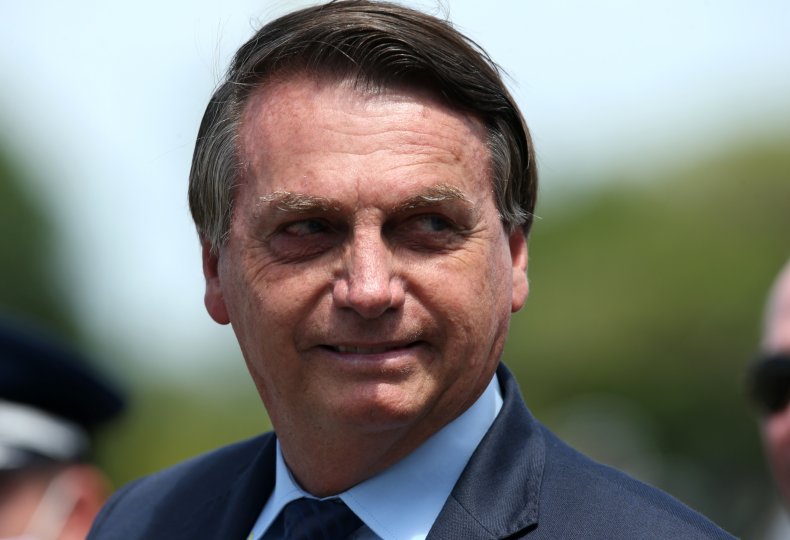 Although Bolsonaro previously vowed that he will not take a COVID-19 vaccine himself and suggested last December that the Pfizer/BioNTech could result in a number of bizarre side effects including turning people into "crocodiles," the president has since announced that Brazil is entering a "more aggressive phase" in tackling the virus. He recently ordered over 100 million new doses of vaccine, according to Agence France-Presse.
"It's a positive change," epidemiologist Julio Croda of the University of Mato Grosso do Sul told the outlet. "But we hope more changes are on the way, like backing mask use and restrictive measures. That's essential to avoid the total collapse of the health system."
As new cases of COVID-19 have multiplied in the country, so have new deaths. A second-highest ever toll of almost 2,800 deaths was reported in Brazil on Wednesday, while average deaths in the past weeks have been over 2,000 per day. The country's COVID-19 death toll since the beginning of the pandemic, over 280,000, is the second largest in the world, trailing the U.S. only.
Brazil also trails the U.S. with the second largest overall number of COVID-19 cases, more than 11.6 million. However, Brazil's average daily number of new cases and new deaths caused by the virus are now far in excess of those being recorded in the U.S., despite the country having more than 100 million fewer people.
Polls indicate that Bolsonaro, a conservative populist who has often been compared to former U.S. President Donald Trump, could face stiff challenges from the left when seeking reelection next year. Both former Brazilian President Luiz Inácio Lula da Silva and former lawmaker Ciro Gomes have 5 percent leads over Bolsonaro in a recent PoderData survey, according to Reuters.
Update 3/18, 5:15 p.m.: This article has been updated to include a statement from the Embassy of Brazil in Washington, D.C.