Hearts Break as Grandparents in Their 90s Adopt Elderly Cat: 'Best Life'
Hearts melted across the internet after an elderly couple were shown in a TikTok video to have adopted an equally elderly cat.
The social media post, which was uploaded by the couple's granddaughter, Sarah Annett, shows the 90-something pair enjoying life with their senior cat. In the now-viral TikTok video, the cat can be seen travelling around with its new owners in a carrier that had been kitted out with a blanket and cushion.
"My grandparents in their 90s adopted an elderly cat," Annett wrote over the video clip.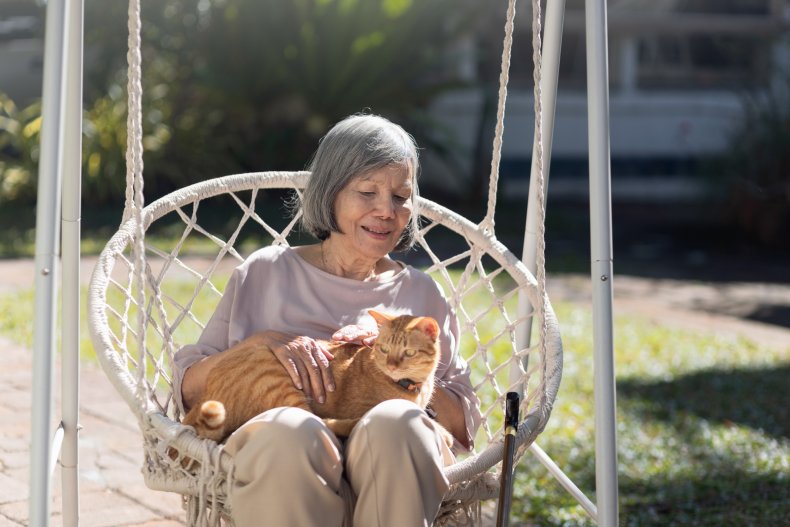 According to the American Society for the Prevention of Cruelty to Animals, about 4.1 million shelter animals—2 million dogs and 2.1 million cats—are adopted each year.
The video, which can be seen here, was uploaded to the social media platform under Annett's social media username @Olive_And_Odin on January 27, and has since been viewed more than 838,000 times. The couple's granddaughter appears to own a cat and a dog, and the pair are regularly featured in her other posts.
What Are the Benefits of Owning a Pet in Old Age?
"Owning a pet in old age can greatly benefit our emotional, mental and physical well-being because a pet can provide incredible companionship and encourage more regular physical activity," Amanda Takiguchi, a certified veterinarian, told Newsweek.
The vet went on to explain that owning a dog, for instance, will likely encourage its elderly owner to walk regularly and may provide more opportunity for its owner to socialize and interact with other people. The pet can double as a trusted companion to its elderly owner.
Owning a pet is no easy feat, and the additional responsibility it adds to an owner's life might help an elderly person retain the feeling of being needed or having a purpose that they might have enjoyed in their youth.
"Being responsible for another life gives pet owners a sense of purpose and motivation. Having to take care of a pet also requires owners to stick to a routine," Takiguchi said.
The veterinarian suggested that adopting a cat might be a better choice for very elderly people or people who struggle to walk regularly, as they are lower-maintenance pets compared to dogs.
Either way, Takiguchi sings the praises of owning a pet in older age, claiming that having a furry friend could contribute to lower blood pressure levels.
"There's nothing like an enthusiastic greeting from your dog or a cuddle session with your cat curled up on your lap to warm your heart," she said. "Therefore, pets may help combat loneliness and depression, which are common problems among the elderly."
"Although pets can be beneficial for some elderly people, they are not appropriate in every case. Each person's situation is unique and should be thoroughly considered before deciding to adopt a pet," Takiguchi added.
The vet said potential owners should be healthy enough to provide their pet with food, water, appropriate exercise and medical care.
While it's unknown how Annett's grandparents are getting along with their new addition, the cat can be seen receiving plenty of love and care, and it appears that Annett and other family members are nearby and happy to help out if needed.
What Do the Comments Say?
"They are in their 90s?? They look amazing," one user commented underneath the post.
Annett responded to the comment: "Reading this comment to my grandparents definitely brought a smile to their face."
"This makes me so happy," another TikTok user added.
"Cats are actually very loyal and very affectionate! I don't understand why people give them such a hard time," a different user wrote.
Newsweek reached out to @Olive_And_Oding for comment.
Do you have funny and adorable videos or pictures of your pet you want to share? Send them to life@newsweek.com with some details about your best friend and they could appear in our Pet of the Week lineup.
A Vet's Top Tips For Elderly Pet Adoptees:
1. Cats may be a better choice, purely because they don't require regular walking.
2. If you are set on adopting a dog, avoid young puppies as they have plenty of energy and require intensive training. Large or giant dog breeds are also poor choices for the elderly, since these strong and robust pooches can be difficult to handle.
3. Steer clear of pets who already have pre-existing health conditions which may need long-term care. These pets will be better off in a home where their owners have lots of time and energy to attend to their more specific needs. Diabetic cats, for instance, need regular insulin shots and incontinent animals may need help using the bathroom. The frequent cleaning and care may become overwhelming for owners in old age.