Hearts Melt as Woman Adopts Cat Who Had Been at Shelter the Longest
A toothless cat named Nugget has melted hearts all over the internet after a video of him snuggling with his mom, showing all his gratitude for saving him, went viral on social media.
In the video, shared on TikTok on Monday by the cat's owner under the username toothless.nugget, the tuxedo cat can be seen snuggling with his owner, rubbing his face on her arm as he looks at her with sleepy eyes, which in cat language means he's feeling comfortable.
The heartwarming video comes with a caption that explains: "I asked them to show me which cat had been at the shelter the longest." Followed by: "4 months of sitting alone and watching people pass by... I like to think [he] was meant to be with us in the end."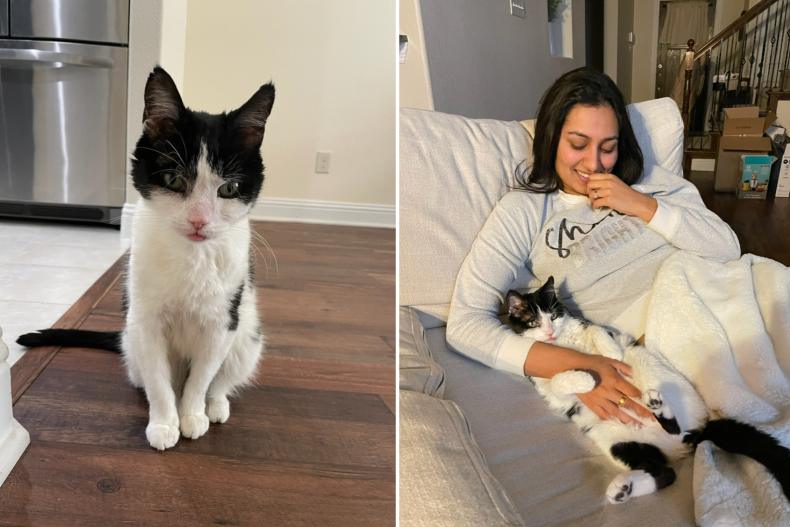 According to animal dental care and oral surgery experts Well Pets, dental disease is one of the most common pathologies seen in domestic cats, and about 80 percent of cats and dogs will have some form of dental disease by age 3.
Their website states: "Most cats will lose one or more teeth during their lifespan due to periodontal disease or tooth resorption. Gingivostomatitis may also be present. This is an oral condition in which the immune system has an overzealous response to plaque on the teeth leading to severe and debilitating oral pain. Treatment for gingivostomatitis is either partial or full mouth extractions."
Nugget's owner, Anshu, told Newsweek: "Nugget has been with us for 3 years, we are his second owners. He doesn't have great history with first one. People generally go for younger cats, so he was at the shelter for many months before we found him. He had full mouth extractions due to dental disease and has also survived nasal cancer, osteosarcoma, which is so rare in cats and extremely low survival rate. Attaching a pic after he finished cancer therapy!
"He is very cuddly, making biscuits on us 24/7, always spending time with me while I work, day or night! Though he's older, he runs around like a kitten! We are planning to get him another cat friend soon because I think it'll be good for his energy levels. And his weird perk is, he loves potatoes!"
The post quickly gained popularity on social media, attracting animal lovers from across the platform, and it has so far received more than 2 million views and 435,100 likes.
One user, Lihhurbx, commented: "I thank God that there are people like you out here in this world. You have no idea how special you are thank you for taking care of this baby." And sydney said: "he seems so sweet." Katie added: "I did this too.. my Evie had been there 2.5 years because she has FIV."
Akasha and Cowboy wrote: "R u kidding me?! Look at that sweet face!! Thank u for saving him." And beidousthighs said: "I'm gonna ask which 5 cats had been the longest time there and gonna adopt all."
Another user, Bella, commented: "Thank you so much for adopting him! I volunteer at my local shelter and see so many senior cats there for months because people don't want them." And AndrewGK5 said: "This is my new plan if I have to adopt again. Ask who has been there the longest."
Kelly Anne wrote: "Thank you for saving kitty. So so cute. I'm obsessed. Your amazing and kitty is finally happy and home."
Evie said: "I was gonna get a kitten. But I've decided I'm forcing my mother to get me the oldest cat at the shelter (that's healthy [because] I am not that rich and I want to be able to give the cat a comfortable life)." mina73451 added: "I'm so glad people like you exist, and you both found each other."
Newsweek reached out to toothless.nugget for comment. We could not verify the details of the case.
Do you have funny and adorable videos or pictures of your pet you want to share? Send them to life@newsweek.com with some details about your best friend and they could appear in our Pet of the Week lineup.