Woman Shows Off Rescue Cat's 'Princess Bedroom' and $5K Designer Wardrobe
Honey, the rescue cat, is the purr-fect example of rags to riches. She was once cooped up in a shelter for rescued pets and now she has her own bedroom and a designer wardrobe.
Her owner, Nicole Wade, 37, told Newsweek that Honey has two miniature wardrobes filled with $5,400 worth of clothing—including designer items from brands like Gucci, Louis Vuitton, Burberry, and Tiffany & Co.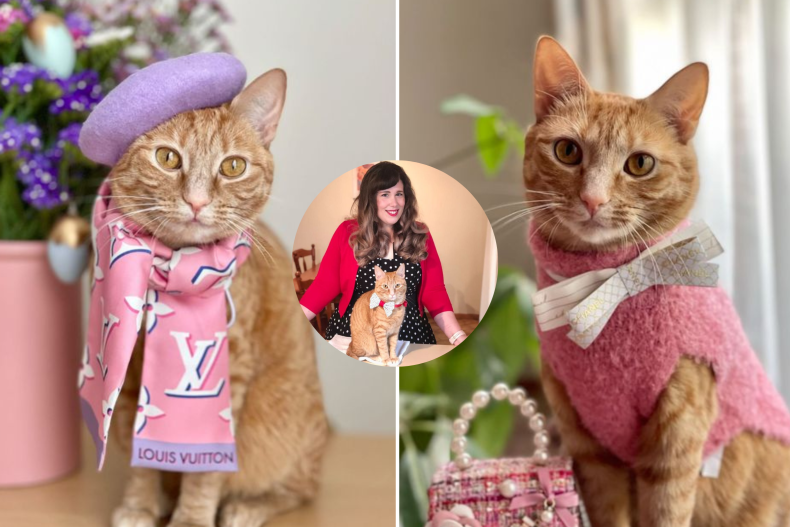 Wade, a content creator, said: "Honey was rescued from a local shelter in Melbourne, Australia, in January 2020 after we lost a newly adopted kitten to a fatal illness.
"She's always enjoyed dressing up and loves the attention she gets when we are filming videos or taking pictures.
"She's so sweet and we are always in awe of how well she wears her outfits—it's like she knows she's a superstar."
Wade said the "fun bonding experience" was one of "pure joy and love," adding: "But of course, we love her just as much without all her fancy outfits too."
Recently, a TikTok video posted to Honey's account went viral as social media users were given a tour of the feline's bedroom. The pretty pink room had a small bed with a pink fur blanket, dresses hung on pearly hangers, and a selection of necklaces, handbags, and sunglasses.
Wade added on-screen text to the clip which said: "You finally embrace being a crazy cat lady and make your cat a princess bedroom."
The video ends with a clip of Honey, the orange cat living Down Under wearing a pink knitted jumper, pearl necklace, and heart-shaped sunglasses.
The clip shared to @princesshoneybellex has racked up 978,400 views and 236,700 likes so far.
Do Cats Need Clothes?
These days it isn't uncommon to see a fashionista dog or cat on social media. But "animals wearing clothes is a controversial topic within the veterinary industry," according to Dr. Anna Foreman.
Foreman, an in-house vet for U.K.-based Everypaw Pet Insurance, told Newsweek that cats are less tolerant than dogs when it comes to clothing.
She said: "Many animals show signs of distress that owners are not attuned to. The danger of ignoring an animal showing subtle signs of distress is that it may escalate this behavior very quickly to aggression.
"Animals may also injure themselves trying to get out of clothing—for example, animals can get neckwear stuck in their mouth, which can cause jaw and tooth injuries, they can seriously injure a limb or their head if they get a leg stuck in clothing and lose their balance. If an animal gets clothing stuck over its head, it may asphyxiate itself if it is not a breathable material.
"Cats tend to become very distressed in costumes. Dogs can sometimes become used to wearing coats and jumpers in colder months, however most cats will not tolerate clothing.
"The only instance cats should wear 'clothes' is after surgery—some cats may do better with a medical pet shirt rather than an Elizabethan cone to prevent them from licking at any wounds."
'Our Pets Deserve Nothing Less'
Over 1,700 people have commented on the popular clip that was shared on February 21.
One user said: "Our pets deserve nothing less."
"She leads the good life!" said another.
"OH MY GOD. Yes. Yes. A million times yes," said another user on TikTok.
Do you have funny and adorable videos or pictures of your pet you want to share? Send them to life@newsweek.com with some details about your best friend and they could appear in our Pet of the Week lineup.
Update, 03/06/23, 02:41 a.m. ET: This article was updated with comments from Dr. Anna Foreman.