Heartwarming Video Shows Cat and Kitten's Journey to Becoming Best Friends
A video chronicling the blossoming friendship between a cat and his owner's new kitten has been melting hearts on social media.
Pet owner Meg Hulme took to TikTok to share the clip showing how her cat slowly became accustomed to having young kitten Marley around the house.
Though initially standoffish, the cat soon warms to his new companion, culminating in a heartwarming final exchange between the pair as the footage ends.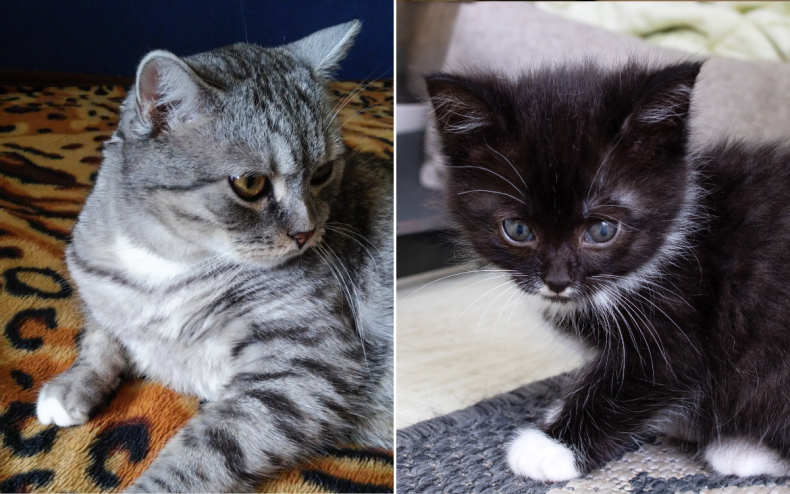 It's further proof of the fact that, although cats are capable of living as solitary animals, they can also adapt to enjoy the company of a four-legged friend. Often, these animals will go on to form deep and long-lasting bonds with each other.
A 2022 study published in the academic journal Nature found that cats who live with other felines can often become so close, they are able to identify and learn each other's names.
Researchers from Kyoto University in Japan proved this by studying 48 cats that cohabited with at least two other pets, either at home or in a cat café.
As part of the experiment, the test cats were shown a picture of the animals they lived with. Scientists monitored their response when the name of the cat or an unrelated name was said out loud.
Researchers found that if the cat stared at a photo for an extended period of time, it showed they knew the name of the animal pictured.
In this particular video, the older cat appears well on his way to learning Marley's name, though things got off to a shaky start.
As the footage shows, the cat was at first hesitant to share space with Marley, often shying away from the kitten or moving off to another area of the room entirely.
The kitten appeared eager to strike up a bond, which is something often seen in scenarios of this kind.
However, over time, the cat began to warm to Marley and cuddled up alongside the kitten.
As the video ends, the older cat dishes out some licks to his new kitten companion, in what is a clear sign of affection.
Hulme told followers it took "just over a week" to get the cats to this point, noting that "lots of time and effort [has] gone into getting them to like each other."
It's proven popular on TikTok, with animal lovers praising the video, which has more than 365,000 likes.
User GracieVanDahlen commented: "My favorite trope: angry older cat falls in love with new kitten and eventually become besties." Crystal H1360, meanwhile, wrote: "starts with a hiss ends with a kiss."
StanCan posted: "Getting a kitten for my cat was the best decision I ever made," with Paige Meyrin writing: "The most beautiful thing ever. My cat was just like that the first time he met my new cat but now he loves her."
Newsweek has contacted Hulme for comment.
Do you have funny and adorable videos or pictures of your pet you want to share? Send them to life@newsweek.com with some details about your best friend, and they could appear in our Pet of the Week lineup.