New Kitten's Quest To Become House Cat's Best Friend Warms Hearts
A video of a kitten's efforts to become a house cat's new best friend is warming hearts online.
In the viral clip posted on TikTok, Charlie Hernan, who lives in Devon, southwest England, explains that one of her pet cats had died and she decided to get a new kitten so her remaining cat had some company.
As the video starts, the ginger-and-white kitten is being stroked by his owner. A larger tabby appears, but backs away and hisses while being introduced to the new member of the family.
The next clip is particularly poignant, showing the kitten shaking as he sits next to a plant pot. Hernan explained that the kitten had been mistreated by his previous owners and was was malnourished.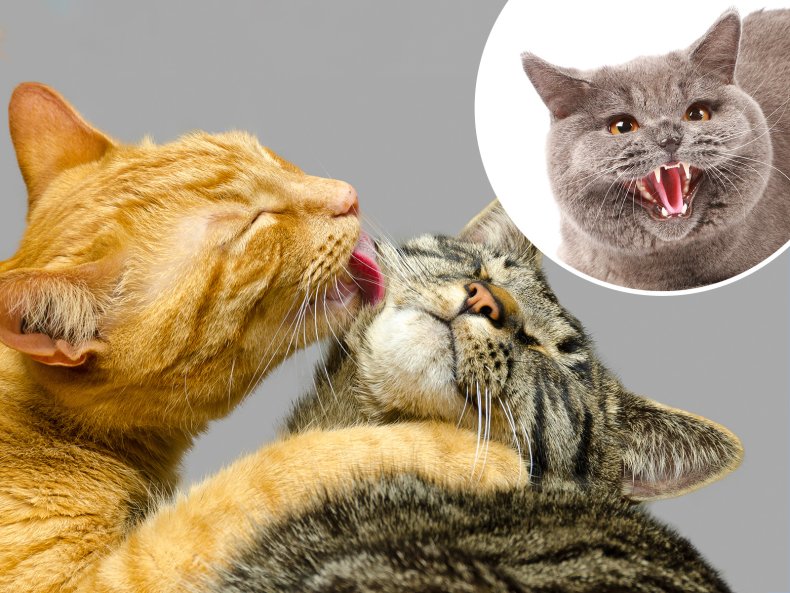 The caption on the video explained: "After our cat passed away, we got a kitten so our cat had a new friend. But our cat hated him. He hissed at him constantly for over a week.
Soon enough, the barriers between the kitten and cat started to break down. Within a month, they could be seen playing with each other and sleeping soundly curled up together.
The video caption added: "The kitten wasn't going to give up. His hard work started to pay off. But now we've had him a month and they are besties."
Since Hernan posted the video on Tuesday, it has been watched more than 9.5 million times and attracted some 1.9 million likes. Newsweek has contacted her for comment.
Many of the TikTok commenters said the footage had left them emotional. Eparama Kotobalavu wrote: "I can't, the cuddle at the end broke me."
DandiestCat said: "He was maybe still grieving, but so glad to see he warmed up."
Kylie_Marie commented: "The head-to-head cuddles at the end (crying emoji)."
Kelsey Young posted: "I love a cat that's determined to make friends lol."
How To Introduce a New Cat to a Resident Feline
There are some steps that cat owners should take when introducing a new feline to the family, according to London animal charity Battersea Dogs & Cats Home.
It recommends keeping the cats in separate rooms at first, with no way to get to each other. Owners should give their new cat anything that the resident cat has laid on and vice-versa, to help them get used to the other's scent.
The charity added: "Your resident cat may lurk outside the room where the new cat is staying and sniff under the door. This building up of curiosity may mean it is actually a relief when the cats first get to see each other."
After a day, when the new pet has settled, try to wedge the door to the room open about an inch so the two cats can get a glimpse of each other.
When they have settled, let the new cat come out of the room so they can familiarize themselves with the new surroundings. Make sure that the two cats do not meet during this time.
After this, you can make the introductions. The charity said: "Ideally, you should make the initial introductions with your new cat in a large pen, but if this is not possible, have a friend or family member on hand to help. Your friend should open the door to your new cat's room whilst you are with your existing cat in another room or some distance away. Watch the cats to see how they interact and if all is calm, reward them with a tasty treat.
"As time goes on, each cat will begin to adjust to the other. Any forcing or rushing on your part will only make the situation more stressful and the settling-in process will be prolonged. Some cats become best friends and others will merely learn to tolerate each other."
Do you have funny and adorable videos or pictures of your pet you want to share? Send them to life@newsweek.com with some details about your best friend and they could appear in our Pet of the Week lineup.