'Starving' Cat Who Was a Walking Skeleton Makes Incredible Recovery
A starving cat dubbed a "bag of bones" has made an incredible recovery since being adopted, after he was found weighing just 1.8 kg.
Khalon looked like a walking skeleton when he made his way to Allergic Rescuers KL, based in Malaysia, where the feline is from.
Rosy Kim, founder of the organization, was Khalon's case worker, and shared his touching journey from near-death to now living with a loving forever family.
Kim, based in the US, explained her team had been sent videos and pictures of Khalon before they managed to get hold of him, and they weren't 100 per cent of his origins, or how he became so thin.
Kim described the cat's condition as "horrifically malnourished," saying: "I was more focused on getting him back to health rather than worrying about sketchy details I felt was a dead end.
"Unfortunately, Malaysia doesn't deal with animal abuse/neglect very well, and that's another whole uphill battle on its own."
Kim was able to get Khalon to a local vet, Dr. Teoh, and recalled: "She was also shocked to see him in that state. She ran all the tests—complete blood count (CBC), SDMA (for his kidneys and liver function), urine dilution exam, electrolytes, even thyroid function (to rule out that the malnourishment wasn't due to medical inability to absorb nutrients) etc., and miraculously, besides some lice and the flu, he was actually pretty okay, despite weighing only 1.8 kg."
Khalon, estimated to be around three years old, was placed with foster parents, Kim Louise and Craig, while he recovered after being found last June.
Louise shared updates to her Instagram account, @kim_and_the_cats, as she described Khalon as a "sad boney cat" when he first arrived.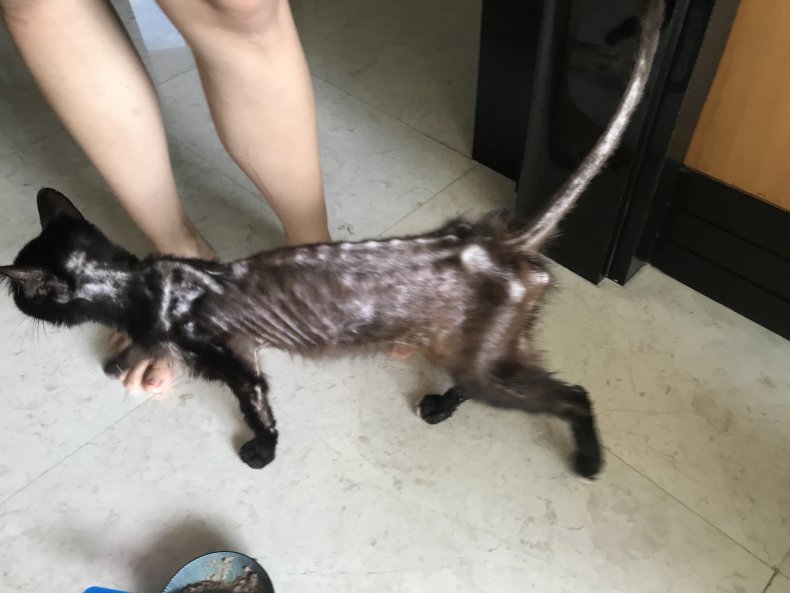 Kim raved about his progress, telling Newsweek: "They did a great job slowly fattening him up and spending lots of time with him, and Khalon couldn't get enough. He was so very happy! His flu took a while to shake, which delayed his neutering.
"Once he started feeling better, he was definitely getting a bit frisky, so we were very happy to get him well enough to neuter him! He was such a loving cat, even on Day 1 of rescue. And he just got sweeter and sweeter, loved to play, and loved to be cuddled."
As the months went on Khalon continued to put on weight, as he hit 2.58 kg, then 3.42 kg as he recovered and fattened up.
As he grew stronger, he was able to be neutered, and in November he was adopted by Mike and Madeleine, in Malaysia.
Kim said: "They had a cat called Bella they'd brought over from Australia, and fell in love with Khalon since the day we first featured him on our Instagram. The adoption process was pretty smooth though, because Mike and Maddy are such genuinely warm and caring people and they were perfect for Khalon.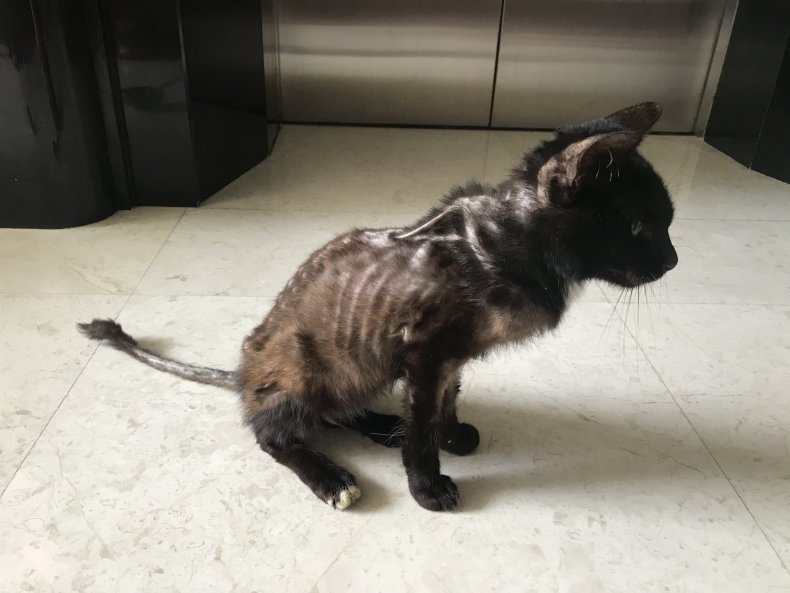 "Right off the bat, Khalon fell in love with his new parents, and Bella too (though she wasn't as enthused). He sleeps right in between Mike and Maddy in bed, and he does this thing where he insists on grooming Mike's beard. Khalon jumps up onto his chest, and just sits down on his chest and starts licking his beard—it's so cute.
"Khalon flops around, asks for belly rubs, plays like crazy, and is an absolute food monster. He eats every meal like it's his first and last, not that anyone can blame him. He's just the best cat ever!"
Allergic Rescuers KL shared his touching story to their Instagram page, in November, along with the trio, saying: "We are especially proud of this boy and the incredible journey he's been on. At the end of June, Khalon was rescued as literally a bag of bones.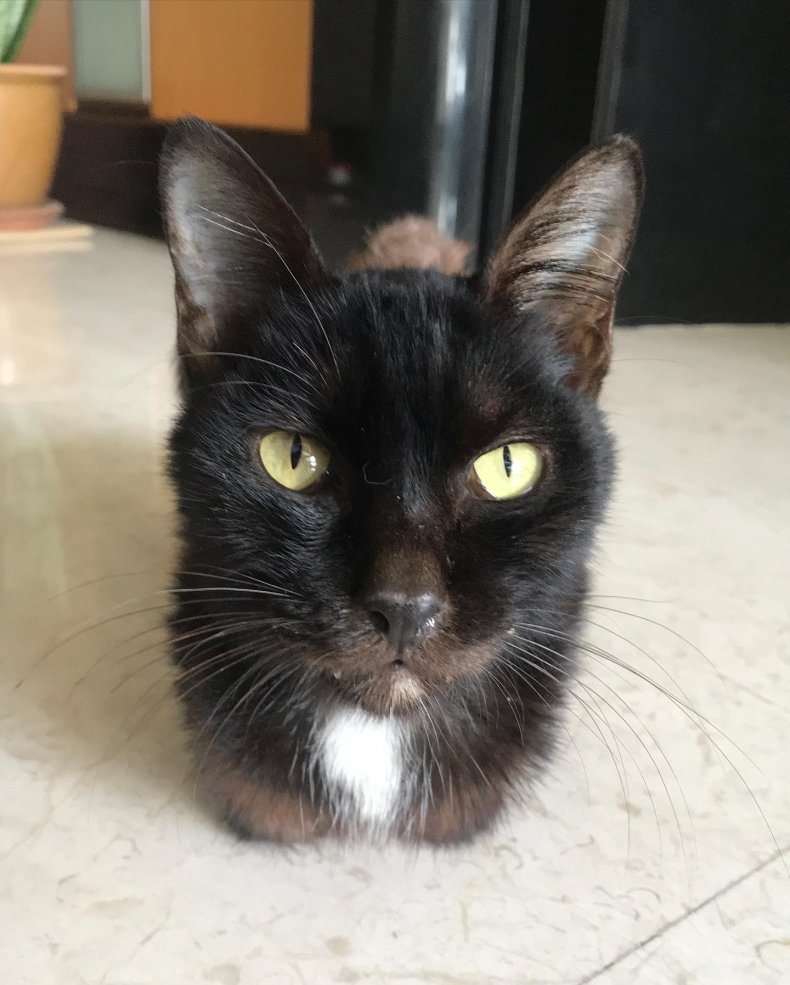 "We had no idea what his history was, but based on his 1.8 kg frame, felt certain that he must have been trapped somewhere and starving.
"He's seriously the luckiest boy! We are so happy for you, Khalon, glad you found your own happy ending/beginning. And thank you to everyone too, who have been so so supportive of Khalon!"
As Khalon's story spread online, there was an outpouring of shock at seeing his condition, as well as praise for his rescuers, fosterers, and of course his new family.
Commenting on one Instagram post, Jenjejen0820 wrote: "When we first saw him on your IG story our hearts break for this poor fella, thinking how much must he had suffered before being rescued. Bless you all for saving and giving all the TLC that he needs to get well."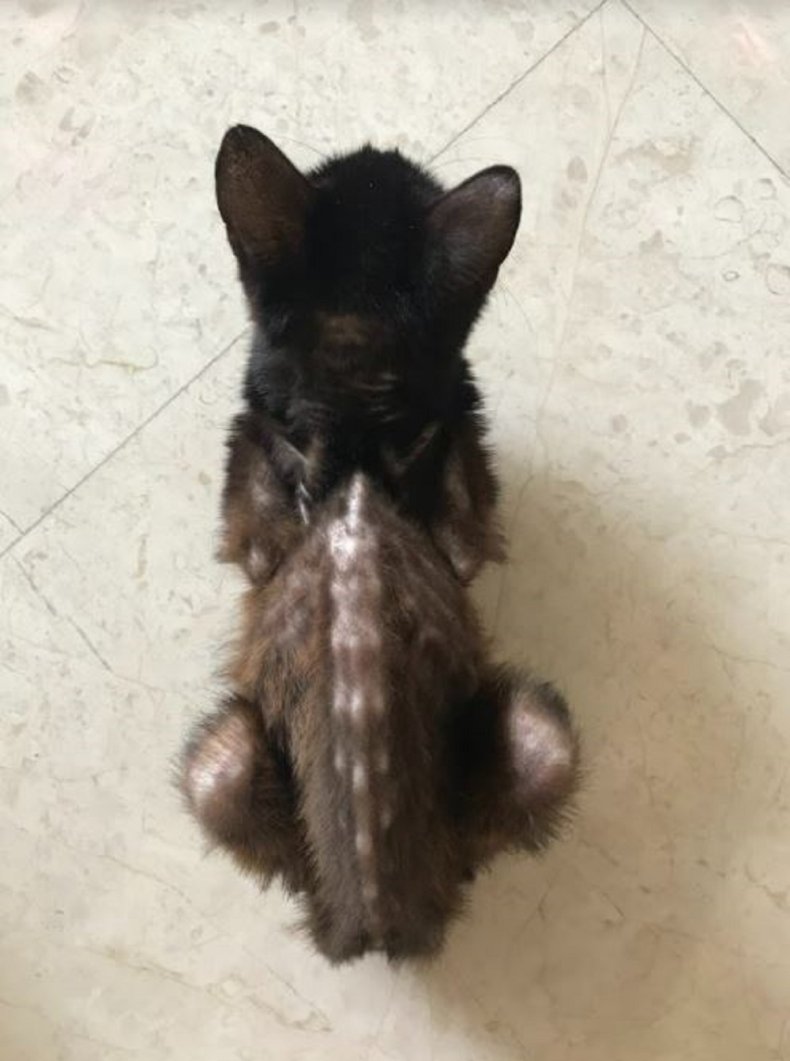 Alfie_sophie commented: "Heart breaking. Get well soon."
While Onyet_the_cat gushed: "Thank you to all the kind people involved in helping him. May your lives be blessed for the kindness you've given him.
"I still cannot see his skeleton body, it saddens me, it's just unbearable thinking of what he went through."
Referencing the love Khalon's received, Kim told Newsweek: "People's reactions to his story have been overwhelmingly kind and happy for his new chapter.
"Khalon is a very lovable, goofy cat all around and we enjoy his company a lot. It's great to see him living his best life."