Dog Used for Breeding Puppies Reveals Incredible Weight Loss Transformation
A dog used to breed puppies has undergone incredible weight loss after tipping the scales at 26 pounds, as her new loving owners put her on a special diet.
Rosie, a Cavalier King Charles, was at a puppy mill in Pennsylvania when the owners cruelly threw her out after she was unable to carry any more litters.
Luckily she was adopted into a loving home, by Redditor Sean, posting under @SeanR1221, and his wife. They took her in nearly a year-and-a-half ago, but it seems her former life at the mill had wreaked havoc on her little body.
Speaking to Newsweek, he explained a little more of her backstory, saying: "Rosie came from Lancaster which is known for running puppy mills. No idea on how many puppies she had. The shelter said the mill put her in a box and called them to come pick her up because she couldn't have puppies anymore. So sad!
"She put on weight extremely quickly and was obsessed with food. Our best guess is she wasn't fed much previously. After some rapid weight gain we tried a lot of different techniques like longer walks and changing the brand of food but eventually she hit 26 pounds.
"We had her thyroid tested and the vet said it was totally fine and theorized her hormones are thrown off from her previous puppy mill trauma," Sean said.
Her teeth had all but rotted away, which Sean theorized could have been from chewing, as Rosie, thought to be five, desperately tried to escape.
"She only has a few teeth. Her teeth were mostly rotted from the mill (maybe she was trying to chew out of a crate?) so that's also why we soften the food for her. She basically has her little front teeth and her two back molars."
As a result they have to make sure all of her food is a bit mushy now, which they do by adding chicken broth, to ensure she can eat it. Although her lack of teeth hadn't quelled her appetite, as Sean joked: "I have a second cavalier who eats more and weighs less than Rosie."
But as her weight crept up due to her health issues, Sean decided to put her on a special diet. After some "extra long walks around the neighborhood" and a proper diet, she's well on her way to her 20-pound goal, after losing 12 percent of her body weight. Over the last three months she's lost an incredible three pounds, with Sean claiming she's like a new dog.
Sean shared photos of her progress to his Reddit account, @SeanR1221, on Wednesday, saying: "Rosie is almost at her goal weight."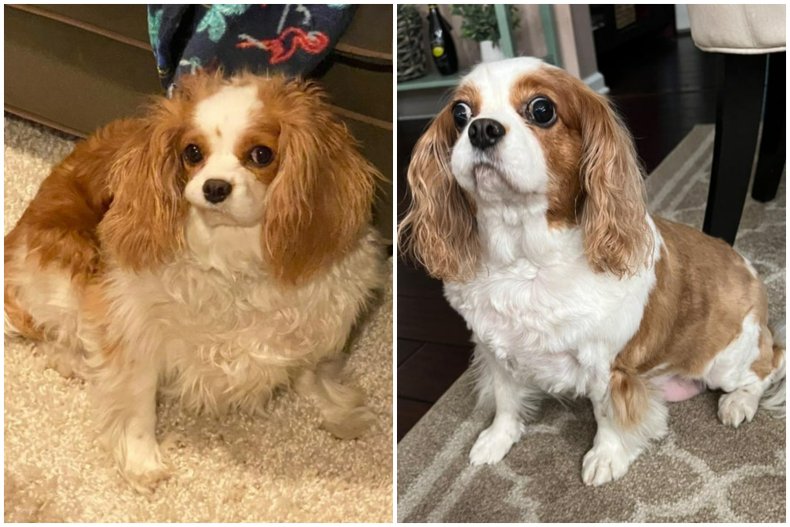 Speaking to Newsweek, he raved: "She seems happier overall now. I think she's now fully comfortable living here and feels good she can move around. I know and she's the biggest sweetie. She doesn't beg. She doesn't destroy anything. She doesn't get bossy. She's just a giant love sponge.
"I should add she can now easily hop up and down curbs. She jumps when her food comes out and she can actually run now! I think the joint supplement helped a lot because she was VERY docile and inactive when we got her."
Sean's Reddit post amassed hundreds of upvotes, as people gushed over her transformation, as UnRichieUnRich21 noted: "Aww, bless your soul for rescuing her!"
SomeoneAlive123 said: "She looks so good and adorable. I hope she achieves her goal!"
Eevee_the_pup: "Looks like she's always met her cuteness goal. Great job, Rosie, keep it up!"
Shot_Boysenberry_232: "Great work Rosie. Looking beach ready babe."
Flimsy_Agent7898: "Looks like the journey has changed her view on life, what a wonderful doggo."