As a historic heat wave continues in the northwest of the U.S., with record temperatures reported in some parts, families should be aware of the health risks for pets.
The American Veterinary Medical Association (AVMA) warns: "If it's hot outside for you, it's even hotter for your pet."
Here are some tips on how to keep your pets cool during a heat wave.
Bring Your Pet Indoors
Pets should be brought indoors during severe weather conditions, the National Weather Service (NWS) advises.
The American Society for the Prevention of Cruelty to Animals (ASPCA) advises: "Make sure your pets have a shady place to get out of the sun, be careful not to over-exercise them."
Keep your pets cool indoors with a cooling body wrap, vest or mat, which can be soaked in water before putting them on your pets, the Humane Society of the U.S. says.
"They'll stay cool (but usually dry) for up to three days. If your dog doesn't find baths stressful, see if they enjoy a cooling soak."
Never Leave Pets Inside cars
Pets should be never left inside a car, even in the shade or with windows open, or with the air conditioner on.
The AVMA warns: "Cars can overheat quickly to deadly temperatures, even when the weather isn't severe."
The NWS says: "Even in cool temperatures, cars can heat up to dangerous temperatures very quickly. Even with the windows cracked open, interior temperatures can rise almost 20 degrees Fahrenheit within the first 10 minutes. Any pet left inside is at risk for serious heat-related illnesses or even death."
Avoid Asphalt
Owners should keep pets from lingering over hot surfaces, like asphalt, which can burn their paws.
The ASPCA explains: "Being so close to the ground, your pooch's body can heat up quickly, and sensitive paw pads can burn. Keep walks during these times to a minimum." Take walks with your pet during the cooler hours of the day.
Keep Pets Hydrated
The ASPCA says pets can get dehydrated quickly when it is hot or humid outdoors. Owners should make sure their pets have unlimited access to fresh water, the AVMA advises.
Symptoms of Overheating in Pets
The ASPCA advises symptoms of overheating in pets can include the following:
Excessive panting or difficulty breathing
Increased heart and respiratory rate
Drooling
Mild weakness
Stupor or even collapse
Seizures
Bloody diarrhea and vomit
Elevated body temperature of over 104 degrees Fahrenheit
The ASPCA warns: "Animals with flat faces, like pugs and Persian cats, are more susceptible to heat stroke since they cannot pant as effectively."
The Humane Society of the U.S. adds: "Animals are at particular risk for heat stroke if they are very old, very young, overweight, not conditioned to prolonged exercise, or have heart or respiratory disease."
What To Do If Your Pet Has a Heat Stroke
The AVMA warns pets can suffer heat strokes very easily and "must be treated very quickly to give them the best chance of survival."
Here are the steps to take if your pet has a heat stroke, as outlined by the AVMA:
If you cannot immediately get your pet to a veterinarian, move it to a shaded area and out of direct sunlight.
Place a cool or cold wet towel around the pet's neck and head. Do not cover your pet's eyes, nose or mouth.
Remove the towel, wring it out, wet it again and rewrap it around your pet every few minutes as you cool the animal.
Pour or use a hose to keep water running over your pet's body (especially the abdomen and between the hind legs). Use your hands to massage the pet's legs and sweep the water away as it absorbs the body heat.
Transport the pet to a veterinarian as soon as possible.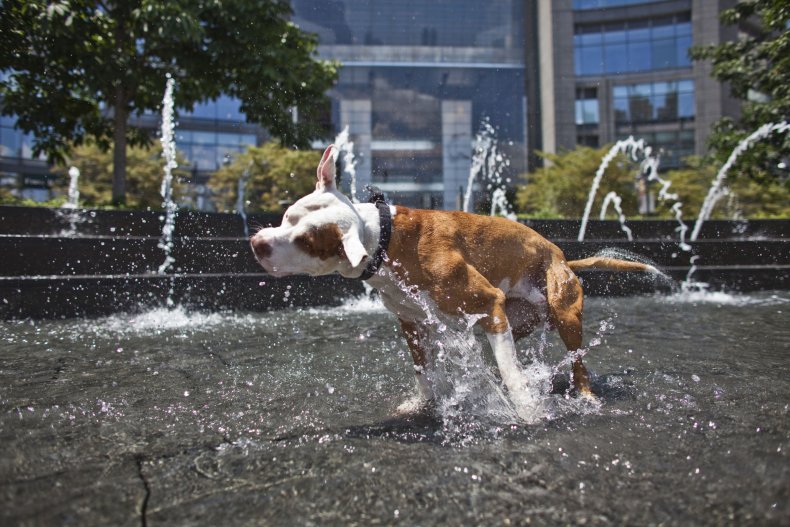 Uncommon Knowledge
Newsweek is committed to challenging conventional wisdom and finding connections in the search for common ground.
Newsweek is committed to challenging conventional wisdom and finding connections in the search for common ground.
About the writer
Soo Kim is a Newsweek SEO Reporter is based in London, UK. She reports on various trends and lifestyle stories, from health, fitness and travel to psychology, relationships and family issues. She is also a South Korea expert who regularly covers Korean culture/entertainment for Newsweek, including the latest K-dramas, films and K-pop news, and is the author of the book How to Live Korean, which is available in eight languages. Soo also covered the COVID-19 pandemic extensively from 2020 through 2021 after joining the general news desk of Newsweek in 2019 from the Daily Telegraph (a U.K. national newspaper) where she was a travel reporter/editor from 2010. She is a graduate of Binghamton University in New York and the journalism school of City University in London, where she earned a Masters in international journalism. Languages spoken: English and Korean.
Follow her on Twitter at @MissSooKim or Instagram at @miss.soo.kim
You can get in touch with Soo by emailing s.kim@newsweek.com