Temperatures In Pacific Northwest 50 Degrees Above Average During Heat Wave
Temperatures in cities across the Pacific Northwest including Portland, Oregon and Seattle, Washington, are hitting record highs well above 110 degrees Fahrenheit, with weather experts predicting the scorching heatwave to continue for at least another week.
A so-called "heat dome" has formed amid a record-strong high-pressure area that has established itself over the region. This dome, which is currently hovering over all of Washington State and British Columbia, has been described by meteorologists as having a "one-in-a-thousand-year" chance of occurring over the Pacific Northwest. The region is currently experiencing temperatures between 25 to 50 degrees Fahrenheit higher than the typical Pacific Northwest average. Seattle on Monday is set to smash its all-time record high temperature by around 7 degrees and Portland is set to record a second-straight day of 112 degree temperatures.
The U.S. National Weather Service predicted that this week's heat wave in the Pacific Northwest will be "historic, dangerous, prolonged and unprecedented." This prediction prompted many lawmakers, including Vermont Senator Bernie Sanders, to renew calls to curb climate change across the globe.
Ben Noll, meteorologist at the National Institute of Water & Atmospheric research, noted Sunday that Portland was hotter than 99.8 percent of the Earth's surface amid its record-high heat wave. The only places hotter than Portland on Sunday were Africa's Sahara Desert, the Persian Gulf and the low-land deserts of California, including Death Valley.
Seattle hit 104 degrees Fahrenheit on Sunday, which broke its existing all-time record and became the first time in recorded history that the city had back-to-back days which were in excess for 100 degrees. Similarly, cities in Canada including Lytton in British Columbia hit a high of 116 degrees, smashing its previous all-time temperature high.
Meteorologists and environmental safety officials are also warning of the heightened risk of wildfires in the Pacific Northwest, with some blazes having already broken out across California Sunday. The record heat is combining with a worsening drought in Western states, which experts say is likely to spark new wildfires in the coming days.
Oregon, Idaho and Washington state are all under excessive heat watches and warnings. Additionally, portions of northern California, Montana and Nevada are seeing temperatures rise well above 100 degrees Fahrenheit heading into this week. Hydropower resources in the region are reportedly lower than usual, which comes amid the higher-than-usual demand for air conditioning.
Regional statistics show that around two in three people in the Pacific Northwest region do not have air conditioning units of any kind. Weather and energy experts have instructed people to cover their windows with aluminum foil facing outwards and to place cardboard boxes facing inwards in order to conserve lower temperatures indoors.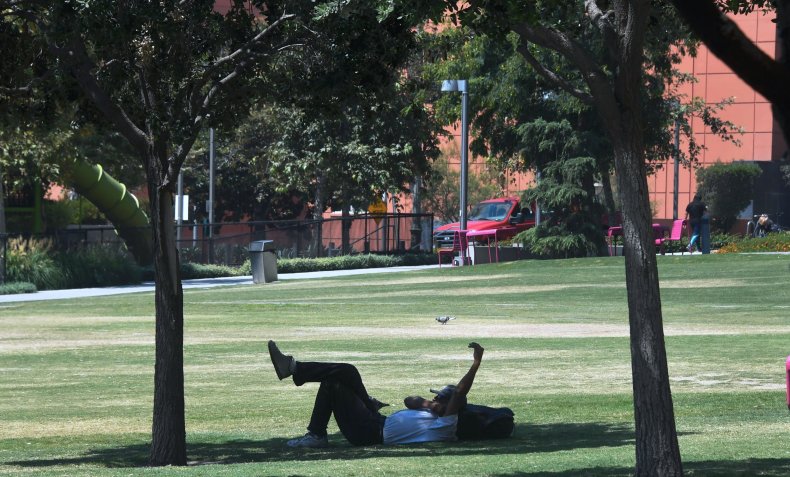 Newsweek reached out the Pacific Northwest branch of the National Weather Service (NWS) Monday as well as city officials in Portland and Seattle for any additional remarks about how to prepare for the ongoing heatwave.