Recently released WWE superstar Heath Slater returned to Monday Night RAW to challenge WWE Champion Drew McIntyre
Slater appeared on Monday Night RAW as a guest of Dolph Ziggler, who is challenging Drew McIntyre at the Extreme Rules pay-per-view. Ziggler was hoping to get into the mind of the WWE Champion by bringing out one of Drew's friends.
Heath would go on to cut a promo on Drew referencing their shared history and how when McIntyre was fired back in 2014 he was there for him, but when he was fired in early April, McIntyre wasn't there.
Slater brings up an appearance the two had on WWE's The Bump where McIntyre says he wants to give Heath a match. Heath says that he is here to collect on that promise.
Watch a portion of Heath Slater's appearance on Monday Night RAW below.
McIntyre originally declined to give the match to Slater, but Heath would push and eventually slap the champion, which caused Drew to finally accept.
And although the match would last less than a minute, it gave Slater his presumably final moment on Monday Night RAW. After the bell, Ziggler would berate Slater, who in turn pushed Dolph to the ground. Ziggler would then take down Slater before McIntyre returned to the ring to make the save.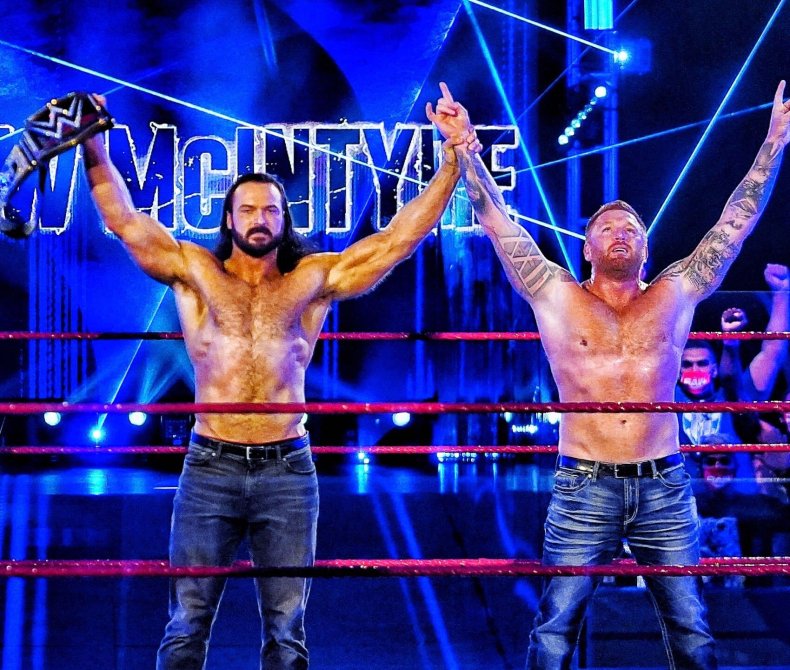 Following his appearance, Slater would thank the WWE Universe and McIntyre.
Slater would also give a WWE Network exclusive interview after the appearance to address where his head is at and the former tag team champion says that this was the "closing of a chapter."
Heath and Drew have a long history in the WWE, with the two being a part of 3MB—with Jinder Mahal—before McIntyre was fired back in 2014.
Slater was one of a list of in-ring talent, producers and backstage employees who were laid off or furloughed in early April due to the company's attempts at saving money during the COVID-19 pandemic.
WWE stated that the layoffs would save the company $4 million a month. On April 23, the WWE reported in its 2020 first-quarter earnings that revenue improved 60 percent to a record $291 million, up from $182.4 million a year ago.
Impact Wrestling has teased that it will be signing one or more recently fired WWE wrestlers and Slater is rumored to be one of them. On a June episode of Impact, Rhyno told Rohit Raju that he already has a tag team partner and "he has kids." This is a reference to Slater's "I have kids" catchphrase in WWE.
Rhyno and Slater were the inaugural SmackDown Tag Team Champions in 2016.
Slater is reportedly free from the non-compete clause in his WWE contract on July 15. Impact Wrestling's Slammiversary pay-per-view is slated for Saturday, July 18.
What did you think of Heath Slater's return to Monday Night RAW? Where would you want to see him appear next? Let us know in the comments section.
About the writer
Phillip Martinez is a game and culture reporter for Newsweek. Prior to joining Newsweek in 2018, he was a reporter and editor for iDigitalTimes and Player.One. A Bronx native, he graduated with his Bachelor's degree in Journalism from St. John's University in 2010. An avid Nintendo fan and wrestling mark, he's always looking to become a Pokémon Master while fantasy booking this year's WrestleMania. You can contact him at p.martinez@newsweek.com