WWE 'Monday Night RAW' Results: Asuka Takes on Bayley in Battle of Champions
As WWE builds toward the Extreme Rules pay-per-view, Monday Night RAW continues to set up its matches.
SmackDown Women's and one half of the Women's Tag Team Champions, Bayley will take on RAW Women's Champion Asuka in a champion vs champion match. Bayley will take on Nikki Cross at Extreme Rules, while Asuka will take on Sasha Banks, but these two champs are looking to prove who is best tonight.
WWE Champion Drew McIntyre will face Dolph Ziggler for the title at Extreme Rules, but the challenger will decide the stipulation for their match. McIntyre wants Ziggler to let him know what he's in for on July 19, but will Dolph give the champ a heads up or will he keep it a secret for another week?
United States Champion Apollo Crews has successfully defended the title in past weeks, but with MVP and Bobby Lashley coming for him, can the up-and-coming Crews fend them off or is a match at Extreme Rules in the cards?
Seth Rollins continues to make a better Monday Night RAW, but Rey Mysterio, his son Dominik, Humberto Carrillo and Aleister Black continue to get in his way. What will Rollins do tonight to get the upper hand? Can Mysterio finally get revenge on Rollins for injuring him?
Here's everything that happened on the July 6 episode of Monday Night RAW.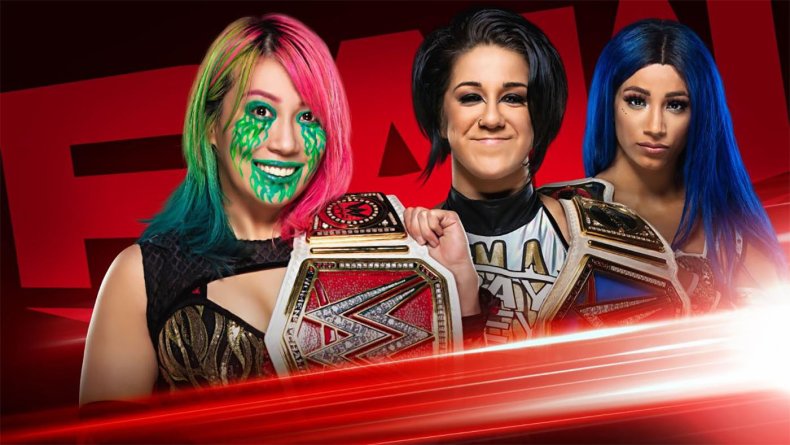 WWE MONDAY NIGHT RAW RESULTS
Drew McIntyre Promo
McIntyre recaps how he gave Dolph Ziggler a choice for the stipulation. He runs down all the various matches they can have. McIntyre calls Dolph out to tell the people what the stipulation is.
Dolph Ziggler comes out and says the stipulation is a secret. He says that Drew McIntyre is the same as always and he's dumb for letting him choose the stipulation.
McIntyre says he's the WWE Champion while Ziggler brings up how Drew was fired and didn't do anything in WWE for years. Ziggler brings out Heath Slater to talk to Drew.
Slater says he's known Drew for years, but today is when McIntyre has become the "chosen one." Heath brings up that when Drew was fired he called him every day and calls McIntyre his brother. Slater asks where he was when Heath was fired in April? He brings up how McIntyre says he would fight to get one more match for Slater, but that didn't happen. Slater says he's here to take his opportunity and to get what was promised to him.
Drew shakes his head when Slater pushes him and slaps the champion. McIntyre accepts the match before RAW goes to commercial.
Drew McIntyre vs Heath Slater
McIntyre wins via pinfall after a Clay More
The match was about a minute long with the only offense Slater getting
After the match, Ziggler gets in Heath's face with Slater pushing Dolph to the floor. Ziggler takes down Slater when McIntyre comes out for the save.
Sasha Banks and Bayley Interview
Sasha and Bayley are approached backstage for an interview. Bayley says that they don't need to answer questions right now, they can just tell it to the world. The duo walk off.
Asuka appears behind Sarah Schriver who asks the champion how she plans to deal with both Sasha and Bayley alone? Asuka laughs saying, "who says I'll be alone" and dances off.
Bayley and Sasha Banks Promo
The duo talk each other up and say that
Asuka interrupts and makes fun of Sasha and Bayley. She says that Bayley isn't ready for her.
Bayley says that Sasha will embarrass Asuka at Extreme Rules just like she has done for the past few weeks. But if Asuka wants a fight, she can fight Sasha, which Banks looks annoyed at the possibility. Asuka laughs and says that Sasha won't be facing her. She brings out Kairi Sane.
Sasha Banks (with Bayley) vs Kairi Sane (with Asuka)
Kairi Sane wins via disqualification after Bayley breaks up a submission on Sasha
After the match, Asuka gets in the ring and four brawl. The brawl ends with Kairi Sane hitting the Insane Elbow onto Bayley and Sasha on the outside.
Backstage
Referees tend to Aleister Black who is in a Rey Mysterio mask. Murphy and Seth Rollins look on as Black groans in pain.
Backstage
When RAW comes back from commercial, The Big Show approach the Viking Raiders who are messing with a bowling bowl.
Show says that they need to be serious tonight. Viking Raiders says that Edge and Christian may be Big Show's friends, but they were heroes to us and Edge is a viking brother.
Show slaps both Erik and Ivar in the chests and they get upset and say they are ready for tonight.
Kevin Owens Show
KO throws the chairs out of the ring because Seth Rollins is his guest.
Rollins comes out with Murphy and thanks Kevin on hosting. He asks KO how his fractured ankle is doing. KO says that it's doing better than Seth's fractured ego. Owens says since WrestleMania things haven't been going well for Rollins. KO gives Seth a Kevin Owens shirt, the one that he wore when he beat Rollins at WrestleMania.
Rollins says he sees what KO is trying to do. He says he doesn't give a damn and KO or his show, the only reason he came out was to use the show as a platform to address the medically cleared Rey Mysterio. He formally challenges Mysterio to a match at Extreme Rules.
Rollins also says that Mysterio will be a sacrifice like KO sacrificed his health to defeat him. He also says that Owens needs to understand that he needs Seth more than he realizes. Rollins says that KO should fight for him.
Rey Mysterio and Dominik interrupt and Rey accepts the match, but doesn't want to wait to get his hands on Seth. Rollins asks who Mysterio will tag with if Aleister is out. Seth even threatens Dominik.
Kevin Owens says he thought about Seth's offer and says he will never join him. But he will join Rey Mysterio in a tag team match. Owens says that the winner of the match tonight will choose the stipulation at Extreme Rules.
Seth laughs and accepts before Murphy jumps Owens and there's a brawl before RAW goes to commercial.
Rey Mysterio and Kevin Owens vs Seth Rollins and Murphy
Mysterio pins Murphy after a 619 and a Frog Splash
The finish was set up when Aleister Black came out to stop Seth Rollins from taking Dominik. This allowed Dominik to rake Murphy's eyes when the ref's back was turned, which helped Rey hit his finisher.
Seth Rollins would actually rake Dominik's eyes earlier in the match.
Rey Mysterio gets on the mic after the bell and says that his match with Seth Rollins will be an "eye for an eye" match.
MVP/Bobby Lashley Interview
Backstage, Bobby says that he put Apollo Crews in a full nelson so his time as US Champion is up.
MVP says the future of the US Championship is straight up "ballin'"
MVP Promo
It's announced that MVP will take on Apollo Crews at Extreme Rules for the US Championship.
MVP says that he wishes he felt guilty that Lashley put Apollo in the full nelson. But he says that Apollo refused MVP's mentorship and disrespected him. MVP says that when he defeats Apollo Crews at Extreme Rules, at least Apollo will have the memories.
MVP unveils the new US Championship.
Lashley crowns MVP the new US Championship because he already beat Apollo.
Ricochet and Cedric Alexander interrupt. Cedric says that MVP knows that he has to earn championships. Ricochet says that when Apollo returns, he'll stop this nonsense with MVP crowning himself the new champion.
Bobby Lashley and MVP vs Cedric Alexander and Ricochet
Lashley pins Alexander after a Spear
After the match, Lashley puts Alexander in the Full Nelson but Ricochet drop kicks him to get his friend out of the submission.
Backstage
Angel Garza apologizes to Andrade, but he says he's sick of it. Ric Flair appears and says that they need to get on the same page for tonight's match
Randy Orton appears and brings up how Andrade and Garza are third generation wrestlers and says that if they screw up tonight, he will introduce both of them to the "legend killer"
Asuka and Kairi Sane Interview
Backstage, Asuka is asked about her match tonight. She reveals that she and Kairi Sane will challenge Sasha and Bayley for the Women's Tag Team Championships next week.
Big Show and Viking Raiders vs Angel Garza, Andrade and Randy Orton
Orton pins Erik after an RKO following a blind tag
Backstage
Backstage, Peyton Royce and Billie Kaye are running down Ruby Riott. Riott shows up and says that the duo annoy her and tonight she'll get her win back
Elsewhere, MVP is talking to Cedric Alexander and says that he can help him get from under Ricochet's shadow. He tells Cedric to think about it and walks away.
When RAW comes back from commercial, Ric Flair is talking up Randy Orton when R-Truth runs into him. He accuses Flair of being Akira Tozawa when the real Tozawa and the ninjas show up. Orton points Tozawa and the ninjas in the wrong direction when they ask where Truth went
Ruby Riott vs Billie Kaye (with Peyton Royce)
Kaye wins via pinfall after a distraction from Royce
Bayley (with Sasha Banks) vs Asuka (with Kairi Sane)
Nikki Cross is on commentary
In the opening minutes of the match, Bayley knocks Nikki's headsets off and before Cross could attack the champion, security carries her off
Asuka wins via pinfall after a roll up
The finish was set up when Nikki Cross came back and slammed on the pexiglass, which distracts Bayley long enough for Asuka to put on the Asuka Lock
Sasha tries to break up the submission, but Kairi Sane hits the Interceptor on Banks to prevent the DQ.