Bayley Talks Heel Origins, Championship Reigns and 'RAW' Match With Asuka
WWE Superstar Bayley is at the top of the women's division.
Not only is she the longest-reigning SmackDown Women's Champion—at 265 days and counting—she's one half of the Women's Tag Team Champions, alongside her best friend, Sasha Banks.
And now, the 31-year-old—whose real name is Pamela Martinez—is forging a new direction for herself in the ring. After seven years of being the most beloved character on NXT before moving to the main roster, the California native shocked the wrestling world by turning heel in late 2019, losing her kid-friendly persona behind in favor of that of a snarky, obnoxious baddie.
"I always had this idea of wanting to be a heel whether people believed I could do it or not," Bayley told Newsweek Monday. "I want to try different avenues in wrestling as long as I have my career going."
Newsweek caught up with the SmackDown Women's Champion ahead of her showdown with RAW Women's Champion Asuka on Monday Night RAW to talk about her new direction, Sasha Banks and much more. This interview has been edited for the sake of clarity and length.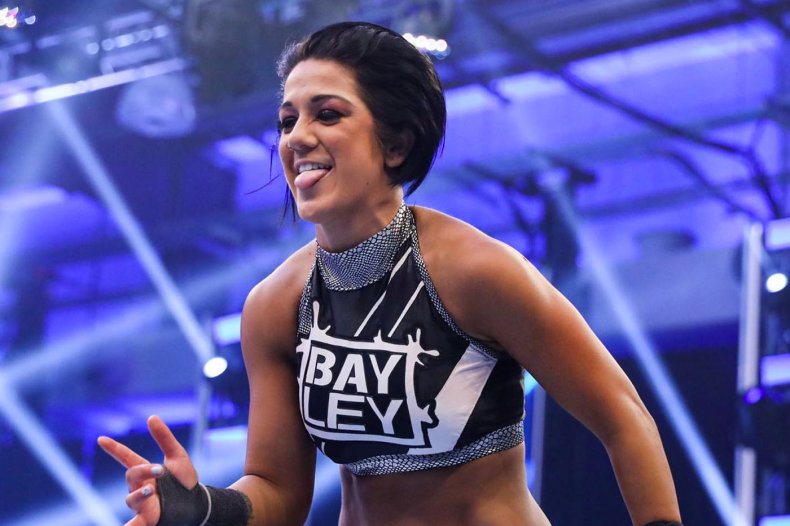 You seem like you're having the most fun right now.
I'm having the best time ever, honestly.
It's been more than six months since your heel turn. How has that transition been?
It's been difficult, but the past few months have been very very fun. When it first happened, I didn't know if I made a huge mistake or if I took the wrong turn in my career. As I started working live events and figuring out who I'm going to be from now on, it kind of woke me up a bit and relit a fire inside of me. I wanted to be the best in this character. I think in a weird way, this empty arena stuff has really helped my character as far as me not knowing whether the crowd is going to react to it or not. I just had to focus on me and how I wanted to portray myself.
You just mentioned how having no fans in the arena helped your character work, but did it affect your in-ring ability at all?
At first I felt like it did. Having matches without a crowd and when you're wrestling you kind of hear crowd reactions and it slows down the pace of a match. Or you're taking your time in certain parts of the match, but without a crowd you don't realize how fast you're going. Putting a match together or actually being in there, I have to tell myself to slow down and try to be a bit more methodical in what I'm doing, and don't rush things because there is nobody there to react to the things that I'm doing. As far as actual wrestling, I just needed to react in my own head as if there were a crowd there, but promo work and stuff has been awesome, not having to worry about whether the crowd is believing who I am now or if they still like me or hate me or not, and lets me just focus on who I'm trying to be.
You say that when you first turned heel you weren't sure if you made the right decision. Was the turn your choice, or are you specifically talking about the character presentation?
A little bit of both. When this first happened I had to, I think it was [WWE's] Hell in a Cell when I lost the title to Charlotte for like a week or something, and I had to cry and put on this big ol' scene and cry and blah blah blah. And I knew I couldn't come back to being the same Bayley. What, am I going to cry and everything is going to be ok? What would be the point of that? I always had this idea of wanting to be a heel whether people believed I could do it or not because I had this John Cena little-kid run where, no, you're going to be the same forever. Cena can do that—he's awesome, but I don't want to do that. I want to try different avenues in wrestling as long as I have my career going. It was kind of my idea, I pitched everything I wanted to do and my look and all this stuff and when it was approved I was like, "Oh crap. Well, this better work." [Laughs]
So it was definitely a little scary and kind of got off to a rough start, but I feel I made the right decision in the end.
Can you remember when you knew this was going to work? Was it before COVID happened, was it at WrestleMania?
It was before all of this. I was doing non-television, live events and we made a trip to Hawaii and we had this weird tour or something. And I was wrestling Charlotte, which is hard to wrestle heel against her. And I remember getting these awesome fan reactions and they hated me. For whatever reason, they didn't care if I was their best friend for seven years or their daughter's hero for the past seven year,s they hated me. The fact that it worked somewhere made me think, "OK, I can make this work. This is the right decision."
I remember getting to the back after the match feeling so alive. And I haven't felt that in a long time.
A lot of wrestlers say their on-screen character is themselves ramped up to 11. Where does this side of Bayley derive from? Does it come from your true self?
No, I don't think so. Old Bayley, when she was a superfan and obsessed with wrestling, that was who I really am, ramped up to 11 or a million or whatever. Now... I can be a jerk to my friends when I'm making jokes about them or going back and forth bantering with friends from, like, middle school, not even in the wrestling world. There's a little part of me that can bring out that little jerk inside and be really loud and obnoxious.
It's funny because people in the locker room, when I'm being loud they say, "You're being Bayley-character loud right now, you need to calm down and just be Pam because you're being too loud." [Laughs]
I do think there's a little bit of a difference now, but it doesn't take much for me to bring it out now because it's so fun.
And you work so closely with Sasha Banks, whose "boss" character must be easy to be a heel with. How's it working with her in this new direction?
Definitely, because she's done it in the past and her mannerisms and facial expressions and things that she says just make me feel confident. She'll say something mean and then I can say something mean and we can laugh with each other. Learning from her, and I guess the people we get to work with, makes me feel very confident, and to be more of a jerk.
You've coined the Bayley "Dos Straps" moniker, but where does that originate? There was Becky Lynch's "Becky Two Belts" before, obviously. Did you just sit down to come up with a bunch of different names?
Honestly, I think I tweeted about it, but it's such a ridiculous name that people say, "What the hell does that even mean?" That's where I'm trying to come up with things just to annoy people.
I was getting all these tweets about Becky and my timeline was filled with Becky. For reals, how am I going to get the attention on me and not think of Becky? So I was talking to the Street Profits, actually. "Guys, help me come up with a name." And we were just spit-balling names and dumb ideas. I'm Mexican, so it was like, "Can we say 'dos?' It's Spanish, not even English," and somehow in the midst of the conversation we came up with Bayley Dos Straps. That's it. It's ridiculous, I'm going to do it.
And you put it out there and the rest is history.
Yeah, and people didn't even know what to think. So it worked.
You and Sasha are the current Women's Tag Team Champions and this is your second reign. The first ended quite infamously. Do you feel this reign is a sort of do-over of what you guys wanted to do that first time?
Yeah, that's definitely it. This is what we wanted the first time, literally competing on every single brand and the fact that we've been on NXT twice at this point and although we've only defended the titles once, we've shown our faces twice.
We've already defended it on SmackDown and we got a championship match coming up next week, or this week—I can't even remember any more—and we're doing it on RAW and over and over again and that's what we wanted. I think we kind of had to earn that respect from our peers or from the office and had to show them that we can actually do it, even though it's killing us because we are literally working our butts off on every show. But it's worth it and we want to make these titles so special.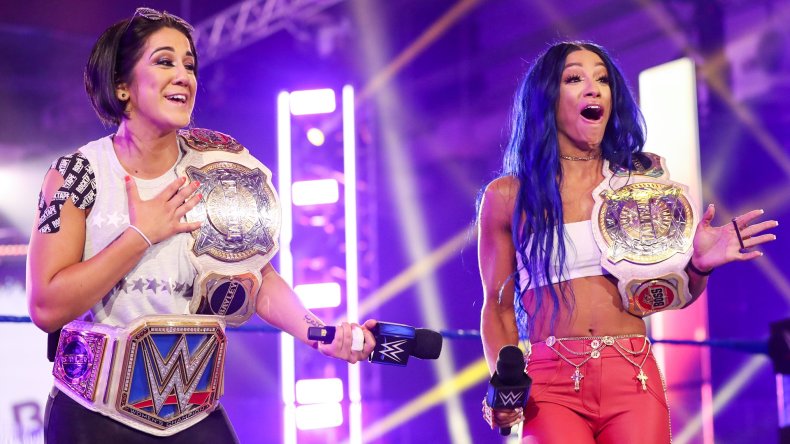 On the subject of NXT: You and Sasha helped make NXT what it is today. Is it great to see what the brand has become?
It's crazy to see how different [it is] from what it used to be, and not in a bad way. I don't know this person or that person, and the locker room isn't where it used to be, and there's actually catering there and it's cool to see how much it's grown and to see how the Superstars of NXT are treated. The fact that they are on a two-hour program on national television is insane. We used to be on Hulu.
It's been really special and we want to keep going because their locker room is awesome. We want to keep going and help the best way we can.
Oh yeah, I remember those Hulu days.
[Laughs] Yeah, I remember not even getting a match on those. We would be in dark matches or just sitting in the locker room for hours and not being booked.
We're seeing a bit more crossover between NXT and the two other brands. Would you want to see more of that crossover?
I know how much we love going there, but we would love for any NXT talent to pop up on RAW or SmackDown. Many of them are in the crowd and you see some familiar faces every week and you're just like, "Man, you know you can just come over here and get in the ring."
Because we're in such close quarters during this COVID outbreak, it's cool for us to be close to each other, in a sense, where I can be on this show, you can be on that show, and we can all help each other. It's a really rare time where we get to do that. It's a good opportunity, I think.
With Becky Lynch and Charlotte gone for a while, is this the best opportunity for you and Sasha to have all eyes on you? Do you relish the spotlight, or is there an added pressure?
First of all, I want to say the spotlight isn't only on us because Becky and Charlotte are gone. The spotlight is always on us. You remember us whooping them with some steel chairs not too long ago? [Laughs]
But I must say it's nice for them to be out of our hair, so we can focus on us and not worry about any of them running out—especially Charlotte, when we are trying to get our work done. Sometimes they'll get a bit more TV time than us, but we got this. We got it, it's nice.
Tonight you're facing Asuka, whom you have a history with, dating back to NXT. What's it like to still get in the ring with her, even after all these years?
Man, she doesn't age. I don't know what's wrong with her, she's unbelievable. I hate her because she's a mother, friggin' 38 years old, and none of that matters. She's been wrestling for so long and has so much experience. She's won every championship and she's never missed a beat. I watched her one night, we had a triple-threat tag match where she teamed with Charlotte and that same night she main evented with Charlotte and just kept going and going and going. So that is unbelievable, but I also want to prove that I'm the better champion, so tonight I'm going to have to take it to her. I know it's going to be hard because I don't know how she does it, but I'm going to push my stamina and do the best that I can. This may be one of my hardest matches since becoming champion, if I'm being honest.
I know it's very early, but wrestling has ebbs and flows with character alignments. If you were to go back to a face, it couldn't be the same as before. Do you think about that, or is it too far down the line to think about?
That's too far down the line. I think this is who I am now and whatever happens it'll have to happen naturally. This is the way it's going to be for a long time.
Whenever you're with Sasha Banks a lot of "When will they break up? When will we see that one-on-one match?" comes up. Without the fans who would want to see it in the stands, is it difficult to think about having that match?
Well, it's difficult to think about because it's never going to happen. Everyone wants us to fight, but look at us. How are they going to run any shows without us together? They can't do RAW without us, SmackDown without us, NXT without us. Why would we break up?
As much as it would be awesome and we'd main event, be on the marquee, the talk of whatever pay-per-view it'd be on—why would we do that when we're making all this money on all these shows? That's the wrong question, buddy.
Especially if Sasha takes Asuka's RAW championship and you two have all the titles, it'll all be over. My apologies.
Exactly, and no problem.
Well, you've done just about it all in your WWE career. You've won every title, won Money in the Bank. What is there left for you to do? Is there anything you want to work toward?
I've never won a Royal Rumble. I would love to win a Royal Rumble. I am a Grand Slam Champ, like you said—first ever—and I did Money in the Bank, but I still need to win a Royal Rumble and I still need to main event a WrestleMania.
Bayley takes on Asuka in a Champion vs Champion match tonight on Monday Night RAW starting at 8 p.m. EDT on USA.