Dakota Kai Looks to Take New Attitude to the Top of NXT's Women's Division
As the talent in NXT's women's division have come and gone, Dakota Kai has remained a foundational piece for the black and gold brand since her arrival in 2017.
Kai, real name Cheree Crowley, came up from the independent scene as a fan-favorite. Often the underdog, Kai garnered a ton of fan support before an untimely injury in 2018 put her on the shelf just when she was getting prime television exposure.
Since her return, Kai has clawed and scraped to find opportunities in a division that is more competitive than ever. But the spotlight will shine on Kai once again in 2019.
During the first-ever women's War Games match, the 32-year-old New Zealand native turned heel on her best friend Tegan Nox in one of the most shocking, and well-executed, moments of the year.
With a new attitude and a towering Raquel Gonzalez by her side, Kai has risen up the ranks and has staked a claim for a shot at the NXT Women's Championship.
"I will prove to everyone tomorrow night why I didn't even need this Fatal Four Way to get a number one contendership, but everyone will get a treat," Kai told Newsweek on Tuesday. "These girls have worked very hard and they are all hungry for the gold. I think everyone should be excited for this match."
Kai is competing against Candice LeRae, Mia Yim and Tegan Nox in a Fatal Fourway elimination match to determine the number one contender for Io Shirai's NXT Women's Championship. Ahead of that match, Newsweek caught up with Dakota Kai to talk about her time in NXT, the heel turn and more.
This interview has been lightly edited for clarity and length.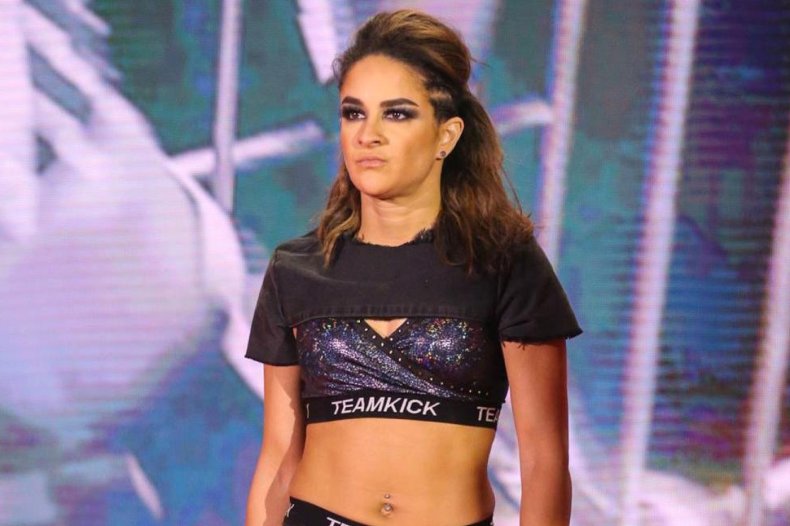 I wanted to start with the pandemic we're dealing with in the country. Multiple people have tested positive for COVID-19 in the WWE. How do you feel working during this time?
I feel safe. The situation has evolved right now. All the talent and personnel on-site needed for the tapings are tested before each round. With that and social distancing and cleaning the ring after every performance, I feel 100 percent safe.
Coming into NXT your work in the indies gave you a lot of fanfare and excitement. Thinking about then and where you are now, is it surreal?
It definitely is surreal. When I look back at my independent journey, this is my 13th year in wrestling, which is crazy to think about, but it still blows my mind because we have so much great talent to work with and so many of these girls came from the independent scene as well. So it's super cool to have that as a journey in itself.
But also the people and the producers we get to work with. Seeing Triple H and Shawn Michaels and Road Dogg helping out with all our stuff and producing NXT and taking it to these great new heights it's mind-blowing to me. I used to watch these guys back in the day so to have them being guiding mentors during this time is so real. [Laughs] I can never get used to that.
After bursting on the scene, in 2018 you were in a program with Shayna Baszler and were getting a lot of television time. But then you had that unfortunate injury that shelved you for a few months. What was that time like?
You're right I had a lot of opportunities. I just made my first appearance at Takeover which was November of 2018. It just happened where I tore my ACL on a road loop doing something so silly. It was something I've done a million times before and I just landed wrong. Prior to the injury that was the first time I was getting a lot more TV time. When my injury happened I felt this was the worst time. But when you think about it, there's never a good time for an injury.
You could be a champ on the top of your game and it could happen and that would be the worst time ever. So injuries are just never fun in general, and that was the first major injury, the first surgery I ever had in my wrestling career.
It was a shock to go through something like that. I thought I was invincible, it sucked. And with that you just have to change your focus from wrestling to rehab, which was difficult but I managed to power through and get to where I needed to be.
Was there a feeling that you could lose your spot being injured?
I think it's less about losing your spot and more losing your ability to do what you did before. I was not worried about [losing my spot], I was more worried about wrestling and not being the same. You know? You always hear these stories of people going through big injuries like this and have not returned to what they used to be. So that was a big fear and then losing opportunities that way. Maybe I wouldn't be as good or favoring one leg and another injury would happen, which is sometimes how ACL injuries happen. If you injure one the probability of injuring the other is higher. All those things were in my mind and were very much off-putting. It's a big mind game when it comes to rehab and injuries because you have all this stuff in your head. The closer you get back to the ring or in any sport, [the thoughts] just get louder and louder. It all managed to work out though. [Laughs]
We then have the pivotal moment in your NXT career, the heel turn at Takeover: War Games. I remember watching it even though it was building up to it, the execution was something else.
A lot of people saw it coming. They were like, "oh heel turn incoming!" but the way that it happened and the way we went about it was a shock to a lot of people. So you guys can call that, but how it happens is its own work of art.
The women in your match this Wednesday were all involved in that War Games match in one way or another. How is it to "grow up" with these women and be together on NXT?
The locker room in NXT, specifically with the women, we have worked together amongst ourselves to keep raising the bar with good matches and storylines. A lot of these women are ones that came from the independent scene. There is a sense of, and I know this sounds cheesy, sisterhood. We all came from more or less the same background so for us to come to NXT and continue to work with each other and continue to raise the bar it's very much an evolution in of itself. Wednesday is a perfect example of that.
Like you said, the women were all involved in that infamous War Games match. I love it because these are the women that I trust and they are so talented in their own right. I think it's great to keep a certain set of women as well as bringing in new talent because you need to keep raising the bar in that sense too. But I love it.
You speak of a sisterhood and your work in the independents. The Speaking Out movement has permeated the wrestling industry and even in the WWE. What are your thoughts on what has happened?
I was aware of it all coming out and the happenings. The girls and guys that were speaking out were people that I know. They were friends. It comes down to being a good person. I think when you look at it, it was across the whole scene. It was everywhere. I just...honestly I just wish the best for wrestling as a whole. These stories were coming from years ago across many different promotions. I really do hope a lot of people start taking this industry in a positive direction. We're all a part of it. I just hope people see this and we got to be better. Just be a good person. It's not that hard.
Your heel character is menacing and boisterous, but you seem to be very sweet in real life. Is there anything you derive that character from?
[Laughs] Honestly, when they first put out the idea of me turning heel it was a bit scary because on the independents I was really who I am. Maybe I did a bit of heel work on a couple of shows for MCW in Melbourne, but when they put forth the idea I knew it wasn't in my element and it was going to be a challenge. I kinda rose to that, and I love that. I love when things are fresh and I have new things to play with. When it happened it was cool and I rode that for a bit, but with the addition of Raquel [Gonzalez] it took it to a whole new level. And we get to play with a lot of really cool ideas. Shawn Michaels literally compared us to himself and Diesel. And you know, I'm going to take that and run with it.
Turning heel is a challenge, but I love when things hit on a certain, more creative note and let me explore outside what I know and who I am.
How is it working with Raquel Gonzalez?
She's a beast. She was at NXT at the Performance Center even before I got there so a lot of us were wondering when she was going to get her shot because she's such a hard worker. She's so strong and talented. When is this girl going to get her big break? Little did I know it was going to be with me. A lot of us were so happy for her.
On a creative level, it gave me a whole new thing to play with. She gave me a muscle out there. I did find that I was getting a bit bored and stagnant with what I was doing before I had her. I can't just be an angry person. Why am I angry, you know? With the addition of Raquel it took it to a whole new level in-ring and creatively. We have so much more to play with and she's obviously so nice and easy to work with. She deserves all of it.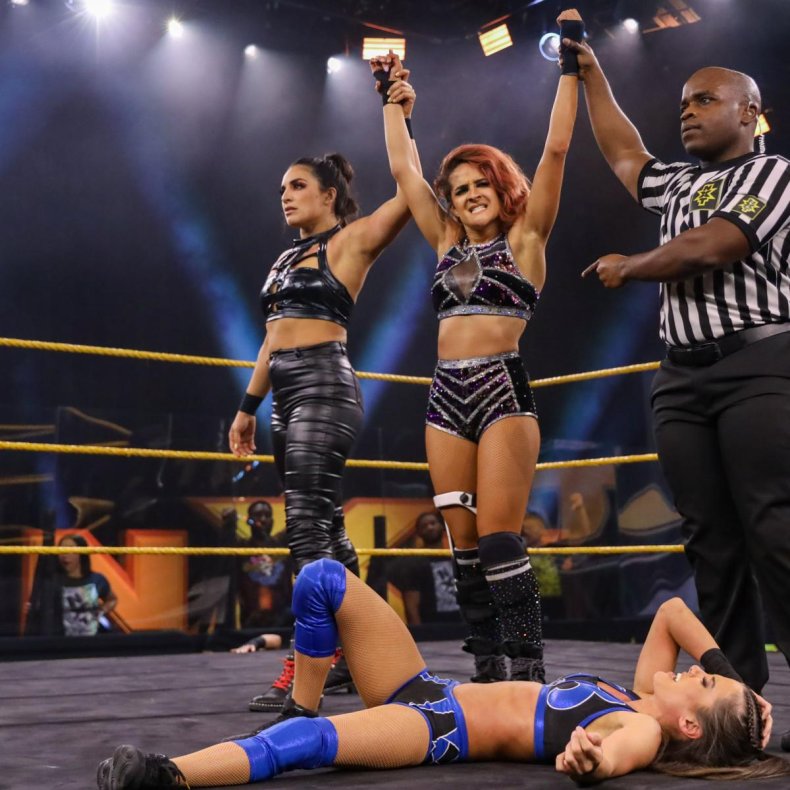 What I find interesting is when a heel has a muscle, they kind of revert to becoming a more "cowardly heel." Do you purposely try to do the opposite?
Definitely. It adds a completely new dynamic. I don't want to lose why I turned heel in the first place, but I want to take it in a new direction with her. With the advice and help of Shawn, he had that tag team for awhile, it's been really good to have him tweak some things whether it's our entrance, in-ring or backstage or even how we look. It's really cool creatively and to have his help is awesome too.
Is there one thing in particular that Shawn has told you that has stuck with you?
Honestly, just to really utilize Raquel. You have someone who is bigger and stronger you're obviously going to want to use them whether you're good or bad. Just utilizing her for that and even little things like our entrance. Like making her look as dominant as possible, which is something I never think about with the camera angles and placements to make her look as big as possible. Just little things like that.
This Wednesday we also have Sasha Banks taking on Io Shirai. Do you want to see more crossover between NXT and RAW and SmackDown?
Absolutely. First of all, Io and Sasha is going to be amazing so I'm excited to be able to see that. I really do hope that we get more talent mixing it up all around even if it's just NXT going to SmackDown or RAW coming to NXT it's good for everyone. We get to work with different people that we aren't used to working with and the viewers get to see something different. You can't complain against that. I was saying for a while, "man, I really want a shot at the [women's] tag team championships." I'll just wait a little bit, that's fine [Laughs]. I think it only helps boost everyone so I'm all for it.
Rhea Ripley can't have all the fun.
Hell no! [Laughs]
Watch Dakota Kai take on Candice LeRae, Mia Yim and Tegan Nox to become number one contender for the NXT Women's Championship this Wednesday at 8 p.m. EDT on USA.