Heidi Montag Hopes Eating Raw Animal Organs Will Help Her Fall Pregnant
Heidi Montag has introduced raw animal organs into her diet in the hope it will help her have another baby.
In recent weeks, the TV personality, 35, has taken to sharing images of herself indulging in such cuts as raw liver and uncooked bull's testicles.
The Hills star Montag informed her Instagram followers that she was doing so because she believed there were "so many health benefits to eating liver, animal organs, raw liver."
In a new interview with People, Montag revealed that she's hoping her diet will help with her fertility issues. The reality TV star and her husband, Spencer Pratt, are parents to four-year-old son Gunner Stone.
"I love trying new things! I've always been very interested in various types of diets," she said, telling the publication that she's interested in "anthropology," particularly "the way humans are meant to eat."
"When you think about where the most nutrients are that are bio available to humans without toxins, organs are very nutritious parts of animals," she went on. "Culturally organs are a critical part. Eating raw liver is going to preserve as many nutrients as possible."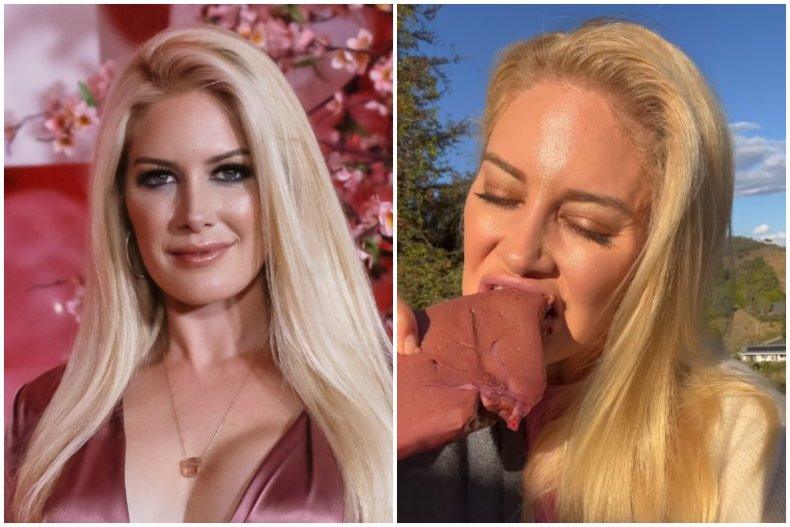 Acknowledging that there is "always risk eating raw just like eating raw sushi," she added: "I just happen to like eating sushi-style organs."
However, more than just providing herself with a barely prepared meal, Montag added that the real motivation is the hope that it will help her conceive another baby.
"I have been trying to get pregnant for over a year and a half, I'm willing to try different things," the Colorado native said. "It's a great source of nutrients! I have felt incredible on this diet.
"A lot more energy, clarity, increased libido, and overall improvement on chronic pain I have had. Also now I've been taking the supplements called 'Her Package' from Heart and Soil that has improved my menstrual cycle."
"I have definitely adjusted to the taste," she added of her new diet. "I do like the taste cooked. I mean I love Foie gras."
In one of her Instagram posts about her raw animal organ diet, Montag tagged the the account of podcaster Paul Saladino, MD, a physician who is an outspoken advocate of the carnivore diet.
Saladino's website describes him as a "leading authority on the science and application of the carnivore diet. He has used this diet to reverse autoimmunity, chronic inflammation and mental health issues in hundreds of patients, many of whom had been told their conditions were untreatable."
Despite Montag's enthusiasm for her raw diet, the Centers for Disease Control and Prevention (CDC) has warned that uncooked meat may contain a number of bacteria, including Salmonella, E. coli and Yersinia.
To eliminate such risks, the CDC recommends that those planning to indulge "thoroughly cook poultry and meat. You can kill bacteria by cooking poultry and meat to a safe internal temperature.
"Use a cooking thermometer to check the temperature. You can't tell if meat is properly cooked by looking at its color or juices."