When Is the 2019 Heisman Trophy Ceremony? Where to Watch, Live Stream and Odds for Each Finalist
LSU quarterback Joe Burrow is widely expected to be crowned as the outstanding player in college football this season and receive the Heisman Trophy in New York on Saturday.
The senior signal caller enjoyed a breakthrough season in his senior year, becoming the first quarterback since 2000 to throw for over 4,500 yards with a 72 percent completion ratio as he led the Tigers to a 12-0 season as the first seed in the College Football Playoff ranking.
Two more quarterbacks have been shortlisted for the award, with Ohio State's Justin Fields and Oklahoma's Jalen Hurts also in the running, along with Ohio State's defensive end Chase Young.
The Heisman Trophy winner is selected by a panel comprising 870 members, with each picking a first, second and third choice.
Here's all you need to know ahead of Saturday.
When is the Heisman Trophy ceremony?
The Heisman Trophy ceremony for 2019 takes place on Saturday, December 14 at 8 p.m.
Where is the Heisman Trophy ceremony held?
As has been the case since 2005, the ceremony will be held at the PlayStation Theater in New York City.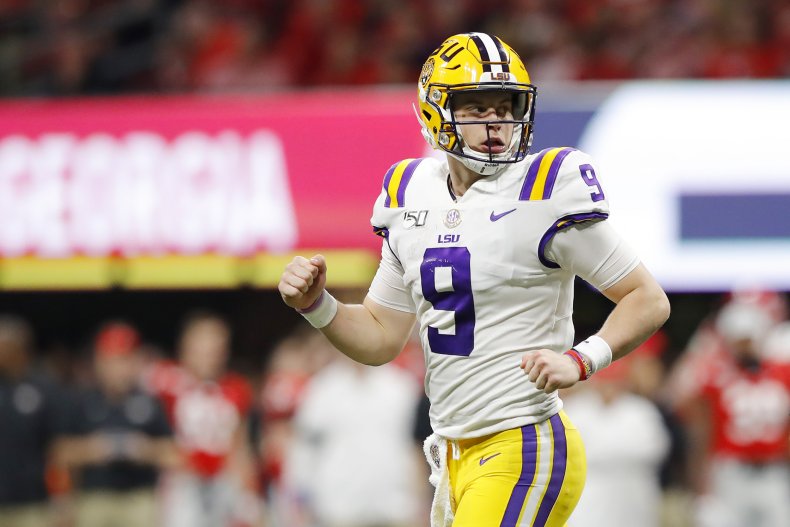 TV coverage
The ceremony will be broadcast exclusively from ESPN from 8 p.m. ET.
Live stream
A live stream of the selection show will be available via ESPN's website and the ESPN App.
Who are the finalists?
LSU quarterback Joe Burrow and his Oklahoma counterpart Jalen Hurts are two of the four finalists, with Ohio State defensive end Chase Young and quarterback Justin Fields completing the picture.
The overwhelming favorite, Burrow has enjoyed a breakout season in his senior year with the Tigers and led the program to an undefeated season and the No. 1 in the College Football Playoff ranking, as shown in this graphic provided by Statista.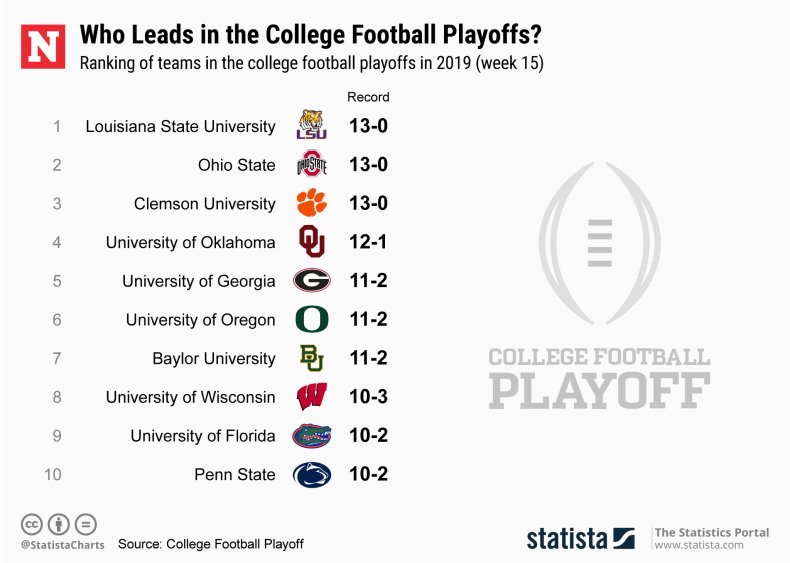 Burrow has completed 77.9 percent of his passes this season, throwing for 4,715 passing yards, 48 touchdowns and just six interceptions.
In his first season since swapping Georgia for Ohio State, Fields was similarly impressive, racking up 2,953 passing yards with a 67.5 completion percentage, throwing for 40 touchdown and a single interception while adding 10 rushing scores.
Fields' performances led Ohio State to the CFP as the No. 2 ranked team, marking the Buckeyes first appearance in the playoff since 2016.
Like Fields, Hurts also starred after transferring to a new school in the offseason, swapping Alabama for Oklahoma. The senior quarterback completed 71.8 percent of his passes, throwing for 3,634 yards, 32 touchdowns and seven interceptions as he led the Sooners to a 12-1 record.
The only non-quarterback in the shortlist, Young was a destructive force for Ohio State's defense, compiling 16.5 sacks and 21 tackles for loss, part of 44 total tackles.
Young's chances of lifting the Heisman Trophy, however, were dealt a blow when he was suspended for two games earlier in the season for accepting a loan.
Odds
For the bookmakers, Burrow winning the Heisman Trophy is a fait accompli. According to BetOnline, the Tigers quarterback is a 3/1000 favorite (-30.000 in moneyline terms), followed by Fields at 25/1, with Young and Hurts at 33/1 respectively.
Young is a 9/10 favorite to receive the second most votes, with Hurts and Fields both at 7/4.
When Is the 2019 Heisman Trophy Ceremony? Where to Watch, Live Stream and Odds for Each Finalist | Sports