Hell Has Finally Frozen Over—Hell, Michigan, That Is
Temperatures have plunged well below freezing in the town of Hell, Michigan, causing chaos for locals but delighting fans of one famous saying.
Snow has blanketed the tiny community, and bodies of water have literally frozen over—as demonstrated by an intrepid WDIV journalist who reported from an iced-over lake Wednesday.
Businesses have temporarily closed, and residents are staying indoors in the town, which lies roughly 15 miles northwest of Ann Arbor. "It's a brutal day in Hell. It's colder than Hell," groundskeeper Jerry Duffie told the local station.
Hell Saloon has opened its doors as a warming center for chilly locals who want to escape the cold. "We have seen an influx in the last few days with the bad weather," Erik Kauser, who manages the business, told WDIV.
The saloon usually offers patrons such devilish delights as a "Scorn Dog" or a "Hades Salad." One TripAdvisor reviewer recommends the "Cheesy Inferno Dip."
The polar vortex continues to clench an icy fist around the Midwest. The National Weather Service's Chicago office has issued a wind chill warning advising locals of "dangerously cold" wind chills as low as minus 45 degrees Fahrenheit.
The infographic below, provided by Statista, shows the coldest places in the U.S. on January 30.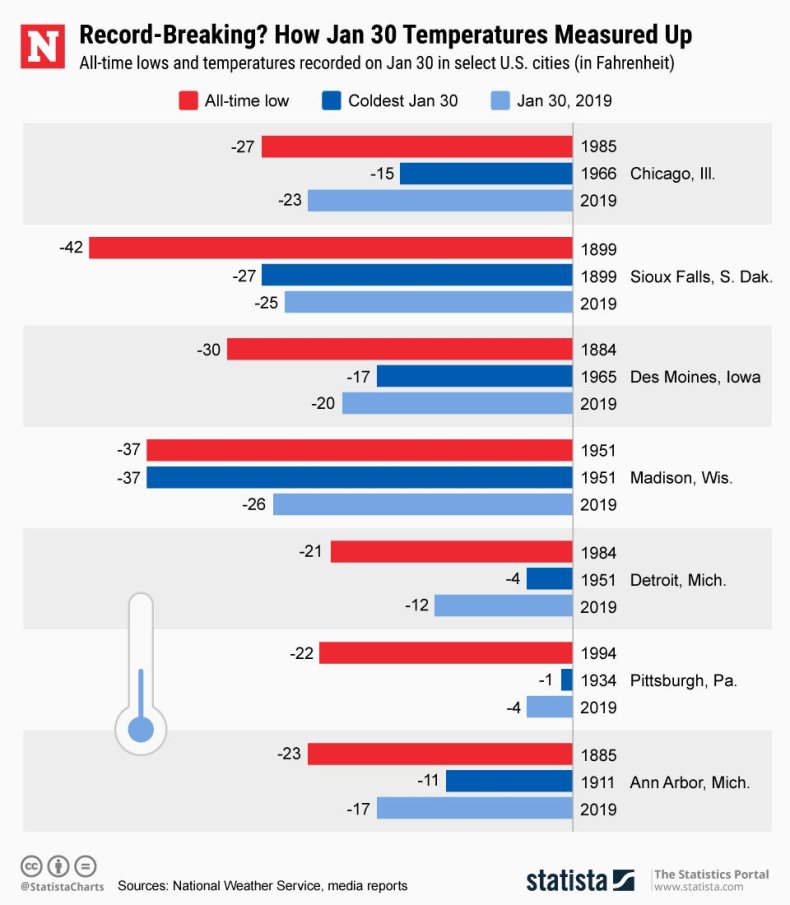 This isn't the first time journalists have played on the "Hell has frozen over" saying. Five years ago, local journalist Paula Tutman won an Emmy for her WDIV report titled "Hell, Michigan, Freezes Over." In one memorable scene, a local shows the camera freshly laid chicken eggs that had frozen in his garden.
Residents are big fans of the town's demonic image. The town's "official" website (gotohellmi.com) encourages visitors to tell anyone who directs them to "go to hell" to say they've been and had "a HELL of a good time."
Tourists can "rule" hell by becoming mayor for an hour, buy a (square inch) piece of land and even get married in the town. "A marriage that begins in Hell has no place to go but up!" the website says. Visitors to Hell can also purchase a "Dam U Diploma at the town's souvenir shop and dig into frozen treats at its Creamatory.
If heaven on earth is more your thing, the site also advertises the town's more wholesome activities. With some 400 acres of biking and hiking trails, campgrounds, picnic sites and lakes, the website recommends bringing families to the region.