'Hellraiser' Trailer Divides Over Casting of Trans Woman as Pinhead
Horror diehards are buzzing after Hulu dropped the trailer on Tuesday to the coming Hellraiser reboot. And some are just now realizing that the franchise's iconic Pinhead character will be played by a trans woman—a casting decision that's drawing both backlash and plenty of praise.
Shortly after Hulu posted a tweet featuring the trailer, the term "Hellraiser" began trending on social media.
"Unlock your fears," Hulu wrote in a Tuesday tweet. "#Hellraiser streams October 7."
Certain fans excitedly pointed out that tweets featuring "#Hellraiser" include an emoji of Pinhead, the franchise's primary foe. Some noted that the new Pinhead looks "terrifying" in the latest film. And others weighed in on the casting of trans actress Jamie Clayton as Hellraiser's horrifying antagonist.
"HELLRAISER looks dope. Jamie Clayton's Pinhead is creepy and cool," author and screenwriter Matt Serafini tweeted in part. "A fantastic cast and crew here."
"Already sold on the new Pinhead, voice is chilling!!" another person wrote in a tweet.
Still, the trailer was apparently disappointing to some.
Certain social media users who were upset by the decision to cast Clayton tweeted complaints rooted in sexism. Some argued that a woman Pinhead would "ruin" the film franchise. Other critiques, though, were flat-out transphobic.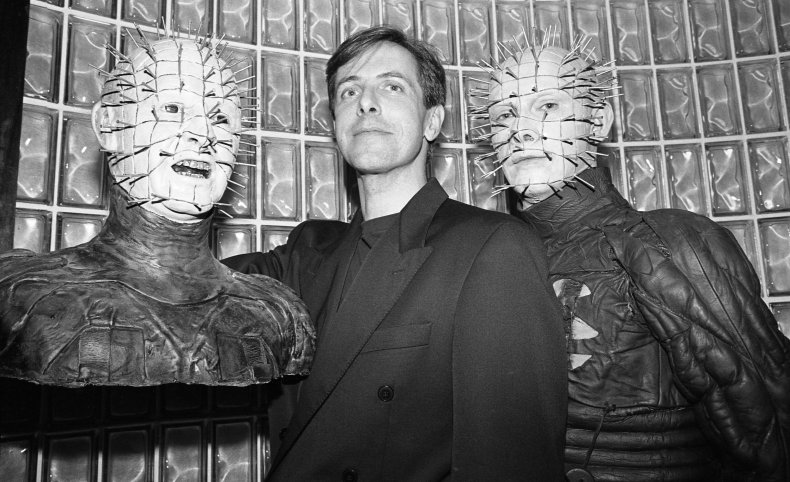 For her part, Clayton reposted a tweet from a horror fan vowing to start Hellraiser as soon as it airs, and who lauded the new Pinhead's look.
The fan's message read, "I know everyone else wants a full trailer but this image of @MsJamieClayton (and this dope #Hellraiser emoji) are more than enough for me. I will be pressing play the moment this drops on Hulu. I. Can't. F**king. Wait."
"This tweet is an icon, a legend and the moment," Clayton responded in a quote tweet. "Exactly the energy I needed to feel."
The new Hellraiser intends to put a fresh spin on Clive Barker's 1986 novella The Hellbound Heart, which was the foundation for the Hellraiser film directed by Barker the following year. It's the franchise's 11th installment overall.
The reboot also stars Odessa A'zion from Netflix's Grand Army as the character Riley. In the trailer, A'zion encounters a mysterious puzzle box, and she doesn't realize that it's used to invoke the demonic extra-dimensional beings called Cenobites.
Director David Bruckner told Entertainment Weekly that the movie's protagonist has compulsive behaviors and addiction issues. When A'zion starts to tinker with the puzzle box, "chaos ensues."
Toward the end of the trailer, Clayton's Pinhead delivers a memorable line in a bitingly cold voice: "What is it you pray for?"
Actor Doug Bradley embodied Pinhead in the franchise's first film and many of its sequels. But Bruckner said he hoped the casting of Clayton for the 2022 reboot would breathe new life into the role.
"We felt a kind of anticipation around the fans to reimagine the character," the director told Entertainment Weekly. "We knew we wanted Pinhead to be a woman. Jamie was just the right person for the role.
"A person's identity can be really exciting for a role in many ways," Bruckner continued, "but I have to emphasize that Jamie absolutely killed; that's how we got there."
Newsweek has reached out to a Clayton representative for comment.