'Dead By Daylight' 'Hellraiser' Update: Pinhead Release Time and Details Revealed
Chapter 21 of Dead by Daylight launches later today (September 7) and will introduce brand new content themed around the Hellraiser movies.
'Dead by Daylight': When Does Pinhead Come Out?
The main attraction of Dead by Daylight's upcoming "Chapter 21" is a new Hellraiser crossover that introduces Pinhead as a playable character.
While this content has been accessible in a public test server environment for a couple of weeks now, it will finally be available for everybody to download on all platforms later today.
According to the official Dead by Daylight website, the Hellraiser update releases at 12 p.m. ET on Tuesday, September 7 and there is even an option to set a reminder for it.
What Is 'Dead by Daylight'?
For Hellraiser fans who are coming to the game for the first time, here is a brief introduction to Dead by Daylight.
Developed by Behaviour Interactive, Dead by Daylight is an asymmetrical multiplayer game, meaning that its teams are not conventionally balanced. Rather than having an equal number of players on each side, all with the same abilities, the title instead puts you in a 4v1 scenario in which a band of survivors try to escape from an unstoppable killer.
The goal for the would-be victims is to try and activate a series of generators around the map, so that they can power up an electronic door and flee. Meanwhile, the killer must simply whittle down the opposing group by incapacitating each member and then sacrificing them at a ritual altar.
At launch back in 2016, Dead by Daylight only had a handful of original characters and locations to choose from. Yet, over the course of its many "chapters," it has steadily been updated with various movie tie-ins and horror game crossovers. The likes of Silent Hill, Resident Evil, Nightmare on Elm Street, Halloween, Scream, Stranger Things, The Texas Chainsaw Massacre and Ash Vs the Evil Dead are now all featured in the online title.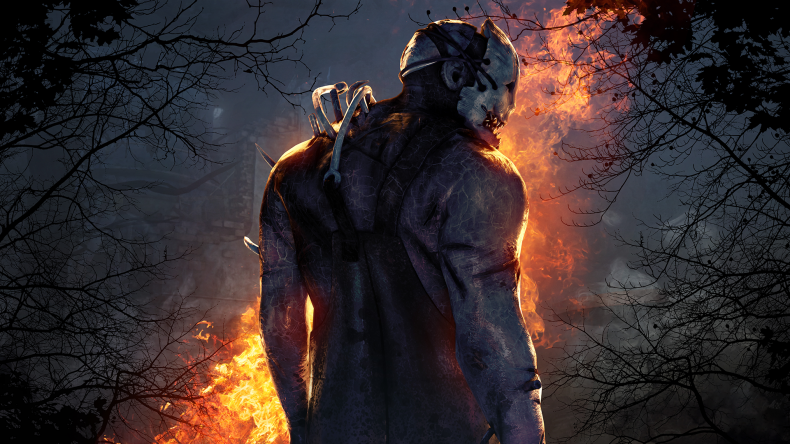 What Is in the 'Hellraiser' Update?
In terms of what is actually included in "Chapter 21," players will now have the option to select the infamous Pinhead as their killer of choice.
This iconic villain debuted in Clive Barker's novella The Hellbound Heart, which the author later adapted for the big screen when he directed 1987's Hellraiser. Pinhead then went on to star in all ten entries of the enduring horror franchise and is arguably Barker's most notable creation (next to maybe Candyman).
According to Hellraiser lore, Pinhead is a demonic entity, known as a "Cenobite," that hails from another dimension. He can be summoned by solving an eldritch puzzle box (the lament configuration) and specializes in inflicting unimaginable pain and suffering on those who cross his path.
'Dead By Daylight': Pinhead Perks
In Dead by Daylight, Pinhead has a suite of supernatural perks that he can use to impede the progress of survivors. These passive traits are as follows:
"Deadlock": After a generator has been repaired, this perk will stall progress on the next generator for up to 20 seconds.
"Plaything": This passive effect curses the first hooked survivor and activates a totem that causes the "oblivious" status effect.
"Gift Pain": This perk affects up to four random hooks at the start of the match. If a survivor is rescued from one of these hooks, they will suffer from the "Haemorrhage" and "Mangled" status effects.
'Dead by Daylight': Pinhead Abilities
Pinhead's also has a pair of special abilities, which must be manually triggered by the player. These are as follows:
"Summons of Pain": Allows Pinhead to send forth a possessed chain, which can be used to bind survivors and slow their movement.
"The Lament Configuration": The killer can place down this puzzle box as a trap, and it will continually summon chains to attack other players. To prevent this from happening, a survivor will have to retrieve the lament configuration and try to solve it. However, doing so will alert Pinhead to their location.
In addition to the Hellraiser crossover, "Chapter 21" of Dead by Daylight will introduce skill-based matchmaking functionality to the game, as well as an overhauled ranking system, known as grades.
Dead by Daylight is available now on PC, Xbox One, Xbox Series S, Xbox Series X, PlayStation 4, PlayStation 5, Nintendo Switch, iOS and Android. It is also included as part of the Xbox Game Pass service.