Help Ethiopia Prevent Famine and Secure Peace | Opinion
It was former President Dwight D. Eisenhower who said the U.S. should be "reinforcing peace" worldwide with food. Today, it is Ethiopia that needs food desperately to overcome a hunger crisis and recover from years of war.
Each of us can make a difference by advocating for Ethiopia, highlighting the children who are in danger of starving to death. Famine is looming in Ethiopia, but many lives can be saved by increasing food assistance.
In November, a peace agreement was signed in northern Ethiopia's Tigray region, ending a two year conflict between the government and the Tigray People's Liberation Front. But the enemy of hunger knows no peace and is continuing its assault on Ethiopians.
Throughout Ethiopia there are over 22 million people facing severe hunger. And the warnings signs say it will get much worse this year.
"There is no end in sight for the hunger crisis and hope is slowly fizzling out as families enter the January to March dry season with little hope for rainfall. Estimates show that the March to May 2023 rainfall will also be below average, leading to a dramatic increase in the number of people in need of emergency food aid and driving many into catastrophic levels of hunger," said Xavier Joubert, Save the Children's Ethiopia country director.
The demand to treat child malnutrition in Ethiopia is extremely high. According to the U.N. World Food Program (WFP) some 3.9 million children are severely malnourished and many more are at risk. It's imperative to keep a steady supply of foods in the pipeline to treat children to prevent long-lasting physical and mental damage, or death.
Funding has been tragically low for Ethiopian relief. WFP's Blanket Supplementary Feeding (BSF) to prevent child malnutrition was cut in Ethiopia's Tigray and other regions because of funding issues. WFP reported last summer that only 10 percent of needy mothers and children in northern Ethiopia were reached in August.
The hunger crisis is so severe in Ethiopia that you can find evidence of this a world away in Rhode Island. There a nonprofit, Edesia, is open 24 hours a day producing lifesaving Plumpy'Sup for Ethiopian children. Plumpy'Sup is an enriched peanut paste that is given to children at risk of deadly malnutrition. Edesia is producing Plumpy'Sup for the U.S. Food for Peace program. The U.N. World Food Program will distribute the Plumpy'Sup in Ethiopia.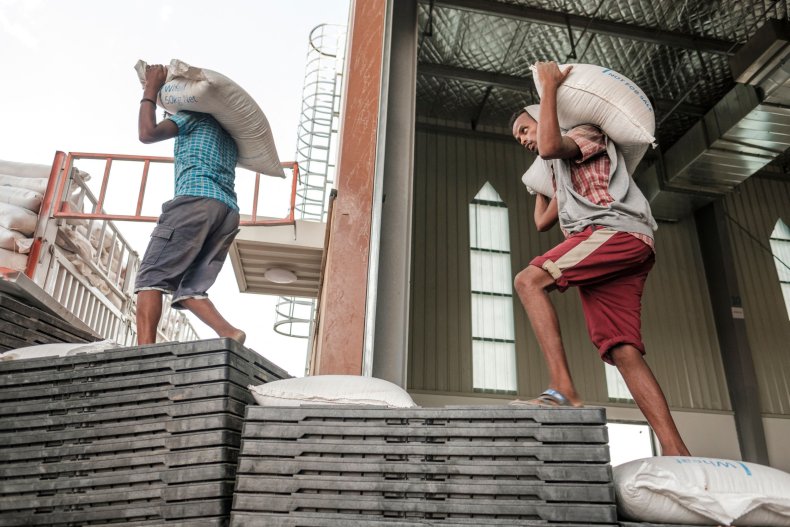 Much more is needed with a hunger crisis of this magnitude occurring in Ethiopia and throughout the Horn of Africa. As previously reported by Newsweek, Somalia and Kenya are also facing severe hunger emergencies.
Advocating for Congress to increase Food for Peace funding, with an emphasis on infant nutrition, would be critical to help Ethiopia and other countries devastated by hunger.
Another critical program to feed Ethiopian children are school meals, which WFP is providing to thousands of kids. However, the latest response report stated that many school children affected by drought in Ethiopia's Somali Region were unable to be reached due to financial constraints.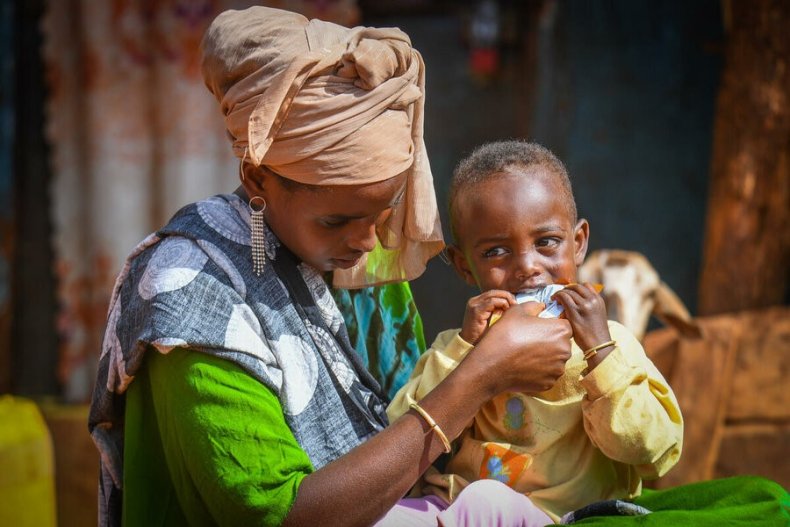 More funding for school meals in Ethiopia is needed to keep kids well fed and in school. The USDA McGovern-Dole program has funded WFP school meals in Ethiopia. Congress should increase McGovern-Dole funding so more meals can be provided.
You can help Ethiopia by educating others about the crisis so they can contact their representatives about increasing food aid. You can also directly donate to WFP, Save the Children, UNICEF, Catholic Relief Services, Mary's Meals, and others fighting hunger in the Horn of Africa. Together, we can help those in need.
William Lambers is an author who partnered with the U.N. World Food Program (WFP) on the book Ending World Hunger. His writings have been published by The Washington Post, History News Network, Cleveland's The Plain Dealer and many other news outlets. Lambers recently volunteered to write the Hunger Heroes section of WFP's online learning game Freerice.

The views expressed in this article are the writer's own.