Help Save Earthquake Victims in Turkey and Syria | Opinion
The massive earthquake that recently struck Turkey and Syria is a disaster on top of a disaster. Tens of thousands have been killed or wounded from the recorded 7.8 magnitude quake. Rescuing survivors trapped in collapsed buildings is of the utmost importance.
The impacted area in northwest Syria already has millions of hungry people displaced by war. The U.N. World Food Program (WFP) issued a warning about Syria's growing hunger crisis just days before the earthquake—12 million Syrians did not know where their next meal was coming from. Syrians are now dealt another cruel blow.
Turkey has been host to millions of refugees from Syria's war and now has experienced its worst earthquake in decades. The World Health Organization estimated that 23 million people could be affected. On top of this crisis is harsh winter weather.
As rescuers search the rubble for survivors, everyone can take action to boost humanitarian aid to the region and help save lives. Right now humanitarian relief agencies are rushing to provide aid in Turkey and Syria, but they need help in establishing a steady pipeline of resources.
"We're in dire need of immediate support in the form of financial assistance to make sure that those who are out in the cold are able to find warmth, those who are hungry are able to eat, and children who are already suffering from malnutrition are able to survive," said Sherine Ibrahim, country director of CARE Turkey.
CARE is one of the charities on the ground providing blankets, food, mattresses, and tents for victims. The heavy winter snow is making it hard for relief agencies to reach warehouses with critical supplies. The cold weather makes it even more urgent to speed relief.
"It is incredibly cold in Syria right now. We are extremely concerned that many people, including children, could still be trapped under rubble. Others are still homeless and making do with what they can, including sleeping in cars. We are particularly worried about children sleeping outside in freezing temperatures," said Kathryn Achilles of Save the Children Syria.
We need to make sure Save the Children, CARE, and other charities can quickly get supplies to those who need it desperately.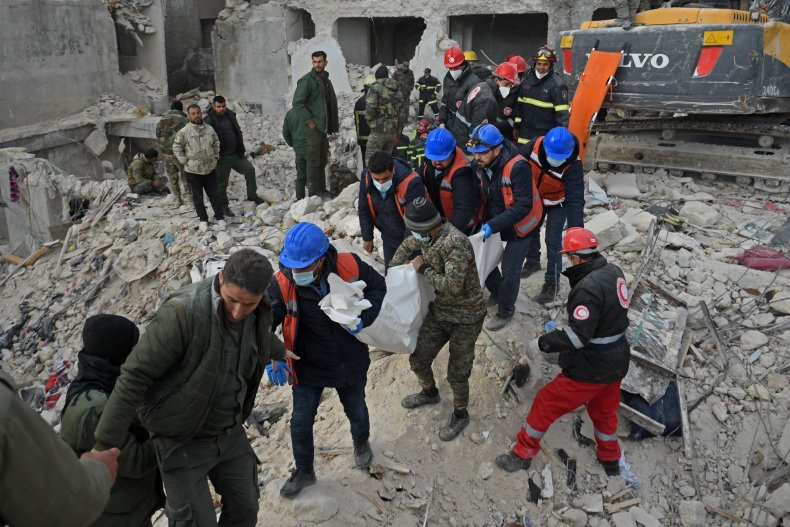 The WFP started its hunger relief missions in Turkey and Syria, coordinating with the Syrian Arab Red Crescent, the International Committee of the Red Cross (ICRC), and other partners. Meals are being distributed at temporary shelters. WFP aims to continue a school meals program for children at one of the shelters. The WFP is concerned about a pipeline break of supplies for Syria unless donations increase. A pipeline break could mean "nearly 3.8 million people (including 900,000 people in North-Western Syria) could stop receiving food assistance," according to a WFP report.
The severity of this crisis underscores the need for funding global humanitarian aid programs. The disaster in Turkey and Syria is one of many large, ongoing emergencies that are short on funding. The WFP said that prior to the earthquake it fed over 5 million people monthly in Syria, with only 30 percent funding. Now with even more need in Syria, funding is critical.
Writing letters to representatives in Congress to increase funding for humanitarian aid is vital to support programs that can save earthquake victims. Disasters like the earthquake in Turkey and Syria will require assistance for months to come. We must keep supplies moving to the region to save lives.
William Lambers is an author who partnered with the U.N. World Food Program (WFP) on the book Ending World Hunger. His writings have been published by The Washington Post, History News Network, Cleveland's The Plain Dealer and many other news outlets. Lambers recently volunteered to write the Hunger Heroes section of WFP's online learning game Freerice.
The views expressed in this article are the writer's own.