Turkey Earthquake Death Toll Likely To Be in the Thousands
Thousands are dead after a catastrophic earthquake rocked the Turkish-Syrian border overnight that was felt as far away as Lebanon and Cyprus.
The U.S. Geological Survey (USGS) reported that the 7.8 magnitude tremor struck at 04:17 a.m. local time as people slept; buildings collapsed and crushed many in their beds, with many more left trapped in the wreckage and rubble of their ruined homes.
More than 2,300 people have officially been confirmed dead so far, but it is feared the death toll will climb far higher as rescue and recovery efforts get underway. Turkish authorities said 1,498 people were killed across 10 provinces, with more than 810 fatalities recorded so far in Syria. Data from the USGS suggested the true number of fatalities is likely to be up to 10,000.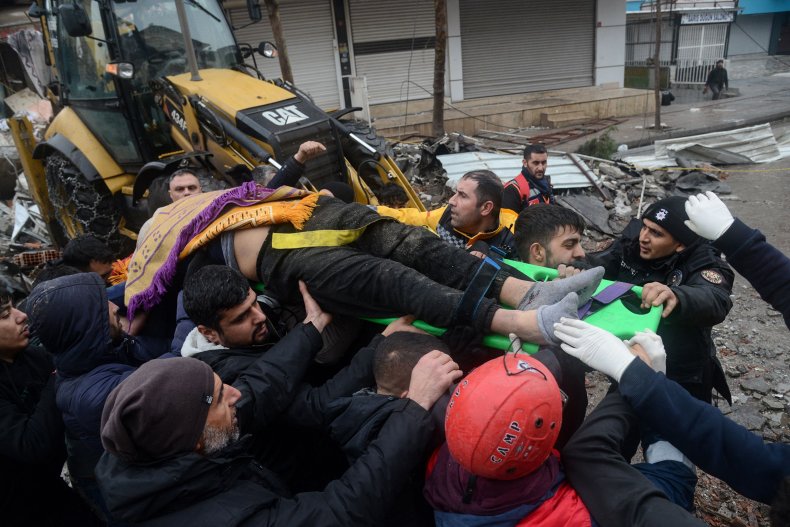 The USGS designated Monday's quake as a "red alert for shaking-related fatalities and economic losses. High casualties and extensive damage are probable and the disaster is likely widespread. Past red alerts have required a national or international response."
The quake struck at a depth of 11 miles near the city of Gaziantep in southern Turkey, but powerful aftershocks continued to rock the region throughout the morning.
In the latest update, Turkish President Recep Tayyip Erdogan said that at least 912 people have been killed in the country, with more than 5,000 injured. On the Syrian side of the border, the state news agency, SANA, reported that at least 326 people were killed in government-held areas, with over 1,000 people injured. However, those figures are expected to rise throughout the day as more information becomes available.
Rescue efforts in Turkey are being hampered by the cold weather and snow which is blanketing some parts of the country. Journalist Zaina Erhaim tweeted: "My mother & everyone I know in southern #Turkey are in the streets in the snow. Those who are lucky are in their cars, there is no electricity or water in most homes. No one knows when or how to get home."
Newsweek has reached out to Turkish authorities for further information.
"I have never felt anything like it in the 40 years I've lived," a Gaziantep resident called Erdem, who declined to give his surname, told Reuters. "We were shaken at least three times very strongly, like a baby in a crib."
Terrified residents have been fleeing their homes fearing the weakened structures and apartment blocks could also be leveled.
"Everybody is sitting in their cars or trying to drive to open spaces away from buildings," Erdem said. "I imagine not a single person in Gaziantep is in their homes now."
The United States is "profoundly concerned" about the earthquake and its victims, and is monitoring events closely, White House national security adviser Jake Sullivan tweeted. "I have been in touch with Turkish officials to relay that we stand ready to provide any and all needed assistance."
Turkey is riven by geological fault lines and is consequently prone to earthquakes. Back in 1999, some 17,000 people were killed in the Izmit earthquake, southeast of Istanbul.
A magnitude 7 earthquake struck just off Turkey's coast back in October 2020, which saw buildings inland collapse and triggered a tsunami warning. Many were killed but a vast rescue effort to pull survivors from the wreckage was launched by the country's emergency services and local volunteers. Incredibly, a 3-year-old child was pulled to safety after being buried for three days in the rubble of her family's home. She was later reunited with her mother and sisters who had previously been rescued.
Update 2/6/23 6:23 a.m ET: This article has been updated with information from journalist Zaina Erhaim.
Update 2/6/23 10:59 a.m ET: This article has been amended to reflect the updated death toll.
Update 2/6/23 11:06 a.m ET: This article has been amended to reflect the latest casualty figures.