Helping Women Pay for Abortion Would Be Illegal Under New Missouri Bill
A proposal by Missouri Representative Mary Elizabeth Coleman aims to make it illegal for residents to help pay for an abortion or obtain insurance coverage for the procedure.
According to the bill's text, anyone who "knowingly engages in conduct that aids or abets the performance or inducement of [an] abortion, including paying for or reimbursing the costs of an abortion through insurance or otherwise" will be subject to civil action in court.
Although no concrete decisions have been made regarding the proposal, residents, providers, and assistance programs are speaking out against the bill. According to an Impact Research poll, around 75 percent out of 500 Missouri voters "want abortion to remain legal" in the state.
"It's trying to evade the laws of the state of Missouri," Coleman told the Associated Press. "Abortion is a really brutal practice and Illinois has chosen not to, in any way, provide protections for the unborn and women, and so we're trying to do everything we can to make sure Missourians are protected."
The proposal from Coleman is expected to be debated in the coming days, with the earliest session potentially being held next week, and comparisons have already been made between abortion-restrictive legislatures such as Coleman's and those that were passed earlier this year in Texas.
Around 54 percent of those polled by impact research do not want a version of the most controversial Texas bill, which bans abortions after six weeks and allows lawsuits to be filed against anyone who helps provide abortion care, to be passed in Missouri.
"I think if we've learned anything from Missouri and also from what's happened in Texas, it's that laws that clearly violate an individual's constitutional rights, rights that have been recognized and protected for decades, are now going into effect and impacting whether people can get care," President and CEO of a Planned Parenthood Kansas City affiliate, Emily Wales, told the Associated Press.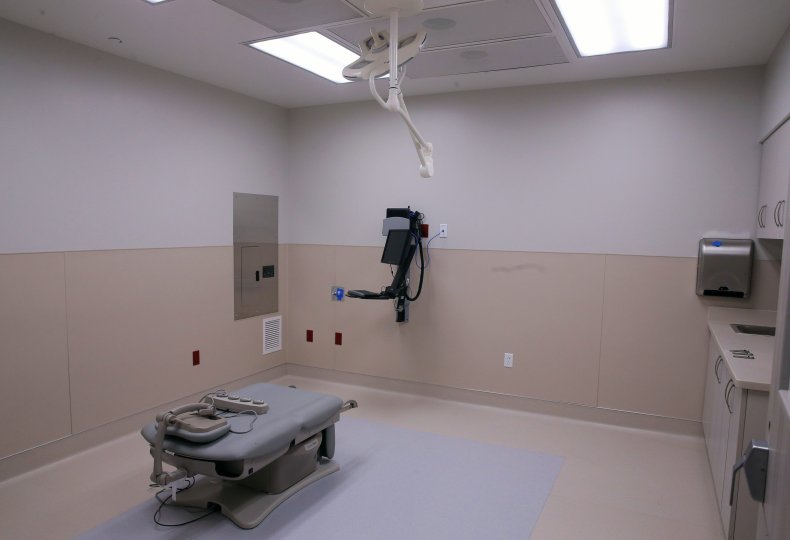 If the proposal were to go into effect, it could also jeopardize the existence of nonprofit organizations, such as the Missouri Abortion Fund. The organization has provided financial assistance to nearly 2,000 Missouri residents over the past year. The Associated Press reports that the average amount of money given to participants was around $113.
"It's already so difficult to obtain abortion in Missouri and in a lot of parts of the country, and we don't need additional threats to people's lives and people's livelihoods," Missouri Abortion Fund President Michelle Landeau said.
The bill's text also states that "a common carrier (civilian) who transports a pregnant woman to an abortion provider" will be able to avoid criminal charges if they were unaware that the pregnant woman was seeking an abortion. Furthermore, it would also aim to eliminate abortion care from services covered by MO HealthNet, the state's insurance program.
"In order to be eligible for [MO HealthNet], the applicant shall not have assets in excess of two hundred and fifty thousand dollars, nor shall the applicant have access to employer-sponsored health insurance," states the bill's text. "No funds shall be expended to any abortion facility...or to any affiliate or associate of such abortion facility."
Newsweek has reached out to Mary Elizabeth Coleman for comment and clarification on the bill but has yet to receive a response.
Update: 03/17/22 3:13 p.m. ET: This article was updated with more information.