Helsinki Commission Calls on Russia to Release 'True Patriot' Kara-Murza
A U.S. human rights monitor is calling for the release of journalist Vladimir Kara-Murza, a prominent Russian opposition figure who has spoken out against what he has called his government's crackdown on dissent.
The U.S. Helsinki Commission on Monday raised alarm over the detention of Kara-Murza in Moscow a month after he outlined the Kremlin's increased use of propaganda and censorship. His arrest is the latest report of authorities attempting to silence critics since Russian President Vladimir Putin launched his invasion of Ukraine in February.
"We are alarmed to learn that Vladimir Kara-Murza has been detained in Moscow. Vladimir is not a criminal but a true patriot motivated by the potential of a democratic future for Russia and freedom for its people," the commission said in a statement. "He must be allowed access to his lawyer and should be released immediately."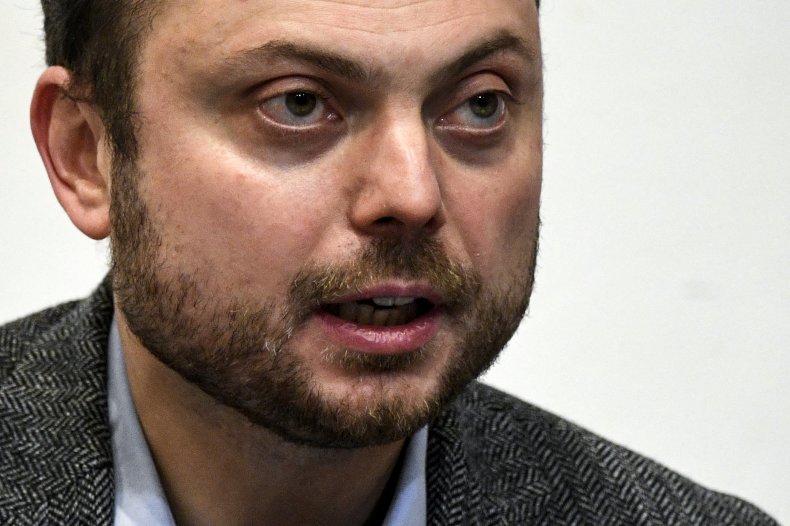 The commission, a U.S. government agency comprised of members of Congress and representatives from federal agencies, heard testimony from Kara-Murza who described how the Russian government has used disinformation and the growing struggles of independent media outlets.
The Russian government in March enacted new restrictions, criminalizing media from using the word "invasion" to describe the conflict in Ukraine. Those who violate them could face up to 15 years in prison.
Speaking before the commission, Kara-Murza said that following the invasion, Putin moved swiftly against "what remained of independent media in Russia." Kara-Murza said that within days, authorities shuttered independent outlets, including Echo of Moscow, a radio station where he hosted a weekly program.
He also pointed to how the Russian government has blocked access to social media networks. Other news outlets, such as highly respected Novaya Gazeta, ceased publication because of censorship, he said.
Calling many Russians "brainwashed," he said many are not even aware of potential war crimes their government is alleged to have committed in Ukraine.
"Today, most Russians are in an Orwellian parallel reality created by the Kremlin propaganda machine," Kara-Murza told the commission. "And I mean, Orwellian in the literal sense, what's being said on Russian state television might as well have come out of George Orwell's 1984: 'War is peace. Freedom is slavery. Ignorance is strength.'"
Since Russia's new censorship laws have gone into effect, reports have emerged of students or parents turning in teachers who spoke disapprovingly of the war. Nobel Prize laureate and editor-in-chief of Novaya Gazeta, Dmitry Muratov, was attacked on a train. Russian authorities have also threatened Wikipedia with a nearly $50,000 fine for refusing to delete "illegal information."
Kara-Murza, an author and politician who was repeatedly poisoned, has continued speaking out despite his arrest, making an appearance on MSNBC on Sunday.
Newsweek has reached out to the Russian government for comment.