Risky Herbal 'DIY' Abortions Circulate After Roe v. Wade Leak
In anticipation of Roe v. Wade's potential demise, social media users are endorsing herbs and plants thought to induce abortion despite a critical lack of evidence clarifying their efficacy and safety.
The recent leak of a Supreme Court draft majority opinion in favor of striking down Roe v. Wade—the landmark 1973 ruling securing women's abortion rights—has seen nationwide protests and discord. The news further prompted a rush to stock up on abortion pills and a surge in searches for female sterilization procedures.
Mounting fears over a post-Roe America also led to herbal abortions surfacing as an avenue, in the event that certain states resort to severely restricting or outright banning access to medical abortions.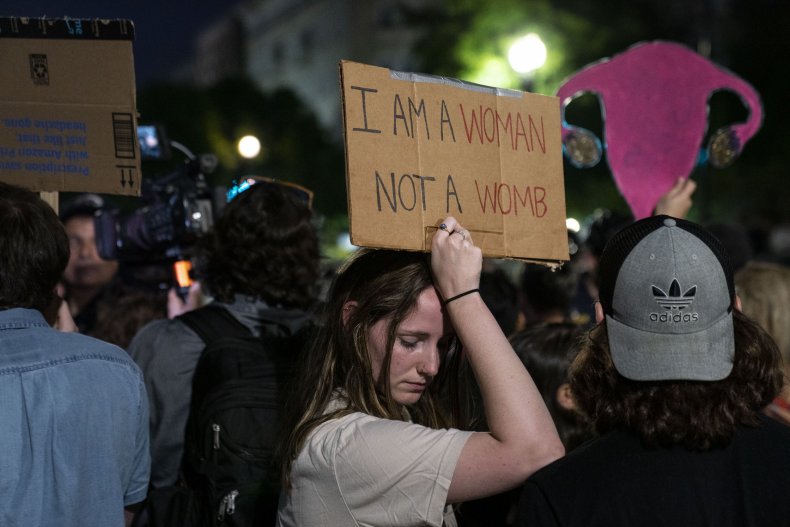 On TikTok and Twitter, numerous users shared lists of alleged natural abortifacients and homemade concoctions. Suggested forms of ingestion ranged from brewing the herbs in teas to smoking them.
Dr. Cara Delaney, assistant professor of obstetrics and gynecology at the University of Connecticut, said there is "no evidence for safety or effectiveness" nor "quality or safety regulations" for homeopathic abortion treatments.
"I do not recommend using herbs or homeopathic methods to end a pregnancy when we have ways to end a pregnancy with misoprostol, with mifepristone, with doing the surgical procedure that are still legal and safe," Delaney told Newsweek.
On TikTok, a video viewed over 71,000 times displayed a list of plants that "can be used as an alternative" in terminating an early-stage pregnancy.
"Research accordingly," the video states. "Pay attention to the dosage limits for each, and if you're on medications check if they interact."
Another, viewed more than 201,000 times, contained a tongue-in-cheek warning to "be careful" because the herbs listed are "unsafe."
"In large amounts, they could 'accidentally' cause miscarriage," the video's text reads, adding a small disclaimer that "they can also cause organ failure, be safe."
A TikTok apothecary business sold mugwort—widely named as a natural abortifacient—at half-price "until women in this country can rely on something else."
On Twitter, users circulated a "D.I.Y" guide to herbal abortions published in the early 2000s. The detailed manual of plant-based abortifacients was compiled by an author who appears to be using a pseudonym.
The push to promote herbalist alternatives has elicited criticism, as well as reflection on what American reproductive rights have come to.
"Dear friends. I love you. I know you're scared. I know you're maybe grasping at straws right now. I understand," tweeted writer Ursula Vernon.
"That said, if I see any of you suggesting pennyroyal as a DIY abortion, I am gonna lose my s*** so hard that God Almighty won't be able to find my s*** afterward."
"Pennyroyal—and a lot of other abortifacient herbs—as toxic as f***," they wrote in a follow-up tweet. "Get the dosage exaaaactly right and maybe it kills the fetus before it kills you. Get it wrong and enjoy massive cascading organ failure!
"So what's the dosage? I don't know! And neither does anyone else!"
Famed TikTok forager Alexis Nikole Nelson posted a video that generated more than 700,000 views addressing the fate of Roe v. Wade while picking mugwort.
"In light of recent news, I'm really worried that people are going to start turning to our friends like mugwort or parsley or carrots to try and deal with a healthcare issue that our government has decided it needs to stick its face into," Nelson said.
"Now, I'm in no way advocating for the use of herbal abortions," she continued. "That can be dangerous, it's very easy to, one, have it not work, or two, to get incredibly sick from them.
"But I also want people to acknowledge that making abortions illegal will not make fewer abortions happen."
Most social media users who disseminated herbs with alleged abortive properties urged followers to do their own research, though that would prove to be difficult.
While a variety of plants and herbal blends were historically used in different parts of the world to terminate pregnancies, conclusive scientific research on their effects is lacking.
A 2003 academic article titled Herbal Infusions Used for Induced Abortion by Carmen Ciganda and Amalia Laborde details a retrospective survey of women who ingested herbal infusions with the intent to terminate their pregnancies.
The study—conducted between 1986 and 1999 by the Poison Control Center in Montevideo, Uruguay—identified a total of 86 cases, all of whom were in the first trimester of pregnancy.
Of the 30 plant species involved, the most frequent included rue, parsley, and over-the-counter herbal product Carachipita, which counts pennyroyal in its ingredients. (Rue, parsley, and pennyroyal were among the plants promoted online over the past week.)
Fourteen of the patients experienced multiple organ system failure—among them four who took rue alone, three who took rue with parsley, one who took rue with fennel, and one who took Carachipita.
Five deaths were recorded within the multiple organ system failure cases: Two who ingested rue alone, two who ingested rue with parsley and fennel, and one who ingested Carachipita. (One fatality also made use of "self-inflicted instrumental manipulations," though the study did not specify which.)
Twenty-three cases resulted in abortion: Nine involving rue; seven with parsley; four with Carachipita; and three with mixtures of various plants. Among the patients who solely ingested herbal infusions, six experienced abortion in the context of multiple organ system failure, while seven developed liver or blood disorders.
The article's authors wrote the report's results are "not conclusive and are difficult to generalize," adding that "[f]urther research on each individual plant species is needed."
As the future of Roe v. Wade hangs in balance, Dr. Cara Delaney stressed that abortion currently remains legal across the U.S.
"Abortion is still legal, clinics are still open, and people are able to get appointments," Delaney told Newsweek.
"There are also many organizations that have been planning for the possibility of Roe v. Wade being overturned. And when they're planning for it, they really want people to still be able to access care, to have abortions in a safe way."