Roe v. Wade Protesters Are Mailing Coat Hangers to the Supreme Court
Abortion-rights advocates are sending coat hangers to the Supreme Court after a leaked document indicated a majority of the justices plan to overturn the landmark 1973 Roe v. Wade ruling, which effectively legalized access to abortions across the U.S.
After the draft document leaked earlier this week, many people took to social media platforms and forums, including TikTok and Reddit, in which they claimed to have sent coat hangers to the high court in Washington D.C.
The coat hanger has been used as a symbol to represent unsafe as well as self-induced abortions. Abortion-rights activists have used coat hangers as representations of attacks against their bodily autonomy.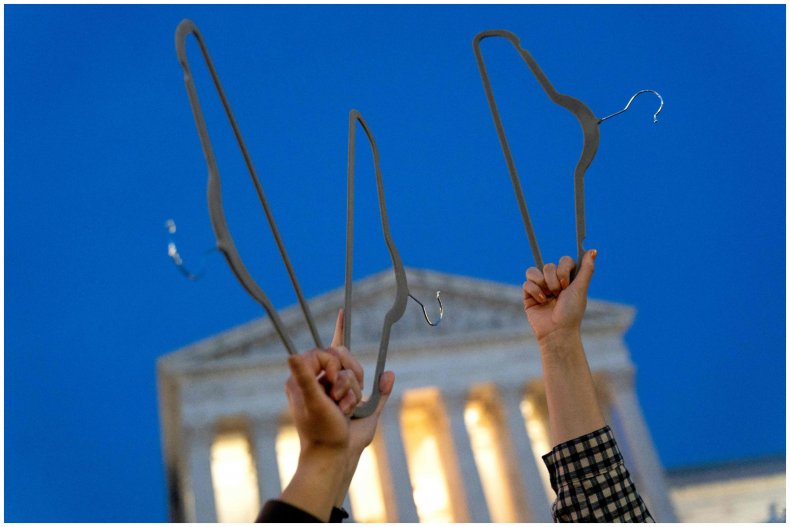 One post, which can be seen here, shared by Reddit user u/EatMyA**LikeA_Potato shared an image that showed their purchase of coat hangers, which were being sent to Supreme Court Associate Justice Brett Kavanaugh. Since being uploaded on Wednesday, the post has received 21,700 upvotes.
Many commenters shared comments that praised the initiative in order to highlight the risk that unsafe abortions could be carried out if Roe v. Wade is overturned.
One Reddit user said: "Absolutely f***ing brilliant. I hope the point is understood. Pun intended."
Another added: "Gonna have to send thousands if we want to send a message."
Other commenters suggested people spend their money by donating to local organizations and charities that help provide abortions or access to one across the country.
A commenter posted: "This is very amusing, and I hate to rain on anyone's fun, but they're really not going to care.
"You'd be much better off donating the money to local abortion access groups. Tbh [to be honest] we need people helping more than people 'dunking' on judges that don't give a f***."
One TikTok video, which can be seen here, alone was viewed more than 600,000 times since it was shared on Tuesday, which also called on people to send coat hangers to the Supreme Court.
The caption on the video, uploaded by @thefinalgurl13, read: "If you cannot protest for one reason or another I highly recommend you order some coat hangers and have them sent to the Supreme Court Justices, the White House, your governor, your state speaker because you can send gifts on Amazon."
Newsweek has contacted the Supreme Court for comment.
It is not the first time that abortion-rights activists have sent coat hangers to government figures.
Thousands of coat hangers were sent to the office of Senator Susan Collins (R-ME) in Maine during the confirmation hearings of then-Supreme Court nominee Kavanaugh.
Collins had been viewed as holding a more abortion-rights position than her GOP colleagues but voted to confirm Kavanaugh and Neil Gorsuch to serve on the high court. Both of them stated that they believed Roe v. Wade was settled.
Abortion is a controversial issue in the U.S. and abroad, with abortion-rights advocates arguing a ban on the procedure represents a health risk, and that it is part of a fundamental right of all people to decide what to do with their own bodies.
Meanwhile, those who oppose abortion believe the unborn child is denied a choice and that every human life has a right to life.
According to Gallup, the majority of Americans in 2021 oppose any decision to overturn Roe v. Wade, with 58 percent compared to 32 percent.
This reflects the overall view of people in the U.S. who have been opposed to overturning Roe v. Wade since the 1980s, per Gallup.