Here's How Baseball Fans Really Feel About the Cardboard Cutouts Filling the Stands
The baseball season has officially begun but without crowds in the stands because of the coronavirus pandemic. So the stadiums—usually overflowing with chanting fans and hot dog vendors—feel especially empty. However, many major league baseball teams have opted to fill their seats with cardboard cutouts or computer-generated fans in parts of the ballpark in order to make America's pastime feel less empty.
Some teams have gotten very creative with their cardboard cutouts throughout stadiums, placing their pet dogs and cats and celebrities. One cardboard cutout even proposed to another at a Cleveland Indians game.
Fan sounds added to the game and mascots running amok throughout stands are other ways the MLB has created the illusions of a less-than-empty arena.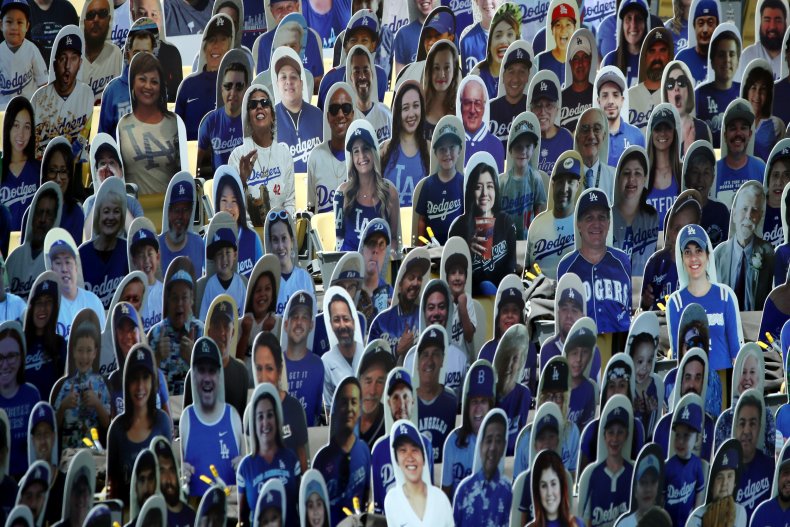 There has been a divide in how people feel about these two-dimensional fans. Some don't mind them. USA Today called it "awesome and delightfully entertaining." The San Francisco Giants general manger Gabe Kapler said he thinks "it's kind of fun," as per ABC3340.
Despite the genuine attempt to make stadiums seem full, other baseball fans don't like the cardboard cutouts in the stands. They called it "the silliest thing" they've ever seen, and some find it creepy.
Someone even compared it to a game of "Guess Who" (they're not wrong).
Michelle Gardner, an Arizona State University beat writer for the Arizona Republic said she was happy that baseball was back, but wasn't totally sold on the illusion of a crowded stadium.
Chris Demirdijan, sports director and morning news anchor at KTVE/KARDTV, agreed.
Fox Sports, meanwhile, decided to experiment with CGI fans in the stands. "Fox Sports producers will be able to control things like how full the virtual 'crowds' are for a given game, what weather fans are dressed for, and what percentage of the crowd will be home fans versus away, although the company is still figuring out how it'll make some of those decisions," The Verge reported on July 25.
Unlike the cardboard cutouts, these crowds won't be visible to the players, only to viewers at home.
Danny Vietti of CBS Sports said he is not thrilled about the virtual fans. "Virtual fans but no actual game sounds? I hate everything about this," he tweeted.
Matt Young, the Houston Chronicle Digital Sports Editor was not a fan of the CGI fans at the July 25 Cubs game.
Many found it distracting and called it "the worst solution" to the empty stadiums.
At one point, the Los Angeles Dodgers virtual crowd attempted to do the wave. Chad Moriyama of Dodgers Digest called it "absolutely cursed."
Crowd noises have also been added to the games to include cheering and booing. New York Yankees manager Aaron Boone said he didn't like it on July 17, as per NorthJersey.com. "It sounded like we were trying to tune in our AM radio and trying to find our station and couldn't find it," he said, after the team experimented with it during an intrasquad game.
Yankees pitching ace Gerrit Cole didn't seem to mind it. "It kind of sounds the same if you're in your zone and you're not really paying attention,'' he admitted, NorthJersey.com reported. "But Yankees fans sound a lot better than manufactured sound." He said that the energy of the stadium was not there, though "there was probably a moment or two it kind of [sounded] normal to a certain extent.
"It's not like I was catching myself, like, 'Oh this crowd noise is brutal,'" Cole continued. "I didn't mind it. I liked it I guess better than the music because it was more of a white noise.''
Fans appeared to prefer no crowd sounds to the fake ones.