Former President Donald Trump avoided condemning Vladimir Putin when asked by Fox News personality Sean Hannity if he agreed the Russian leader is "evil."
The exchange occurred Thursday evening on Hannity's show, which has been a source of Trump-friendly interviews. As the U.S. public has taken an increasingly negative opinion of Putin for his invasion of Ukraine, Trump and other conservative figures have been criticized for lionizing the Russian leader. Hannity offered Trump a clear opportunity to distance himself from Putin.
During the program, Hannity referenced Trump's previous description of Putin as "smart." The Fox News host then noted his closeness with the former president and teed up a question allowing Trump to strongly denounce Putin.
"I think I know you a little bit better than most people in the media," said Hannity. "And I think you also recognize [Putin is] evil, do you not?"
Trump did not respond directly to the question as to whether or not Putin is evil and launched into a rambling defense of his administration.
"Well, I was referring to the fact that he said this is an independent nation, talking about Ukraine, and I said that this was before there was any attack," Trump said, referring to Putin's recognition of breakaway regions of Ukraine that have declared independence.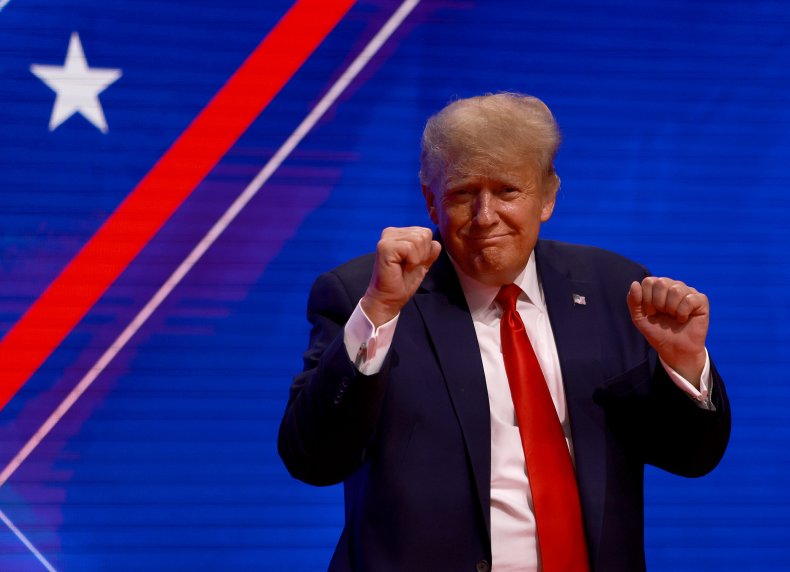 "[Putin] is calling it an independent nation," continued Trump. "Now, a lot of things are changing. When you look, this doesn't seem to be the same Putin I was dealing with. But I will tell you, he wouldn't have changed if I were dealing with him."
Trump pointed to the "incredible things that we did in the Trump administration," such as supplying anti-tank Javelin missiles to the Ukrainian military, which he said President Joe Biden and others are taking credit for.
Trump in 2019 was impeached by the U.S. House for withholding military aid to Ukraine. The aid was eventually provided, and Trump was acquitted by the Senate.
Hannity asked Trump why he was so confident that the violence in Ukraine wouldn't be happening under his watch.
"Well, before I answer that, I'll tell you that under the Bush administration, there was Georgia, not the Georgia that we know and love but Georgia nevertheless, it was Georgia," said Trump, referring to Georgia, a country in the Caucasus that fought a war with Russia in 2008.
Trump said that "nothing happened during our administration."
John Bolton, who served as the president's national security advisor, said during an interview with SiriusXM's Julie Mason Wednesday that Putin didn't invade Ukraine while Trump was in office because of the "president's hostility with NATO." Ukraine's government has expressed interest in joining NATO, a defense pact that Biden has been more supportive of.
"So I think Putin saw Trump doing a lot of his work for him and thought, maybe in a second term, Trump would make good on his desire to get out of NATO, and then it would just ease Putin's path just that much more," Bolton added.
Newsweek has reached out to Trump for comment.
Update 03/11/22, 10:54 a.m. ET: This article was updated with additional information