Here's How U.S. Coronavirus Stimulus Package Compares to Other Countries Around the World
Included in the $2.2 trillion Coronavirus Aid, Relief, and Economic Security (CARES) Act signed into law on March 27 is a one-time stimulus check of up to $1,200 for Americans who meet the tax and financial requirements.
A viral post circulating online suggests that the U.S. aid to its cash-strapped citizens will pale in comparison to benefits being provided by different countries.
While the tweet lists a rundown of the benefits 6 other countries are providing their unemployed workers below, the data from the viral post is somewhat misleading since it only compares the U.S. stimulus check to what are essentially the unemployment benefits offered in foreign countries.
So while the one-time $1,200 U.S. stimulus check is mere fraction of the $1,433 USD per month that Canada has promised its newly unemployed citizens, the U.S. stimulus package also contains millions to help each state boost its unemployment benefits for 16.7 million unemployed workers nationwide.
Before the coronavirus epidemic, the U.S. average for unemployment benefits was $378 a week, although the amount and duration of actual benefits vary from state to state. As an illustration: While Mississippi, the state with the lowest unemployment benefits, offered citizens an average of $213 a week, Massachusetts, the state with the highest, provided an average of $555 a week.
The CARES Act added $600 a week to existing state benefits through the end of July, significantly boosting unemployment benefits in every state. But most Americans may be waiting until they receive these benefits as many states have had trouble quickly processing the hundreds of thousands of unemployment claims coming in each week.
So while the international numbers below provide some insight into how other countries are helping soften the economic blow for newly unemployed workers, it's not quite accurate to say that American workers are simply receiving less than their international counterparts.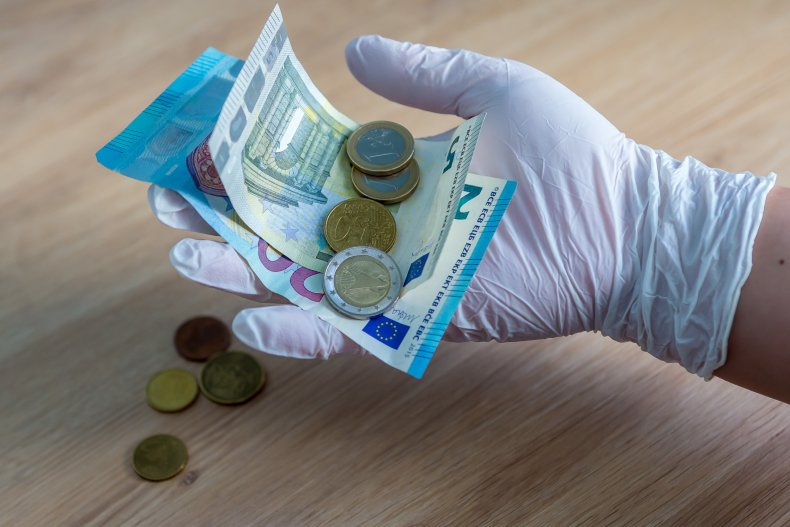 "The tweet is misleading and compares apples to oranges," writes Brad Hershbein, Senior Economist and Director of Information and Communication Services for the W.E. Upjohn Institute for Employment Research. "The nuance of how different countries are addressing workers affected by coronavirus can't adequately be expressed in 280 characters. Caveat emptor to those who think it can."
He adds that the CARES Act has many provisions that stand to benefit American workers including "an extended maximum duration for which benefits will last, expanded eligibility (including for self-employed workers, who are not normally covered), and guidance to many states to waive normal waiting period and work search requirements when workers cannot work because of coronavirus illness (for themselves or a family member) or their workplace is shut down by government order."
"All these provisions serve to make unemployment insurance more progressive," he says, and "as has been noted by others, many low-wage workers will receive more in unemployment benefits than they did in wages, although this will be temporary."
Australia's stimulus package allows furloughed employees to receive $1,500 AUD ($996.65 USD) every two weeks.
Britain's government is issuing grants covering 80 percent of unemployed workers' salaries up to a total of £2,500 ($3,084) a month. The package also reportedly contains statutory sick pay for employees that have been told to self-isolate.
Canada will give $2,000 CAD ($1,433 USD) each month for up to four months to those who've lost jobs due to the epidemic.
Denmark has pledged to pay from 75 to 90 percent of employees' salaries up to a monthly amount of 26,000 Danish kroner ($3,288 USD).
France will pay 70 percent of an employee's gross salary to a monthly maximum of €6,927 ($7,575 USD).
Germany will pay 67 percent of net wages up to a maximum of €6,700 per month ($7,326.78 USD).
Ireland will give 70 percent of employee salaries up to a maximum of €410 per week ($448.36 USD).
Italy has pledged up to 80 percent of an employee's salary for nine weeks up to a maximum of €1,130 net per month ($1,236.05 USD). Self-employed workers will be given a one-off payment of €600 ($656.31 USD).
The Netherlands will give companies up to 90 percent of each workers' wages.
Spain will pay up to 70 percent of salaries with a monthly maximum of €1,412 per month ($1,544.09 USD).
South Korea will pay unemployed people up to KRW 130,000 per day ($107.31 USD) up to 70% of their daily wage.
Most of the above numbers were sourced through French 24, the French state-owned international news network.
Hershbein says European countries have adopted a relief approach that "maintains the employment relationship, with the government directly compensating employers to maintain a high fraction of workers' payroll."
"Preserving the employment relationship is important when business activity can begin to gradually resume, because rehiring is a complicated process, and workers experience less stress when they know they will have a job to return to," he continues. "Compensation of individuals through payroll is also faster and more efficient than using the unemployment insurance system, as the millions of people who have had difficulty filing a claim could attest."