The FBI found a cache of weapons and other law enforcement equipment while raiding the apartment building of two men accused of impersonating federal agents.
Arian Taherzadeh, 40, and Haider Ali, 35, were arrested and charged with falsely impersonating officers of the United States on Wednesday, Newsweek previously reported.
Four Secret Service agents were suspended after it was discovered that Taherzadeh and Ali had attempted to get close to them by giving them gifts that included rent-free apartments, a drone, iPhones, surveillance systems, a gun case and additional law enforcement tools.
Secret Service agents allegedly taken in by the scheme included an agent assigned to first lady Jill Biden's security detail, who one of the men offered to gift a $2,000 assault rifle. A DHS agent was also targeted.
During an appearance in federal court on Thursday, Assistant U.S. Attorney Joshua Rothstein said that FBI agents raided the Southeast Washington, D.C., luxury apartment building where the suspects had been living and offering free stays on Wednesday night, searching five residences inside the building and three vehicles.
Rothstein said that the search uncovered "body armor, gas masks, zip ties, handcuffs, equipment to break through doors, drones, radios and police training manuals," according to the Associated Press. Rothstein also said that agents found guns, disassembled rifle parts and sniper scopes.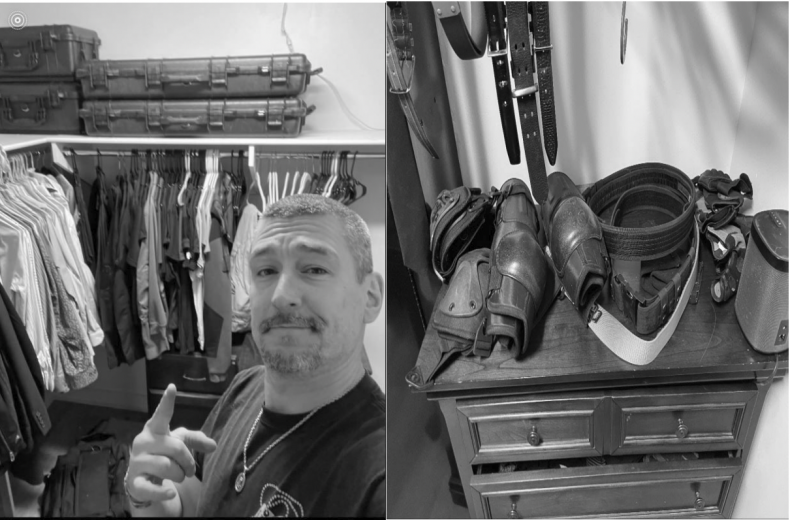 Other items discovered reportedly included surveillance equipment, a "high-power telescope" and a binder including information about residents of the building–including congressional staffers, defense officials and law enforcement officers.
Taherzadeh and Ali allegedly claimed to be part of a non-existent "special police" unit, according to the affidavit, that was part of the Department of Homeland Security (DHS), working on an "undercover gang-related investigation" and investigations related to the January 6 Capitol riot.
Witnesses involved in the investigation were told by Ali that he was affiliated with Pakistan's Inter-Services Intelligence agency and had several visas from Pakistan and Iran before his alleged impersonation scheme took place in Washington, D.C., Rothstein reportedly said during the hearing, while noting that the U.S. had not confirmed the claims.
The alleged impersonation plot was uncovered after an inspector from the United States Postal Inspection Service visited the apartment building to investigate an assault on a mail carrier. Taherzadeh and Ali presented themselves to the inspector as members of the fake special police unit. The Office of Inspector General was informed, which in turn relayed the information to the FBI.
"The Secret Service has worked, and continues to work, with its law enforcement partners on this ongoing investigation," the Secret Service said in a statement following the arrests. "All personnel involved in this matter are on administrative leave and are restricted from accessing Secret Service facilities, equipment, and systems."
The agency added that it "adheres to the highest levels of professional standards and conduct and will remain in active coordination with the Departments of Justice and Homeland Security."
At Thursday's hearing, Magistrate Judge Michael Harvey ordered that Taherzadeh and Ali remain in custody pending a detention hearing set for Friday afternoon.
The U.S. Attorney's Office for the District of Columbia declined to comment. Newsweek reached out to the FBI for comment.
Just yesterday, a college student in Texas was pulled over by a man impersonating a cop, but she was quick to notice something odd and notified the authorities. Now she said she wants others to know the signs.
And in May of last year, a woman was accused of impersonating a police officer in an attempt to extort an 84-year-old man on a nonexistent rape charge.
Update 4/7/22, 7:33 p.m. ET:This article was updated to reflect that the U.S. Attorney's Office for the District of Columbia declined to comment.