Man Posing as Agent Offered to Buy Gun for Jill Biden Secret Service Guard
A man charged with posing as a federal agent allegedly offered to buy a $2,000 assault rifle for a Secret Service agent who is part of first lady Jill Biden's protective detail.
Arian Taherzadeh is charged with impersonating a federal law enforcement officer along with another man, Haider Ali. Both of the men allegedly gave gifts to Secret Service agents, including rent-free apartments.
Four Secret Service agents have been suspended, including one assigned to the first lady. Those agents have not been named. Another agent in Biden's detail is listed as an unnamed witness in court documents and was offered the rifle by Taherzadeh.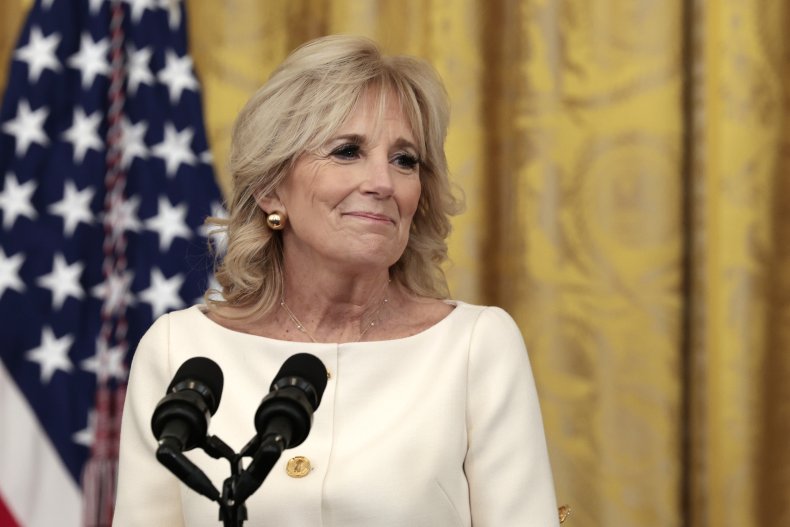 More than a dozen FBI agents entered the men's apartment building in Washington, D.C. on Wednesday night and took them into custody.
Taherzadeh and Ali are accused of posing as employees of the Department of Homeland Security (DHS). They allegedly described themselves as "special police" and claimed "to be involved in undercover gang-related investigations as well as conducting investigations related to the violence at the United States Capitol on January 6."
The two men allegedly bought four Secret Service agents and one DHS official gifts such as rent-free apartments, including a penthouse with yearly rent totaling more than $40,000, as well as other gifts such as a drone, iPhones, surveillance systems and other law enforcement paraphernalia.
According to court documents unsealed on Wednesday, Taherzadeh told a Secret Service agent on Jill Biden's detail—known as Witness 2 in the filing—that he had the same agency gun the agent had. He also offered to buy him a $2,000 rifle.
"TAHERZADEH came to Witness 2's apartment carrying a Glock 19 Generation 5 in an Ayin Tactical Holster," the court documents said. "TAHERZADEH stated that he had an extra holster and wanted to give Witness 2 the Ayin Tactical Holster for Witness 2's newly issued Glock 19 Generation 5. Witness 2 is still in possession of this holster."
Prosecutors said the pair started posing as federal agents around February 2020. An investigation began on March 14, 2022 when they were questioned as potential witnesses to an assault that involved U.S. Postal Office worker.
The men told an inspector from the United States Postal Inspection Service (USPIS) that they were part of a DHS unit called the U.S. Special Police Investigation Unit, which does not exist. The inspector relayed the information to the Office of Inspector General, which then informed the FBI.
The Secret Service issued a statement Wednesday night about the suspensions.
"All personnel involved in this matter are on administrative leave and are restricted from accessing Secret Service facilities, equipment and systems. The Secret Service adheres to the highest levels of professional standards and conduct and will remain in active coordination with the Departments of Justice and Homeland Security," the statement said.
Taherzadeh and Ali also set up a surveillance system at the Navy Yard apartment complex where they lived. Residents could access the system from their mobile devices.
"These residents stated that they believe that TAHERZADEH and ALI had access to personal information of all the residents at the apartment complex," the court documents said.
It was not immediately clear if the two men had attorneys, according to The Associated Press. They are due to appear in court on Thursday.
Newsweek has asked the White House for comment.