Here's What Sacha Baron Cohen Said About the Rudy Giuliani Scene in 'Borat 2'
Sacha Baron Cohen has admitted that filming the Rudy Giuliani scene for the Borat sequel was nerve-wracking. On a Monday night appearance on The Late Show with Stephen Colbert, the Borat Subsequent Moviefilm star broke down how the sequence was filmed.
As you may have heard, the former mayor of New York City was caught in a compromising position on camera for the film. He had his hand in his pants while lying on a bed in a hotel room with Borat's daughter, Tutar (Maria Bakalova), who was dressed up as a journalist. He can also be heard giving Tutar compliments, and asking for her phone number and address. Before things progress too far, Borat emerges to break things up and escape with Tutar.
Giuliani has denied that he did anything inappropriate during the interaction. "I was tucking in my shirt after taking off the recording equipment," Giuliani tweeted on Wednesday. "At no time before, during, or after the interview was I ever inappropriate. If Sacha Baron Cohen implies otherwise he is a stone-cold liar." Baron Cohen has said otherwise.
Colbert asked Baron Cohen on Monday evening: "Do you have anything to say to Rudy Giuliani about going into a bedroom with a supposedly teenage girl to drink whiskey and zip your pants up and down?"
The actor responded, "Well, he said that he did nothing inappropriate, and you know, my feeling is if he sees that as appropriate, then heaven knows what he's intended to do with other women in hotel rooms with a glass of whiskey in his hand."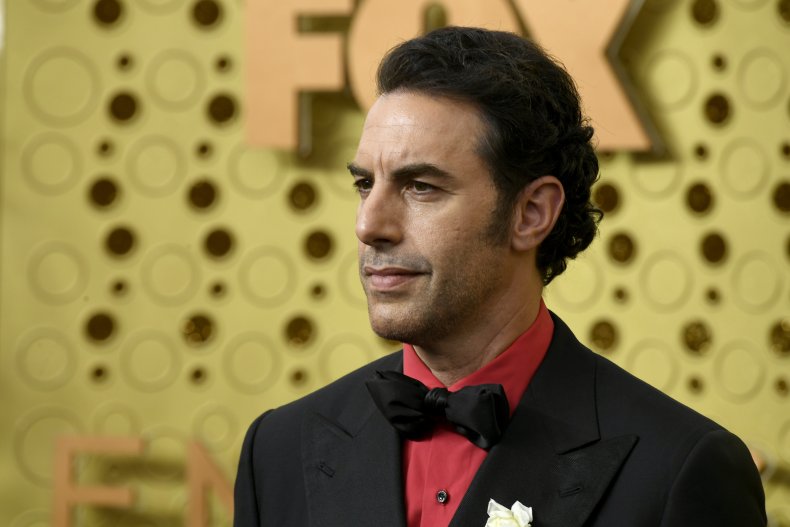 "I don't want to ruin the movie for anyone, so I would say see it and make your own mind up," Baron Cohen added. He then explained that during that scene, they built a "hideaway" with an internal lock in the wardrobe. It measured about six feet by three feet, and was pitch black inside.
"I was in there for the entire scene," the comedian revealed. "My only means of communication was that I would jump out at a necessary point. I would know what [Giuliani] was doing via text messages with the director. Because I had no eyes on anything." Baron Cohen explained that Giuliani thought he was alone with Bakalova, and even brought a former cop with him to stand outside the hotel room.
The ex-cop also did a sweep of the entire hotel suite. While filming, he sat "outside the room, ensuring that no one could come in and out—which is actually more scary when you think about it, for her," Baron Cohen explained.
The Borat star also noted that his phone was on three-percent battery when he was in the hideaway. "I go, 'Hold on! We've got Rudy Giuliani, we've got the president's lawyer. We've got this scene, this is the climax of the movie, and no one thought it might be worth charging the phone?'" The actor kept his phone on airplane mode while the scene was being shot, and would "occasionally check in" to see if he needed to emerge from the hideaway.
Baron Cohen previously touched on the scene during a Friday appearance on Good Morning America. "Well, I would say that if the president's lawyer found what he did there appropriate behavior, then heaven knows what he's done with other female journalists in hotel rooms," Baron Cohen said (via IndieWire). "I just urge everyone to watch the movie. It is what it is. He did what he did. Make your own mind up. It was pretty clear to us."
Borat Subsequent Moviefilm: Delivery of Prodigious Bribe to American Regime for Make Benefit Once Glorious Nation of Kazakhstan is now available to stream on Amazon Prime Video.