Rudy Giuliani 'Borat' Video—What Trump's Attorney Has Said of Scene
Rudy Giuliani is the target of one of the most vicious skewerings in Borat Subsequent Moviefilm—but Donald Trump's lawyer maintains that the scene was "doctored" or "manipulated."
The former New York City mayor features in the highly anticipated new sequel—Borat Subsequent Moviefilm: Delivery of Prodigious Bribe to American Regime for Make Benefit Once Glorious Nation of Kazakhstan—and he is presented in a decidedly unflattering manner.
In what is perhaps the most disturbing moment in the Sacha Baron Cohen satire, the Trump ally appears to be seducing an actress playing young female reporter.
The 76-year-old is seen putting his hands into his pants in a bedroom with the actress who is 24 playing a 15-year-old. The two go into the bedroom after the actress is left alone with Giuliani under the pretense that she is conducting an interview.
Maria Bakalova stars as the eponymous Borat's teenage daughter, Tutar in the film. The set up is interrupted by Borat who bursts in and shouts: "She's 15. She's too old for you!"
However, Giuliani maintains that he was simply tucking in his shirt when found in the compromising moment.
"I was tucking in my shirt after taking off the recording equipment," he tweeted.
During his daily show on WABC-AM, Giuliani said images from the clip that began circling online before the film's Friday release on Amazon Prime Video were not as they seemed.
He explained to listeners that he was in the process of removing the electronic equipment used during the interview, which required him to re-tuck his shirt.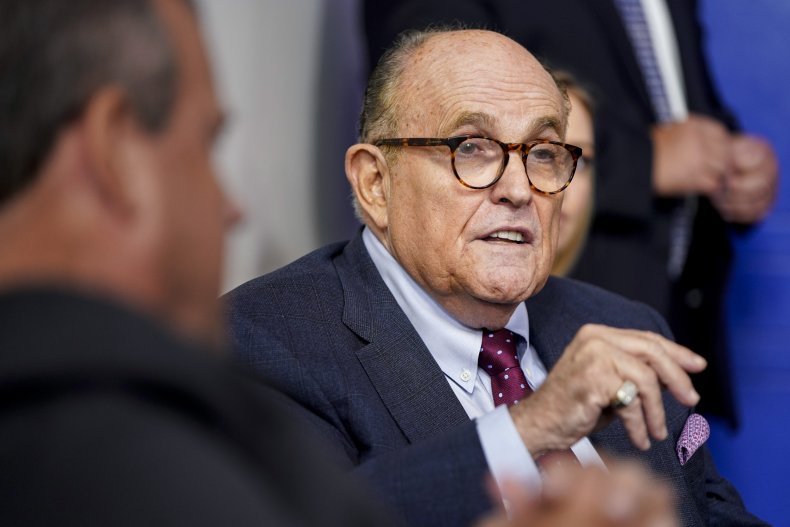 "I had my jacket on—I was fully clothed at all times—and I had to take off the electronic equipment," Giuliani said. "And when the electronic equipment came off, some of it was in the back and my shirt got a little out, came a little out, although my clothes were entirely on. And I leaned back and I tucked my shirt in.
"At that point, they have this picture that they take, which looks doctored, but in any event, I'm tucking my shirt in; I assure you that's all I was doing," he said.
Giuliani said he believed the interview, which he said was conducted by "a young woman who was new to interviewing," was "legitimate" at the time.
"I was being kind to her," Giuliani said. "At one point, she explained to me some problems she had; I actually prayed with her."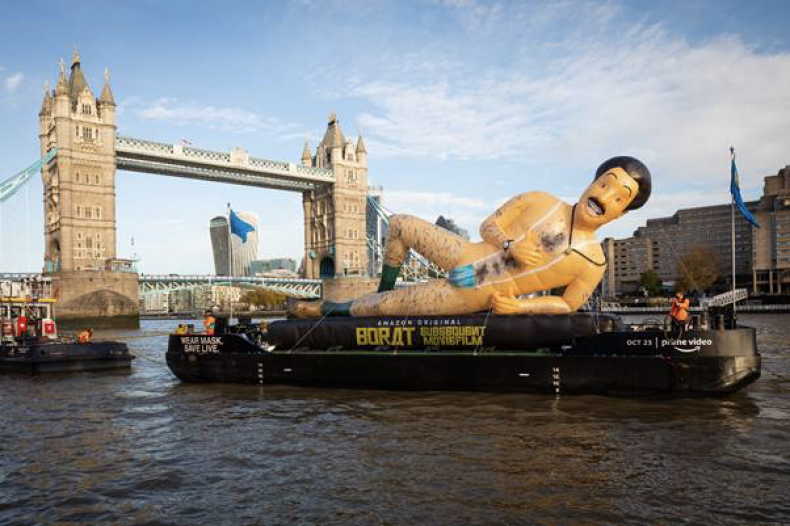 Back in July, Giuliani had reported Baron Cohen to the police following an interview.
"This person comes in yelling and screaming, and I thought this must be a scam or a shake-down, so I reported it to the police," Giuliani told Page Six at the time.
Today, Giuliani further tweeted about the scene, calling it a "complete fabrication."
"The Borat video is a complete fabrication. I was tucking in my shirt after taking off the recording equipment," he tweeted.
"At no time before, during, or after the interview was I ever inappropriate. If Sacha Baron Cohen implies otherwise he is a stone-cold liar."
He continued: "In fact, the NY Post today reports 'it looks to me like an exaggeration through editing.' As soon as I realized it was a set up I called the police, which has been noted in THR article on July 8th."
Giuliani said the film is "an effort to blunt my relentless exposure of the criminality and depravity of Joe Biden and his entire family."
Referencing the Hunter Biden situation, he added: "Deadline Hollywood reports CAA had a distribution screening in September where there was no mention of the scene holding any importance. We are preparing much bigger dumps off of the hard drive from hell, of which Joe Biden will be unable to defend or hide from. I have the receipts."
Borat Subsequent Moviefilm is released on Friday, October 23 on Amazon Prime Video.