Here's What Taylor Swift Said in Her American Music Awards Speech After Scooter Braun, Big Machine Feud
Taylor Swift took the stage at the 2019 American Music Awards (AMAs) to accept a milestone award—Artist of the Decade—on Sunday night. Her appearance was highly anticipated by fans and social media users who recently saw Swift in a feud over the rights to her old music.
Swift began the conversation in mid-November when she called out famous Hollywood manager Scooter Braun, who now owns Swift's music through his ownership of Big Machine Label Group. Her statement claimed Braun and former Big Machine owner Scott Borchetta, would not allow Swift to perform her old music during the awards show because it violated a condition that Swift would not record the songs until 2020. Read Big Machine's response and further background here.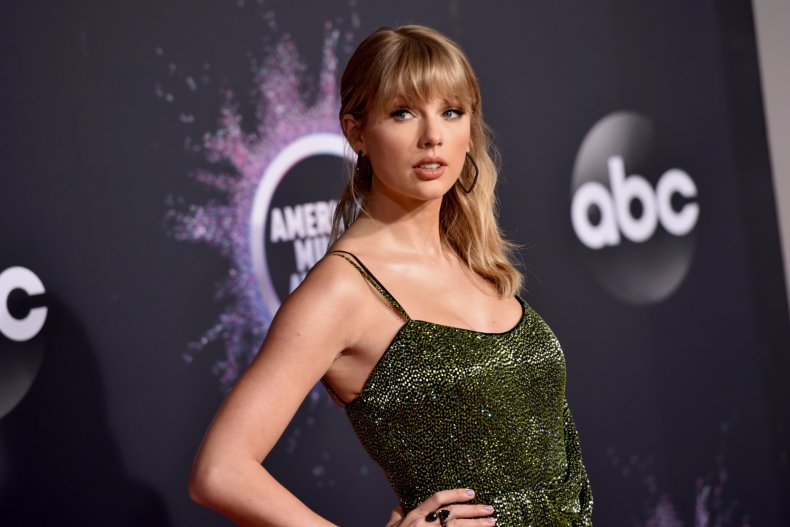 Big Machine did grant Swift the ability to perform her old songs through a deal with Dick Clark Productions, a television company that produces the AMAs, according to a statement on their website. Swift was able to perform a medley of her career hits including "Love Story," "I Knew You Were Trouble" and "Blank Space" among others. The AMAs mentioned Swift's history of campaigning for artist's in her introduction video. She opened with a segment from her song "The Man," which speaks of how women are treated as lesser than men in the workplace and in the world.
Swift was also joined by pop artists Halsey and Camilla Cabello to sing "Shake It Off." Swift didn't mention the feud in her acceptance speech.
The full transcription read:
"First of all, I want to say that getting to share the stage with Misty Copeland, Craig Hall, Camilla Cabello, Halsey and all of those amazing dancers tonight was absolutely, in so many ways, a dream come true. That performance was even more fun than I hoped it would be. I cannot believe that it's Carole King who gave me this award.
My parents are here tonight. They would listen to Tapestry and all your other records in high school and then they took those records with them, packed them up in boxes and took them to college with them. Then, when they met and they got their own house and took those records with them there and when they had my brother and I, they played those records for us. I just remember, when I fell in love with music, it was right around the time I realized how marvelous it was that an artist could transcend so many phases and changes in people's lives. So, you taught me that that's a possibility.
I guess what I'm trying to say is that all any of the artists, or really anyone in this room, wants is to create something that will last. Whatever it is in life. The fact that this is an award that celebrates a decade of hard work and of art and of fun and memories, all that matters to me is the memories that I've had with you guys, with you the fans, over the years.
My guys, we've had fun, incredible, exhilarating, extraordinary times together and may continue. Thank you for being the reason why I am on this stage from the very first day of my career until tonight. I love you with all of my heart. Thank you for everything. Thank you, AMAs. Thank you. Just thank you. I'm so lucky to get to do this."
Earlier in the night, Swift accepted the award for Best Pop/Rock album and mentioned her love for her current record label, Republic Records, which is owned by Universal Music Group. "This album really felt like a new beginning and I also really love my record label Universal and Republic," she said of her album Lover.
Twitter users spoke of Swift's pending speech throughout the weekend and seemingly assumed the musician would use the platform to express her stance on the legal rights of artists.
A series of meme-like comments surfaced even before the awards show began.
Swift released her album Lover in 2019. It's the only album she currently owns. Swift is expected to re-record her old music in 2020, as she announced on Good Morning America in August. Swift's contract with Big Machine seemingly allows her to record the tracks again in the new decade.
Swift is the highest-awarded woman in AMA history with 23 awards, according to the show.