As the race for the White House heats up between President Donald Trump and presumptive Democratic presidential nominee Joe Biden, all eyes are on key swing states that will likely decide the outcome of the election.
In 2016, Trump won big in the Electoral College due to a series of mostly narrow wins in battleground states, several of which had been carried by former Democratic President Barack Obama in 2008 and 2012. Democrats now hope to recoup their losses in these states come November, while also making gains in traditional GOP-strongholds. Meanwhile, Trump's campaign aims to expand the president's appeal beyond his loyal base of supporters and maintain the states he carried in the last election.
Analysts are most closely eyeing polling data out of Wisconsin, Michigan, Pennsylvania and Florida, all of which Trump won in 2016 after Obama won them twice. Recent polling suggests that Biden, who served as Obama's vice president, currently has the advantage. In several key states, the Democratic candidate leads Trump, while national polls also show Biden as the favored presidential contender.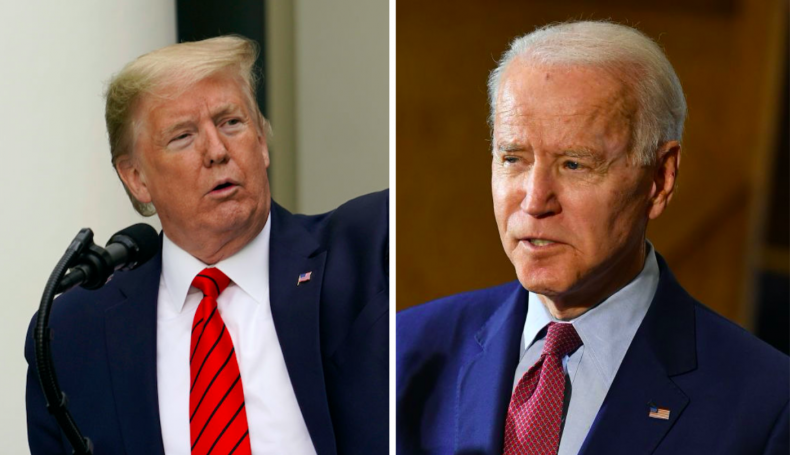 The latest poll out of Wisconsin, which was conducted by Marquette University Law School from May 3 to 7, shows Biden ahead of Trump by 3 points. The president is backed by 43 percent of respondents, while the former vice president is supported by 46 percent. However, an additional 4 percent said they would not back either candidate, while another 4 percent said they were still undecided.
Those results aligned with a March poll carried out in Wisconsin by Public Policy Polling. That survey also found Biden ahead of Trump by 3 points, with the presumptive Democratic nominee supported by 48 percent of respondents compared to the president's 45 percent.
Biden appears to have a similar lead in Florida, according to two recent polls. In a Fox News poll conducted from April 18 to 21, the former vice president was supported by 46 percent of Florida voters compared to 43 percent who back Trump. Quinnipiac University, which carried out a poll in the southern state from April 16 to 20, showed similar results, with Biden backed by 46 percent of voters and Trump supported by 42 percent, a difference of 4 points.
In Michigan and Pennsylvania, Biden's lead appears to be even bigger.
The same Fox News poll from April found the Democratic contender ahead of the president by 8 points in Michigan, with support from 49 percent of the midwestern state's voters compared to Trump's 41 percent. Similarly, a Monmouth University poll from March showed Biden ahead by 7 points, backed by 48 percent of voters while Trump was supported by just 41 percent.
Harper Polling data from late April showed Biden leading Trump by 6 points in Pennsylvania. The former vice president was backed by 49 percent of voters and the president was supported by 43 percent. Again, the Fox News poll from April showed Biden ahead of Trump in the northeastern state as well. The Democratic challenger was ahead by 8 points, with support from 50 percent of Pennsylvania voters, while the president was backed by just 42 percent.
Meanwhile, Democrats are hopeful that they may be able to win in the traditionally red state of Arizona. The southwestern state has historically voted Republican, with the most recent exception being 1996, when it went for former Democratic President Bill Clinton during his reelection campaign.
Most recent polling in Arizona suggests that Biden has the advantage, however. OH Predictive Insights conducted a survey in early April which showed the former vice president ahead by 9 points, backed by 52 percent of voters compared to Trump's support from 43 percent. A Monmouth University survey from mid-March showed Biden with a more modest lead of just 3 points, supported by 46 percent of Arizona voters while Trump was backed by 43 percent.
Biden also continues to lead Trump in most national polls. A survey by The Economist and YouGov from early May showed that the former vice president was backed by 46 percent of voters nationwide. Trump was supported by just 43 percent. A Monmouth University poll carried out from April 30 to May 4 showed the Democratic candidate with a bigger lead of 9 points, supported by 50 percent of voters compared to Trump's 41 percent.
But as Democrats realized in 2016, significant polling leads do not necessarily translate into a November victory. Many national polls in mid-2016 showed former Democratic presidential candidate Hillary Clinton ahead of Trump by more than 20 points. In the end, Clinton lost big in the Electoral College, although she won nearly 3 million more individual votes than Trump.
Republicans have generally pointed to this fact when questioned about polling results that suggest Trump or other GOP candidates could lose come November.
"If we learned anything from the 2016 election, it should be that polls this far out from election day are meaningless," RNC National Press Secretary Mandi Merritt told Newsweek. Merritt also expressed confidence that GOP candidates would win big in November.
"President Trump and Republicans up and down the ballot are in a strong position to win come Election Day," she said.