What the Newest Polls Say About a Joe Biden vs. Donald Trump Matchup
Presumptive Democratic presidential nominee Joe Biden continues to maintain his lead over President Donald Trump in polls, with a new analysis suggesting that the steadiness of the former vice president's polling results is "record breaking."
Recent polling results have Biden ahead of Trump by a range of 3 to 9 points. A survey published last week by Monmouth University in which possible Libertarian candidate Representative Justin Amash of Michigan was added to the mix also showed that the former vice president was still ahead of Trump by 7 points.
"Not only is he up 6 points over the last month or so, but the average of polls since the beginning of the year has him ahead by 6 points. Moreover, all the polls taken since the beginning of 2019 have him up 6 points," an analysis by CNN's Harry Enten published on Sunday explained.
"The steadiness in the polls is record breaking. Biden's advantage is the steadiest in a race with an incumbent running since at least 1944," he wrote.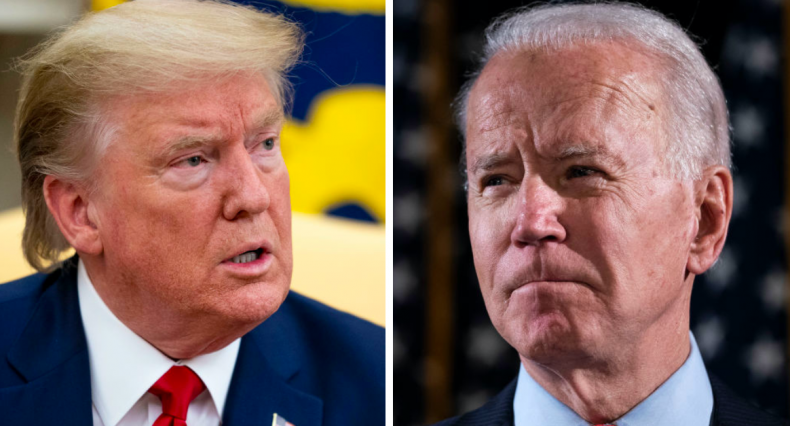 A YouGov poll conducted from May 3 to 5 showed Biden ahead of Trump by 4 points, or 46 percent to the president's 42 percent. Similarly, a CNBC survey carried out from May 1 to 3 showed the former vice president ahead by 3 points, backed by 47 percent of respondents compared with Trump's 44 percent.
The recent Monmouth poll, which was conducted from April 30 to May 4, showed Biden with an even firmer advantage of 9 points. In that survey, Biden was backed by 50 percent of voters while Trump was supported by just 41 percent. However, the gap narrowed by a few points when respondents were given the option to vote for Amash, who garnered support from 5 percent of voters. With the possible Libertarian candidate on the ballot, that polling showed Biden would still be supported by 47 percent of voters. Trump would only be backed by 40 percent of them.
But recent polling by Morning Consult also suggested that Biden could potentially face negative fallout as a result of the allegation of sexual assault brought by Tara Reade. The former Senate staffer, who worked for Biden, alleges that the Democratic candidate sexually assaulted her in 1993.
Multiple friends, a former colleague and Reade's brother have confirmed that they were told about the incident back in the 1990s. Biden's campaign has strongly denied the claims while maintaining that all women have the right to be heard.
According to the Morning Consult data, just more than a quarter of Democratic voters think Biden should be removed as the party's nominee because of Reade's allegations. The survey, which was conducted from May 2 to 3, showed that 26 percent of Democratic voters said either "yes, definitely" or "yes, probably" when they were asked whether their party should select a different nominee.
Overall, Biden remains the frontrunner in the 2020 presidential election. However, as Democrats realized in 2016, significant leads in national polls do not necessarily translate to victory in November. Former Democratic presidential candidate Hillary Clinton was at one point more than 20 points ahead of Trump in mid-2016. But she lost to Trump in the Electoral College by a significant margin, although she won nearly 3 million more individual votes in the national election.
Biden's polling results in key battleground states are more promising, however. Polling averages compiled by Real Clear Politics show Biden ahead of Trump by a few points in Wisconsin, Michigan, Florida and Pennsylvania. These are states that voted for former Democratic President Barack Obama in 2008 and 2012, but then went for Trump in 2016. Biden also appears to have a significant lead in Arizona, which has voted for the Republican presidential candidate in every election after 1996.
"President Trump's record of building the American economy to unprecedented heights before it was artificially interrupted is even more salient now," said Ken Farnaso, the Trump reelection campaign's deputy press secretary. "He has been the Jobs President and Americans will look to him and his proven success to restore the economy to greatness. On the other hand, Joe Biden would raise taxes and burden job creators with strangling regulations under the Green New Deal. In November the choice will be clear: President Trump is the only candidate who has demonstrated that he knows how to get the economy fired up again."
Biden's campaign did not respond to Newsweek's request for comment by publication.