New Poll Suggests Justin Amash Could Hurt Biden More Than Trump, With Support From 5 Percent of Voters
While presumptive Democratic presidential nominee Joe Biden appears to have widened his lead over Donald Trump, Representative Justin Amash's entrance into the race could syphon more votes from the former vice president than from the president, new polling has shown.
Monmouth University released new polling data on Wednesday from a survey conducted from April 30 to May 4. In a head-to-head general election matchup, Biden now leads Trump by 9 points, with 50 percent support compared with the president's 41 percent. That's an increase over Monmouth's previous polling in April, when Biden was backed by just 48 percent of respondents and Trump was supported by 44 percent.
However, Biden's lead over Trump narrowed when Amash, an independent former Republican from Michigan, was thrown into the mix. When respondents were asked about all three candidates, Biden garnered support from just 47 percent of voters, while Trump was backed by 40 percent. Amash received the support of 5 percent of respondents. The results show that Biden, while still in the lead, would lose 3 points and Trump would lose only 1 point.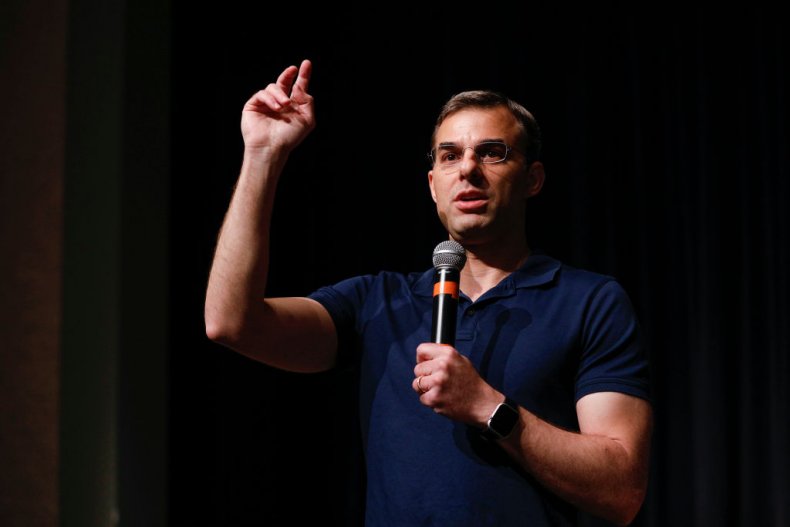 "It's too early to tell whether Amash will have an impact, but if this election ends up being as close as 2016, even a small showing can have a crucial impact," Patrick Murray, director of the independent Monmouth University Polling Institute, said in a statement.
Newsweek reached out to press representatives for Amash and Biden for comment, but they did not respond before publication.
"Leadership starts at the top, and Americans are seeing a bold commander in chief lead our nation through this invisible war," Ken Farnaso, deputy press secretary for Trump's re-election campaign, told Newsweek.
"President Trump's proven record of success ushered in the largest economic renaissance in American history. He did it once, and when we've beat the coronavirus, the American people know he will do it again," Farnaso said.
Amash announced on April 28 that he was forming an exploratory committee to seek the Libertarian Party's presidential nomination. The conservative lawmaker has long been critical of Trump and refused to vote for him in 2016. Last summer, he formally announced his departure from the Republican Party, publicly declaring himself an independent on the Fourth of July. He went on to be the lone conservative in the House of Representatives to vote with Democrats to impeach Trump this past December.
Some prominent anti-Trump conservatives, who plan to support Biden in the general election, quickly raised concerns that Amash could syphon votes from the Democratic contender if he appears on the ballot. Former Representative Joe Walsh, who challenged Trump in this year's GOP primaries, even urged Amash to reconsider his plan in a Washington Post opinion piece last week.
"He can siphon enough votes from the Democratic nominee, Joe Biden, to hand the election to Trump," Walsh argued. "And you don't have to be happy with your choices at this point to see that the only candidate who can beat Trump is the Democratic Party nominee."
But Amash has dismissed these concerns, asserting that he plans to make it to the White House, not just take away votes from Trump and Biden.
"I'm in the race to win it," he told Fox News over the weekend. "I would not have entered the race unless I thought there was a path to victory."
In an interview with CNN's State of the Union on Sunday, Amash argued that there was an opportunity for a Libertarian candidate to win in 2020. "These two factions [Republicans and Democrats] that really control our political system are destroying our system," the congressman said, "and making it impossible for the rest of us to, frankly, enjoy our lives."
Amash added that he believes the country is "at that crossroads" where a third-party candidate can win.