Here's Why I Went on Fox and Asked 'Why the Hell Does Tucker Carlson Still Have a Job?' | Opinion
When I woke up on the morning of Tuesday, November 29, I didn't think about trying to make news, but I knew I needed to send a message.
As a candidate for U.S. Congress in the Bronx, a New York State Assembly member and a vice chairman of the Democratic National Committee, I'm invited to be interviewed regularly, but let's face it—going onto Fox News as a Democrat requires some mental preparation and emotional fortitude.
I was invited to appear on America's Newsroom to, in part, respond to a silly question about whether former first lady Michelle Obama will eventually be the Democratic nominee for president (hint: she won't). But as I was on my way to the studio, I realized that if I was going on Fox News in the midst of the Trump presidency to be asked about Tucker Carlson's views of the first African American first lady in history, then it was fair game to respond with a straightforward question: Why the hell does Tucker Carlson still have a job?
Carlson is a man who referred to refugees coming to the U.S. as an "invasion" (a word also used by the El Paso, Texas, mass shooter) and who said immigrants make America "dirtier." Carlson is someone who claimed white supremacy is a "hoax" and inexplicably said he is rooting for Russia.
Words matter. A report released by the FBI last month found that in 2018 hate crime–related violence targeting people reached its highest levels in 16 years, and crimes targeting Latinos had surged by 41 percent since 2016.
As a black man in America and, honestly, as a human being, I take it all personally, and it was time to say enough is enough. I made my point about Carlson to anchor Bill Hemmer, who told me to "save it for later."
Now, let's be clear—hateful rhetoric is not limited to Fox News. One of my top opponents in the congressional primary has remained in office despite a decades-long history of homophobic remarks and disrespecting communities throughout the borough. Another is being supported by a man who accused a black woman in Democratic leadership of having done "more damage to people of color than anyone who has ever donned a hood."
But when we have a president who is racist, sexist and misogynistic, as well as media figures such as Carlson promoting his divisive rhetoric for ratings, I am not saving anything for later.
I've endured police brutality. My family are immigrants from Jamaica. I was born with a heart murmur and watched a mother beat breast cancer. I sold meals from my apartment to make ends meet. I went on from public schools to graduate from Northwestern University and then work for President Barack Obama at the White House. I didn't overcome the odds of the South Bronx and enter public service to let Carlson, Fox News or anyone promoting hatred and conspiracy theories disrespect us as a people.
Surely, Fox News will not be inviting me back for a while, if ever again. However, I would welcome going back to ensure a "fair and balanced" conversation. As an elected official and as a candidate for Congress, airtime is everything. But so are the words that we use.
My words on Fox News have led to me being threatened, taunted and even called a n***** on my public social media pages. If reading that is jarring to you, imagine how it feels to hear it repeatedly in 2019.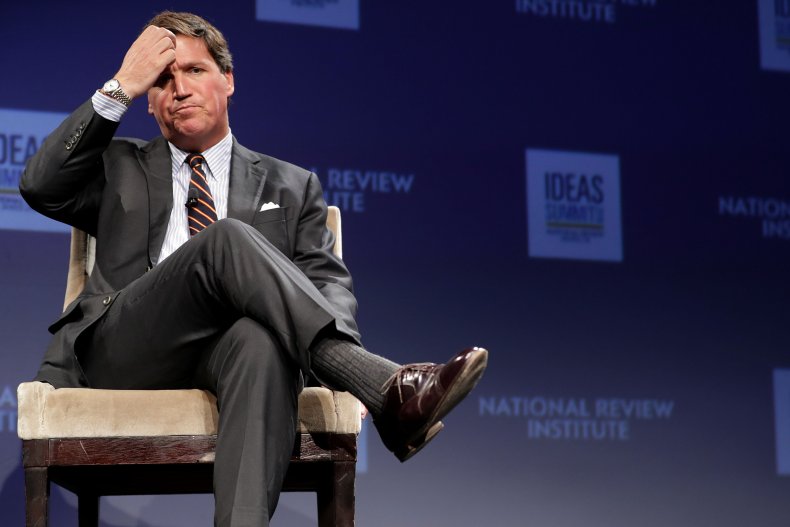 Despite this intimidation, we cannot be silent when the voices of others are bringing pain, not promise. I'm going to be clear about why I believe President Donald Trump and Carlson's rhetoric is cruel and inhumane, and why people need to know that Democrats can be trusted with our words and our actions. Whether it comes to housing, health care or jobs, we say what we mean, and we don't disparage communities along the way.
As the 2020 elections get underway, we need to have honest reflection on both sides. Both sides must call out wrongs and commit to making changes. We must ask—if leadership matters, shouldn't the words of leaders, including TV anchors, matter too?
"In the end," Dr. Martin Luther King Jr. once said, "we will remember not the words of our enemies, but the silence of our friends." This responsibility is why, on behalf of the millions of people targeted by the hate speech of Trump and Carlson, I wasn't going to be silent. This commitment is why I'm running for Congress in the South Bronx.
If I'm not invited on Fox News again, I completely understand, but I chose my words wisely. If only Carlson would do the same.
Michael Blake is a New York State Assembly member, vice chairman of the Democratic National Committee and a candidate for U.S. Congress in the Bronx.
The views expressed in this article are the writer's own.