Herman Cain Twitter Account Shares Posthumous Attack on Biden and Harris
Herman Cain's Twitter account has shared an attack on Democratic presidential candidate Joe Biden and his running mate Kamala Harris despite the former Republican presidential candidate having died earlier this year.
Cain died at the age of 74 from health complications after testing positive for coronavirus and having been hospitalized due to problems breathing, his team announced in July.
His Twitter account has been active since his death was announced on July 30, mainly sharing tributes and funeral service details.
On Wednesday, the account tweeted: "Just in case you thought Biden's candidacy was going to be anything other than completely nuts, team Trump has released a new video."
This was followed by hashtags for both Biden and Harris. Alongside the comment was a link to a page on hermancain.com with the title: "New Trump ad hammers Biden/Harris over Joe's endless array of racial gaffes."
This page expands on a recent Trump ad and also refers to a clash between Harris and Biden in an earlier Democratic debate where she hit out at him over the subject of busing.
Following the tweet, other Twitter users highlighted Cain's passing and questioned the post being shared despite his death.
Some flagged this with the social media platform, questioning the account's continued use.
On the top of Cain's twitter account, as a pinned tweet, is a post reading: "There is news from Cain HQ. The mission continues..."
This links to a post by Dr. Melanie Cain Gallo, Cain's daughter, with the title: "My dad wanted his work to continue: Here's how we, his team, are going to honor his wish."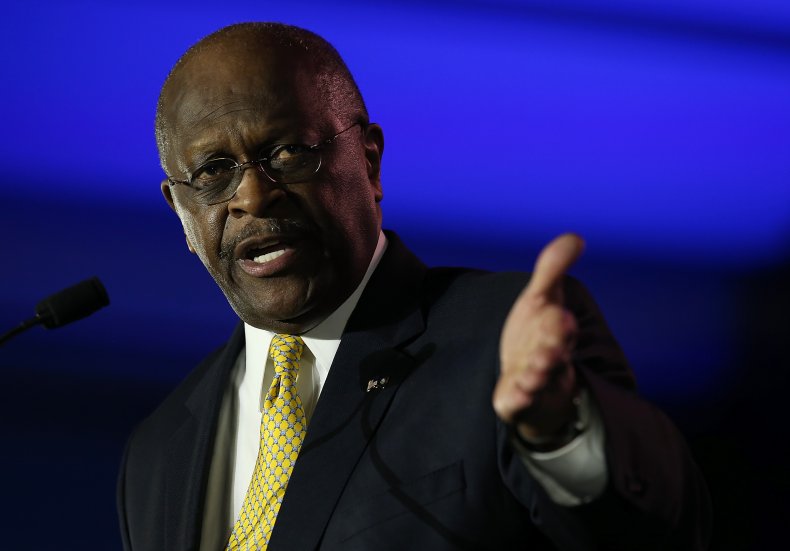 In this, she wrote that her dad "believed in using his voice to teach, enlighten and give hope."
"It's one of the ways he used this web site every day, and he wouldn't have wanted that work to stop with his passing," she wrote.
A banner at the top of the website now has the title "The Cain Gang," with the strapline "because the mission continues."
The post said that Cain created this name himself.
"We are his team, and he'll always be our leader. He would have wanted us to do this," the piece added. "And that's exactly what we're going to do."
Newsweek has contacted the team at hermaincain.com, Twitter and the Biden campaign for comment.
Cain ran to be the Republican candidate for president in 2012. He later co-chaired the Black Voices for Trump initiative.
President Donald Trump described Cain as having been "a great friend" and "a Powerful Voice of Freedom and all that is good" after his passing.