A dog is being praised as a hero after he kept his owner alive for a week in the Italian Alps. The man, a 33-year-old hiker, sustained injuries—including a broken ankle—while exploring treacherous parts of the Venzonassa Valley and went undiscovered for a week, before his rescue on Thursday. He is reportedly crediting his pup with keeping him alive.
There are no specific details as to what exactly the dog did to keep the man going while he was awaiting rescue, but it seems the mixed-breed dog, named Ash, may have at least helped the man keep his morale up during the freezing nights. The unnamed man and Ash spent their time near a frozen river, which the man reportedly used for water.
Because of his injuries, the man was unable to travel or gather large amounts of food, and the particular path he traveled was unable to receive cell phone service. The man's girlfriend first reported him missing after he didn't return from the hike on Monday, which led mountain rescue experts to search the area for him and Ash.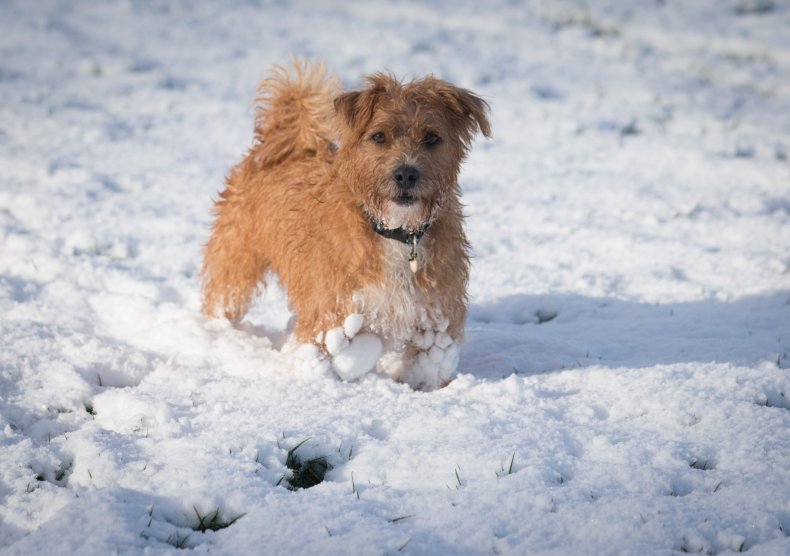 The wild survival story was posted on Facebook on Thursday, by Soccorso Alpino e Speleologico Friuli Venezia Giulia (Alpine and Speleological Rescue Friuli Venezia Giulia in English). While there still aren't many details about the man's condition, the post did report the rescue's results.
"He was thirsty and hungry," it reads, when translated to English. "It was immediately called the regional elisoccourse [sic] that arrived shortly after landing a helpless technician and medical team that stabilized him and put him in a depression bag and then loaded him on board with a winch of meters. The young man was taken away shortly after nine. The doggie returned with rescuers aboard the Civil Protection helicopter."
Comments on the post not only praise the dog for staying by his injured owner throughout the terrifying experience, but also share well wishes for the man's recovery. Most were amazed by the harrowing story, which clearly speaks to the connection between man and dog, even in excruciating circumstances.
While the story is certainly awe-inspiring, it's far from the only time that a pup has been credited with saving its owner's life. Earlier this month, a German Shepherd apparently kept her owner conscious when the man suffered a stroke. The dog not only licked the man's face consistently but she even reportedly helped to drag the man to his cell phone on the other side of the room.
Meanwhile, a woman in Texas repaid the favor to dogs everywhere when she stopped a recent grocery run to take in a stray dog who was suffering in the state's dangerous winter weather.