Texas Woman Uses Tortillas to Rescue Dog From Freezing Cold
Winter weather across the United States is proving to be detrimental to furry friends without a home, and a Texas woman stepped up to save a lost or stray dog from the brutal cold. On Thursday, Kristin Salinas kindly wrangled a dog from the snowy streets using an unlikely lure: a pack of tortillas.
Salinas left her house in the brutal weather just to buy the tortillas for a meal, but they ended up coming in handy. Without an owner anywhere to be found, Salinas spent around 30 minutes coaxing a black, medium-sized Labrador retriever mix into her own car to shelter him from the cold. She used the tortillas to get him into the vehicle, and it very well may have saved his life.
A video of the act of kindness was featured on Fox San Antonio on Thursday. It shows Salinas' car parked while the dog initially appears unsure about getting into the vehicle. Salinas, bundled in winter wear, even stepped out of the car to feed the unnamed dog pieces of the tortillas. Eventually, she earned its trust, and the pair entered the car together.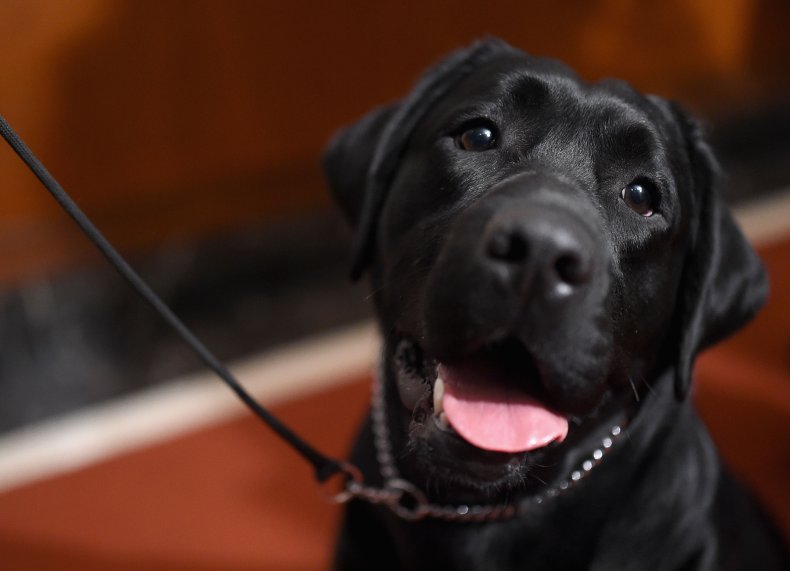 Salinas appears to be an animal lover, and told Fox dogs deserve the necessary guidance to weather such intense storms. "Dogs, they don't know what's going on; cats, pets, they don't know what's going on. So, we try to help them out—one dog at a time," she said. "I'm hoping the next person will stop, too, and help the different strays."
For now, the black Lab is being considered a stray, though it's possible he's a lost pet waiting to be reunited with his family. He's resting comfortably in San Antonio, and now has a profile on PawBoost, a website dedicated to helping lost pets reunite with their families. You can view his full profile here.
There don't appear to be any current leads on reuniting the dog with his home if he came from one, but PawBoost specifies that the pup is well-cared for, and well-fed, in the meantime.
As the winter winds take over much of the United States in February—even locations like Texas are facing unprecedented weather emergencies—there are a few cold weather tips for pets that may help your furry friends get through the harsh conditions a little easier.
In the winter, it's advised you feed your pets a little more food than normal, make sure their bed is warm and keep their fur long, according to the American Society for the Prevention of Cruelty to Animals. It's also advised that dog owners wipe their pet's paws after every walk to eliminate salt from their foot pads, which can cause salt poisoning if the dog licks too much of the substance. And always microchip your pet.
Taking the lead from Salinas, it may be a good idea to keep an extra leash, or bag of tortillas, in your car to help any fur babies you find on the street.