Hero Pup Who Saved 5 Other Dogs From Hoarder Gets New Forever Home
Hero, a 1-and-a-half-year-old retriever mix, has been adopted to a forever home after he helped five other dogs escape a dangerous situation of neglect inside of a hoarder's home.
On November 13, 2020, a woman named Tonie Quinlin noticed that the dog had broken through the boarded window of a house in Columbus, Nebraska. Quinlin was outside and playing with a friend's dog across the street when she noticed a dog hanging out of the house's window, The Columbus Telegram reported.
After she went to inspect, Quinlin noticed the dog covered in feces and acting in a panicked state. She saw the dog was severely skinny and smelled a horrible stench coming from the house. She called police, who upon their arrival removed five dogs from the dwelling.
Authorities took the dogs to the Paws and Claws Adoption Center. The center's veterinarian initially found that the animals had scars, wasted muscles, sunken eyes and severe skinniness caused by lack of food. All the dogs' fur had to be shaved off because it was so caked in feces, a center spokesperson told Newsweek.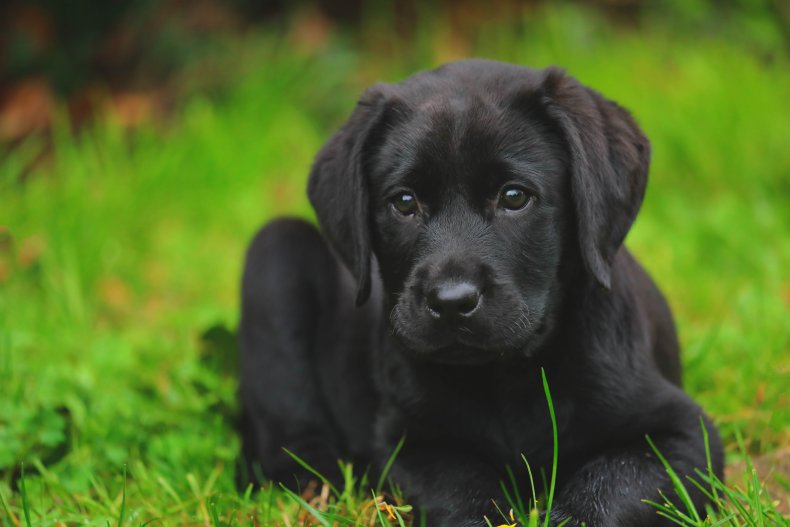 The dogs all had digestive distress and fought over food when they first arrived at the center before gradually recovering. The center workers called the dog that alerted Quinlin "Hero" because of his heroic actions as well as his friendly and highly energetic personality.
One by one, people adopted the other dogs. But Hero remained ignored, as black dogs in shelters typically are, the center told Newsweek. Eventually, he was noticed by a widow named Carrie Herrera.
Herrera is well known locally, partly because her husband Mario died in the line of duty working with the Lincoln Police Department last year. When she saw Hero's story mentioned on the center's social media, she wanted to adopt him.
But before Hero joined her home, she sent him to Second Chance Pups, a program where inmates at the Nebraska State Penitentiary teach basic obedience to shelter dogs for nine weeks. Hero will complete the program on April 9. At that point, Herrera will take him home.
"I was nervous, to be honest with you," Herrera told the Telegram about her first time meeting Hero. "He was a little skittish because he hadn't been around a lot of people, but he was super loving, very loving to us. It was kind of emotional, too. It was nice."
"I'm super excited," she added. "The kids are excited. It'll be a good addition to us."
In a statement to Newsweek, a center spokesperson wrote: "We couldn't be happier that this dog—who broke out of a dire situation and saved five other dogs—ended up hitting a homerun. And we wish all shelter dogs could have the same happy ending of a new home and a loving family."
"No matter how poorly dogs are treated, most of them have a high degree of forgiveness and will eventually learn to trust again," the spokesperson added. "We can learn a lot from them."
In late March, a story of another stray dog won over internet users. Sisu, a 1-year-old stray Labrador mix went viral for repeatedly stealing a purple stuffed unicorn from a North Carolina Dollar General store.
The animal control officer who brought Sisu in purchased the stuffed animal for the dog. The photos of the dog and its unicorn achieved small-time virality, helping Sisu get adopted.
Dollar General also donated more stuffed unicorns to Sisu's adoptive family and donated dog food to the local animal shelter in appreciation for their work.
Updated 4/3/2021, 2:10 p.m. ET, to include a statement from the Paws and Claws Adoption Center.