Herschel Walker Reveals He Hasn't Talked to His Son Amid Twitter Feud
Georgia GOP Senate candidate Herschel Walker hasn't talked to his son Christian Walker amid a string of controversies that have engulfed his campaign, for which his son has publicly criticized his father over social media.
Asked whether he's spoken to his son in recent days, Walker—who is running to unseat Democratic Senator Raphael Warnock in Georgia—admitted that he hasn't spoken to Christian since the story broke about the former NFL player having other children.
"I think he's extremely hurt from that, and that was totally, totally not true," Walker told conservative talk show host Hugh Hewitt on Thursday. "That's what's so sad, and we haven't talked about it. And you know, then [the abortion story] came out, and that's why I say I love him. I love Christian. I love him with all my heart. And you know, he's a young man now. And so when he's ready, I'm here. He can talk to me."
On Tuesday night, Christian blasted his father in a string of tweets after a new report from the Daily Beast said that Walker, whose campaign has staunchly opposed abortion, paid for a former girlfriend to get an abortion in 2009. Walker has denied that he ever paid for an abortion.
"I know my mom and I would really appreciate if my father Herschel Walker stopped lying and making a mockery of us," Christian tweeted. "You're not a 'family man' when you left us to bang a bunch of women, threatened to kill us, and had us move over 6 times in 6 months running from your violence."
Christian, a conservative social media personality, had largely remained silent regarding his father even as other scandals hit Herschel's Senate campaign.
In June, Walker admitted to having three other children—another two sons and one daughter. Prior to that, Walker had only mentioned 22-year-old Christian, who he said he helped raise. Christian has repeatedly criticized his father for being absent during his childhood.
"I have four children. Three sons and a daughter. They're not 'undisclosed'—they're my kids," Walker said in a previous statement shared with Newsweek. "I support them all and love them all. I've never denied my children, I confirmed this when I was appointed to the President's Council on Sports, Fitness and Nutrition."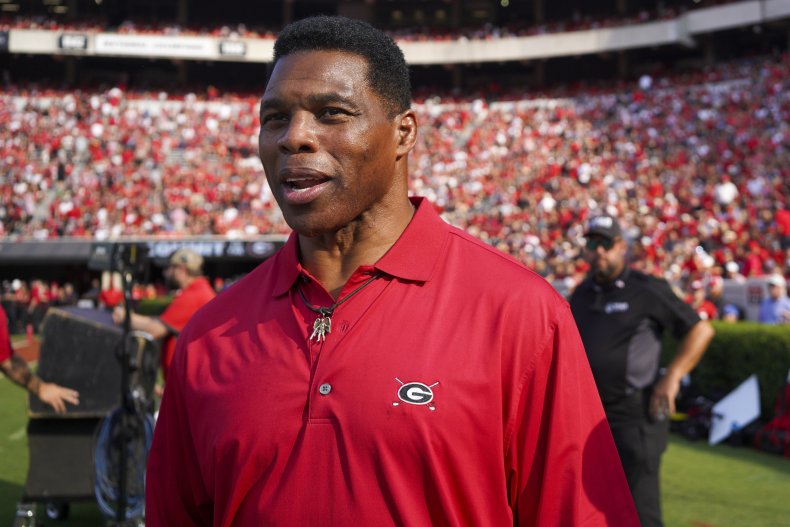 Christian appeared to snub his father again on Wednesday when he tweeted, "Wear a condom, damn."
"I stayed silent when it came out that my father Herschel Walker had all these random kids across the country, none of whom he raised," Christian said in a video posted on Tuesday. "And you know my favorite issue to talk about is father absence—surprise! Because it affected me. That's why I talk about it all the time."
"I haven't told any stories. I'm just saying don't like. Don't lie on my mom, don't lie on me, don't lie on the lives you've destroyed and act like you're some sort of family man," Christian said.
On Thursday, Walker told Hewitt, "I'm not sure what Christian is talking about, because he said some things," but that his son's criticisms wouldn't affect his love for him.
"I'm not going to debate or talk about [what Christian said], you know, out in public, because I need to know exactly what he's talking about, or what he's upset about with me and everything," Walker said.
Walker, who has been endorsed by former President Donald Trump, said that the recent controversy hasn't deterred his supporters or his belief that he will win the Senate race.
"We're going to keep moving forward, and I'm going to go out and represent the Georgia people, because right now, people are hurting," Herschel said.
"We're going to win this thing. We've just got to stay together," he added. "Don't let anyone divide us. We've got to stay together, and let's get this state of Georgia back together. Let's get this country back together."
Newsweek reached out to Christian Walker for comment.