Throughout his first term, President Donald Trump has been involved in verbal diatribe on social media with some of the most high-profile stars of the U.S. sporting landscape.
From LeBron James to Stephen Curry and from Magic Johnson to Steve Kerr and Gregg Popovich, several players and coaches have never made a mystery of their disdain for the president.
James and Curry are among the athletes who have endorsed Democratic presidential candidate Joe Biden ahead of the presidential elections on November 3, but Trump has his own cast of support in the world of sport.
Former NFL star Herschel Walker last week renewed his support for the Republican incumbent, whom he described as the best man to run the country and the victim of misrepresentation by the media.
"It's tough because we have become so political today, and the worst thing that you can say to someone today is that 'he's a racist'," the 1982 Heisman Trophy winner told former FOX Sports host Clay Travis on OutKick last week.
"They take bits and parts of a speech and they try to make him a racist, and that's what's very, very sad to me and the reason I got involved."
Walker, who played for the Trump-owned New Jersey Generals in the now-defunct USFL, then praised Trump's leadership qualities.
"This guy is not a racist, he's the best guy right now to run this country," he continued.
"He's the best guy to be the leader for this country, and I wanted people to know the truth. I'm not getting paid, and I'm not getting anything from it, I just love America and want America to know the truth."
Walker had renewed his support of Trump at the Republican National Convention in August, where he was joined by fellow former NFL player Jack Brewer, who also accused the media of falsely portraying Trump as a racist.
"I know what racism looks like, I've seen it firsthand," Brewer, who once backed Barack Obama, said.
"America, it has no resemblance to President Trump. I'm fed up with the way he's portrayed in the media, who refuse to acknowledge what he's actually done for the Black community."
Two-time All Pro linebacker Shawne Merriman and seven-time Pro Bowl selection Nick Mangold have both thrown their weight behind Trump in the past, as has Las Vegas Raiders guard Richie Incognito.
Several NFL owners have long been in the president's camp, including Dallas Cowboys owner Jerry Jones, New York Jets owner and current U.S. ambassador to the United Kingdom Woody Johnson and Miami Dolphins boss Stephen Ross.
According to the Washington Post, the latter host two separate fundraisers for Trump in August last year, which raised $12 million.
Former Chicago Bears coach Mike Ditka is also firmly in Trump's camp, but ESPN analyst Rex Ryan, who introduced Trump at a rally in Buffalo when he was coach of the Bills four years ago, has admitted he wished he had never supported him.
Two-time golf major winner John Daly had no such qualms and in April recorded a video for the Trump Organization's official YouTube channel at one of the president's golf clubs.
Away from football, former New York Yankees and Mets slugger Darryl Strawberry was also among the attendees at the Republican convention in August. Strawberry, who in 2017 praised Trump for being "very gracious and caring about people" in an interview with Sports Illustrated, is one of several former MLB players to be behind Trump.
Earlier this week, two-time World Series champion Aubrey Huff tweeted that he expected Trump to comfortably carry California, despite the fact the president trails Biden by an average of 26 points in the state and that California last voted for a Republican candidate in 1988.
Fellow two-time World Series winner Johnny Damon has also long been a supporter of Trump as has his former New York Yankees teammate Mariano Rivera, who last year said the president was "doing his best for the United States of America".
Former Boston Red Sox pitcher Curt Schilling has also been an outspoken Trump supporter and last year claimed his conservative political views had cost him a place in the MLB Hall of Fame.
Clay Buchholz, who won two World Series title with the Red Sox, has also publicly backed the Republican candidate in the past as has Cincinnati Reds pitcher Trevor Bauer.
Meanwhile, Washington Nationals catchers Kurt Suzuki wore a Make America Great Again when the team visited the White House to celebrate their 2019 World Series triumph, but subsequently told USA Today he was just "trying to have some fun" as opposed to make a political statement.
UFC President Dana White, on the other hand, was all too happy to make a political statement as he spoke at the Republican convention in August after donating approximately $1 million to a pro-Trump campaign in November.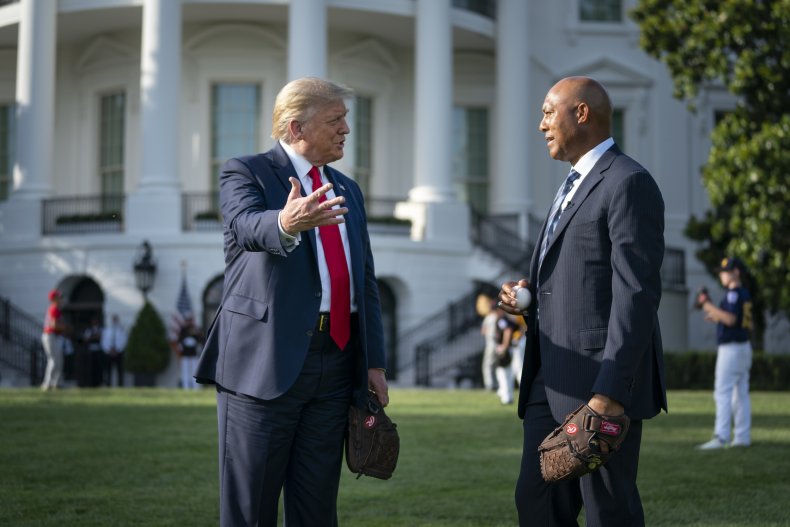 About the writer
Dan Cancian is currently a reporter for Newsweek based in London, England. Prior to joining Newsweek in January 2018, he was a news and business reporter at International Business Times UK. Dan has also written for The Guardian and The Observer.