Herschel Walker's Chances vs. Raphael Warnock With 1 Month Until Midterms
The controversies surrounding Republican candidate for the Georgia Senate Herschel Walker appear to damaging his chances of beating Democrat Raphael Warnock in November's midterms.
Even before the allegations that the Donald Trump-endorsed former NFL star paid for his former girlfriend to have an abortion in 2009, Walker was struggling in opinion polls, failing to beat Warnock in the six of the past seven surveys, with one showing the pair tied.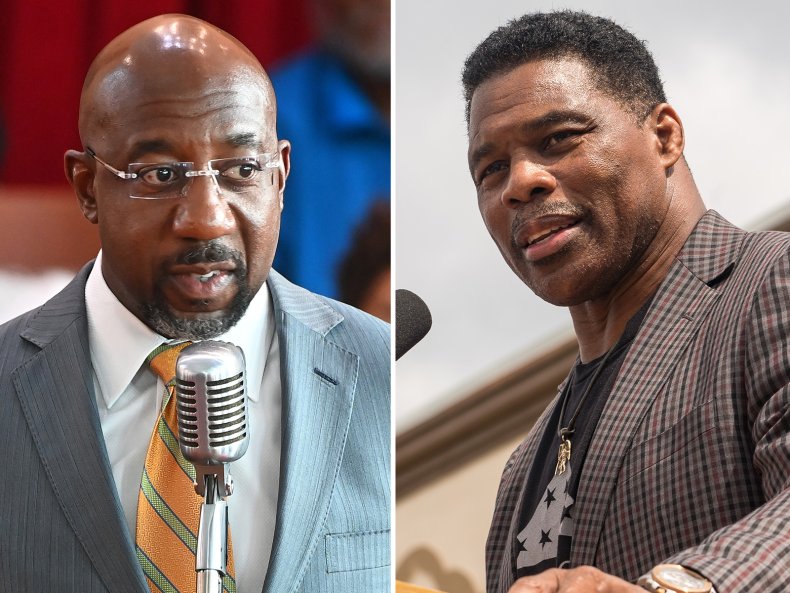 The most recent poll from InsiderAdvantage/FOX 5, conducted on Tuesday night after the abortion controversy around Walker, showed Warnock leading the Republican by 47 percent to 44 percent. This was a gap of two points more, compared with the poll taken just prior to the reports arriving.
"We were polling this race before news broke of allegations against Herschel Walker and the social media posts by his son.
"We scrapped that poll and surveyed last evening (Tuesday) after newspapers, television news, and social media bombarded voters with the various stories," InsiderAdvantage founder Matt Towery told FOX 5.
"In our October 3 poll, and prior to these news events, Walker trailed Warnock by one point. The good news for Warnock is that, following these newest events, he leads by three points. The good news for Walker is that the difference between the two polls is well within the survey's margin of error [4.2 percent]."
Walker had beaten Warnock in four out of five opinion polls conducted between late-August and mid-September, despite a number of other controversies that threatened to derail his campaign, including being found to have lied about his professional and educational past and having three more children that he previously never acknowledged.
However, Warnock has beaten Walker in the past three polls outright, including a SurveyUSA poll that gave the Democrat a 12-point lead over his Republican rival.
According to FiveThirtyEight's average collection of polls, Warnock is the favorite to win November's election at 47.7 percent, with Walker behind on 43.9 percent. Real Clear Politics' national average also has Warnock in the lead at 48 percent to Walker's 44.2.
Crucially, Warnock's current averages still do not cross the 50 percent barrier needed to avoid the Senate midterm going off into a runoff.
The latest controversy surrounding Walker, who has expressed support for a national abortion ban without exceptions for rape, incest or a woman's life being at risk, shows no sign of going away soon.
While denying the claim he paid for his then-girlfriend to have an abortion 13 years ago, Walker said he had no idea who the woman might be. On Wednesday, The Daily Beast published new allegations that the woman who underwent the procedure later gave birth to one of Walker's four children.
Walker also denied the latest allegations. "As I have already said, there is no truth to this or any other Daily Beast report," he said.
Despite Walker's negative headlines, Towery believes that November's election could still go into a runoff, saying that Warnock has not improved from the 47 percent he got in the previous InsiderAdvantage poll from September. He is still short of the 50 percent required to win outright.
"Walker continues to take endless hits to his personal reputation in paid media and press reports, but Warnock has gone relatively unscathed by the Walker campaign and media regarding his personal reputation" Towery said to Fox 5.
"If Warnock escapes a runoff, that will likely be the one determining factor in the contest."