Georgia Poll Shows Why Herschel Walker vs. Raphael Warnock Race Is So Close
A new poll shows why the U.S. Senate race in Georgia between Democratic Senator Raphael Warnock and his Republican challenger, Herschel Walker, is so close.
The Monmouth University poll, published on Wednesday, found that while Warnock enjoys a higher favorability rating among registered voters in the state, the Democratic Party is viewed much less favorably than the GOP.
Forty-eight percent of respondents viewed Warnock favorably, compared to 44 percent who had an unfavorable view of him. By contrast, Walker had a favorable rating of 42 percent, while 48 percent of registered voters viewed him unfavorably.
However, just 44 percent of respondents had a favorable view of the Democratic Party and 55 percent took an unfavorable view. That leaves Warnock's party trailing the GOP, which enjoyed a 53 percent favorable view and a 47 percent unfavorable rating.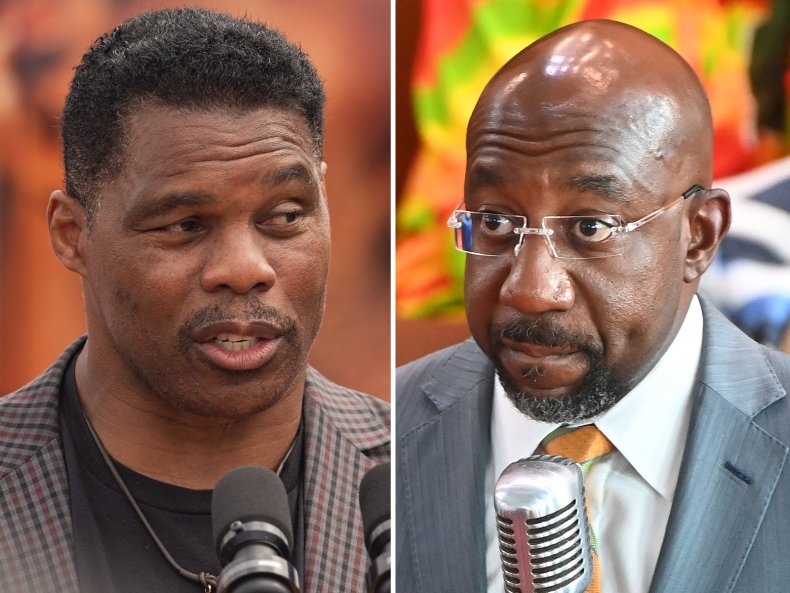 It was a similar picture when respondents were asked about President Joe Biden and former President Donald Trump, with 41 percent having a favorable view of the Democrat and 59 percent with an unfavorable opinion.
By contrast, Trump had a favorable rating of 45 percent and unfavorable rating of 55 percent.
The Monmouth University poll was conducted from September 15 to 19 among 601 Georgia registered voters and had a margin of error of plus or minus 4 percent.
The survey also found other indications of a close race, with 32 percent of respondents saying they would definitely vote for Warnock and 13 percent saying they probably would - amounting to less than 50 percent.
Similarly, 26 percent said they would definitely vote for Walker and 15 percent said they probably would, while 42 percent said they will definitely not vote for Warnock and 43 percent said the same for Walker.
The latest figures are yet another indication that the Georgia Senate race could go down to the wire. Poll tracker FiveThirtyEight rates the race a toss-up, but gives Warnock 54 chances in 100 of winning.
A trio of recent polls showed Walker ahead of Warnock, which prompted praise from former President Donald Trump, who has endorsed Walker. However, three subsequent polls showed the Democrat leading.
The most recent poll included in FiveThirtyEight's analysis is from YouGov and was carried out from September 14 to 19. It showed Warnock leading with 51 percent to Walker's 49 percent.
Democrats remain favored to win the Senate in the November midterm elections, but the outcome could be decided in tight races like the one unfolding in Georgia and if the polls are close, the contest between Walker and Warnock could prove crucial for both parties.
Georgia has long been considered a deep red state. Democrats scored upset victories there in the 2020 presidential election and in two U.S. Senate elections in January, 2021, when Warnock pulled off a surprise over Republican Senator Kelly Loeffler in the special election.