Rick Scott Confident GOP Will Have '52 Plus' Senators After Midterms
Republican Florida Senator Rick Scott said the GOP will win back control of the Senate in November's midterms and that the party will flip several key swing states in doing so.
Speaking to Fox Business Network, Scott, the chair of the National Republican Senatorial Committee, estimated that the GOP will end up with more than 52 senators in November's elections.
In his prediction, Scott listed a number of candidates who are currently "barely behind" in the polls who he said may end up winning against their Democratic rivals in states such as Pennsylvania and Washington.
The Senate is currently split 50-50, with the Democrats controlling the chamber with Vice President Kamala Harris' tie-breaking vote.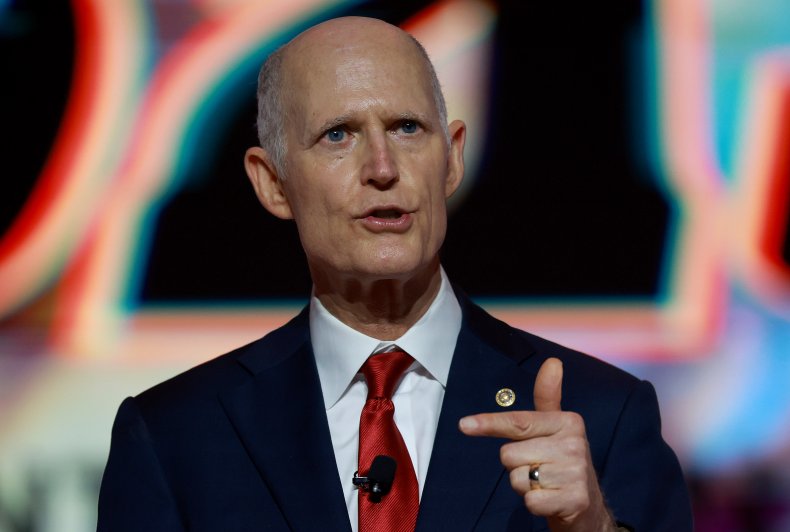 "We have 52, and I think we're gonna defend it and keep 50," Scott said. "Wisconsin Senator Ron Johnson is ahead in his polls, [Pennsylvania candidate] Mehmet Oz has really come back and he's barely behind, we're defining [John] Fetterman."
"Ted Budd's ahead in the polls there [North Carolina], Herschel Walker's ahead [in Georgia]. Adam Laxalt's ahead [in Nevada]," Scott added.
An Emerson College poll conducted from September 8 to 10 showed Laxalt with just a one point lead over Democratic Senator Catherine Cortez Masto in Nevada, with the fellow Donald Trump endorsed Walker also leading Senator Raphael Warnock by three points in an InsiderAdvantage/FOX 5 Atlanta poll of 550 likely voters released on September 8.
The senator went on to list more example races in Arizona, New Hampshire and Colorado as to where Republicans could pick up more seats in November's midterms.
"As people get to know Blake Masters he will beat Mark Kelly, we just got through the primary in New Hampshire. [Maggie] Hassan is underwater in fav/unfav big. Biden's way under water."
"So we're gonna have 52 plus," Scott added.
Scott also suggested that the GOP has a "great candidate" in Colorado, Joe O'Dea, who is also "barely behind" in the polls.
While a Tarrance Group survey published in August had Democratic Senator Michael Bennet just one point ahead over O'Dea, the incumbent has beaten his Republican challenger in the six most recent polls, sometimes by a double-digit lead.
Scott also said that Republican Tiffany Smiley is "barely behind" Senator Patty Murray in Washington in the polls, despite the most recent survey having her nine points behind the Democrat.
The Florida senator added that the GOP "has a shot" in the Connecticut Senate race, where Leora Levy is up against Senator Richard Blumenthal, even though the Republican challenger has trailed by double digits in the last six surveys dating back to May.
Newsweek reached out to Senator Scott for comment.