Republican Senate Candidate Brags He's Not Endorsed by Donald Trump
Joe O'Dea, the Republican candidate in Colorado's Senate race, bragged that he has not been endorsed by former President Donald Trump during an appearance on NBC News.
Trump, despite facing a myriad of legal investigations, remains an influential figure within the GOP. He endorsed several Republican candidates ahead of the November midterms, using his sway among the party's voters to boost candidates who embrace his style of politics and unfounded claims of widespread voter fraud during the 2020 election.
He has endorsed and held rallies for Republicans in many key Senate races, with O'Dea being an exception. O'Dea has sought to distance himself from the ex-president in the state where President Joe Biden won by double-digits during in 2020.
On Sunday on Meet the Press, host Chuck Todd pressed O'Dea about whether he would want the former president to campaign for him. O'Dea responded by pointing out that he has not received Trump's endorsement.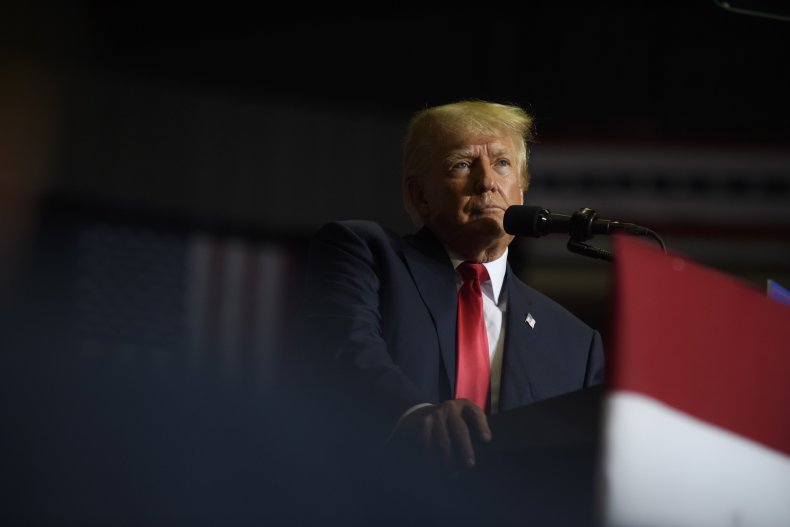 "I'm the only Senate candidate in the Republican Party that hasn't been endorsed by Donald Trump. He's probably not going to send me a Christmas card," O'Dea said—though other candidates have also not received Trump's endorsement.
He added that he does not want to see either Trump or Biden, who have both indicated they plan to run for president in 2024, run again.
"I think that tears our country apart, and I think I'm where most Americans are," he said. "We need to move this country forward. There are some great Republican candidates out there, and I'm going help campaign for them."
O'Dea, in a statement to Newsweek, touted his campaign's "big tent," adding that "there's room for more."
"It's a coalition of people who don't agree on every issue every time, but we ARE united in a deep and abiding love of our country, and a profound belief that America is so much better than what we've become," he wrote.
A campaign official added that O'Dea supported many of Trump's policies, including those aimed at tightening border control and cutting red tape.
Michael Bennet Favored to Defeat O'Dea
As Republicans hope to retake a Senate majority, Colorado is unlikely to be their top priority. While they once hoped Biden's lagging approval rating would boost their candidates in some states that lean Democratic, the president's approval surge, alongside the Supreme Court's overturning of Roe v. Wade, has left them floundering in key Senate races.
While O'Dea, a centrist, is regarded as one of their stronger recruits, polls have found him trailing incumbent Democratic Senator Michael Bennet. An aggregate of polls by FiveThirtyEight shows him about 8.6 points behind Bennet. The most recent public polling, conducted from August 30 to 31 by Public Policy Polling, showed Bennet with a 11 point lead.
Still, that would be an improvement from Trump, who lost the state by 13.5 points in 2020, receiving only 41.9 percent of the vote. Colorado was once considered one of the closest swing states, as President Barack Obama only narrowly carried it in 2008 and 2012. But it has shifted toward Democrats in recent years due to growth in Denver and its suburbs.
During the primary, O'Dea defeated Ron Hanks, who aligned himself with Trump and was present at the January 6, 2021, attack at the U.S. Capitol building, when a group of Trump supporters, motivated by unfounded claims of voter fraud, rioted in a failed attempt to force Congress to block Biden's Electoral College victory.
Update 09/18/2022 2:56 p.m. ET: This story was updated with a statement from the O'Dea campaign.